Virtualization Performance: ESX + Windows
vApus Mark II has been our own virtualization benchmark suite that tests how well servers cope with virtualizing "heavy duty applications" on top of Windows Server 2008. We explained the benchmark methodology here. The vApus Mark II tile consist of five VMs:
3x IIS webservers running Windows 2003 R2, each getting two vCPUs
One MS SQL Server 2008 x64 running on top of Windows 2008 R2 x64. This VM has eight vCPUs, which makes EPT/RVI (Hardware Assisteds Paging) very important.
An OLTP Oracle 11G R2 database VM on top of Window 2008R2 x64. The VM runs the Swingbench 2.2 "Calling Circle" benchmark.
We test with two tiles, good for 36 vCPUs.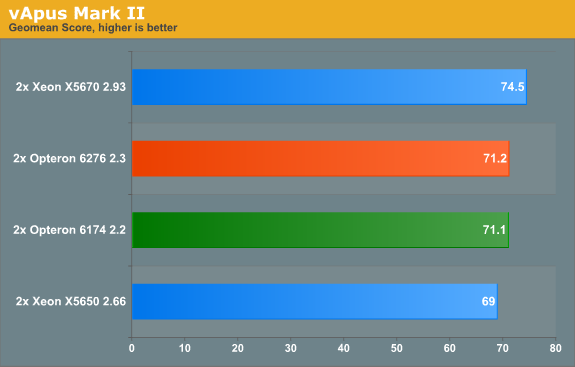 Again, the Opteron 6276 delivers a very respectable performance per dollar, delivering 96% of a Xeon that costs almost twice as much. But the fact remains that the new Opteron cannot create a decent performance gap with the old Opteron.
The Xeon has a lower power consumption on paper (95W), so let us check out power consumption.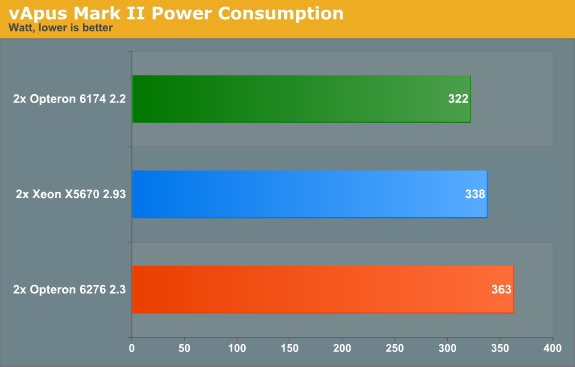 After this benchmark we were convinced that for some reason the power management features of the Opteron 6276 are not properly used with ESX. We investigated the matter in more detail.