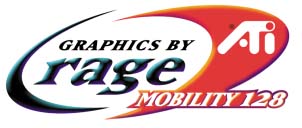 Notebooks have always lagged behind desktops in a number of areas, most notably performance and expansion, due to space and heat restrictions imposed by the concept of a "laptop computer." That generally meant that everything in a laptop is based on technology that is one or two generations old in the desktop market.
But when the 3D graphics revolution got going with the 3dfx Voodoo Graphics about 3 years ago, the mobile market didn't follow. The problem was that 3D chipsets ran hot, hot enough to burn your skin in fact, and draw a lot of power. The need for large heatsinks quickly arose as graphics power increased. A really hot product that draws lots of power and requires a heatsink simply won't work in the mobile environment. The fact that the desktop 3D market has accelerated so quickly with a 6 month product cycle hasn't made 3D for notebooks any easier.
ATI was one of the companies providing any 3D solution for the mobile environment with the Rage LT Pro, which was based on the Rage Pro Turbo core. Anyone that ever used the Rage Pro Turbo knows that it wasn't a very good solution on the desktop, and by the time it was available in notebooks, it felt even worse. Image quality was poor and it was plain slow.
Announced "way back" in October 1999, ATI's promise to bring real desktop 3D performance to the mobile market has finally come true - the Rage Mobility 128 has finally arrived. Based on the same core used in the Rage 128 Pro for the desktop market, the Mobility 128 promised to bring a full 3D rendering feature set, excellent image quality, and, most importantly, performance to match their desktop solution at the time, the Rage Fury Pro.
Well the Mobility 128 is just now becoming available - a bit later than we had expected, but still in time to capitalize on a market that still sorely lacks a good 3D solution. While the Rage 128 Pro is not exactly a state of the art chip in the desktop market any more, do we really need 110 fps in Quake 3 to enjoy our games? Of course not. What the mobile market needs right now is a solution with image quality on par with the desktop and playable performance at 640x480. While 640x480 is not the resolution of choice for most gamers today, the mobile market needs to start somewhere and 640x480 is certainly reasonable on the 13 - 15" LCD's on most notebooks today.