Crysis: Warhead, BattleForge, & Metro 2033
As we mentioned previously, the EVGA GeForce GTX 560 Ti 2Win is a one-off product. At $520 It doesn't have any specific competition – at least none that's reciprocal – but EVGA likes to call it a GTX 580 competitor it's definitely priced close enough to the GTX 580 to make that a meaningful comparison. As a multi-GPU product it also competes with multi-GPU multi-card setups, primarily the regular GTX 560 Ti SLI and the Radeon HD 6950 CF.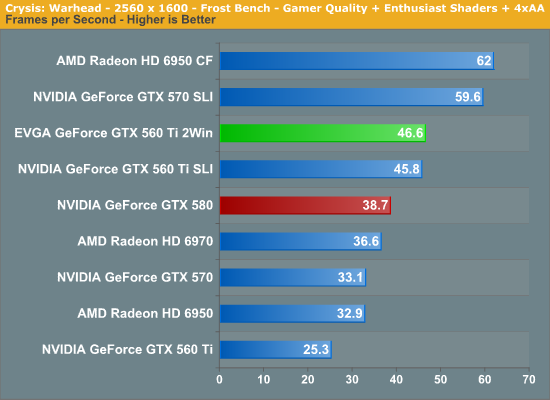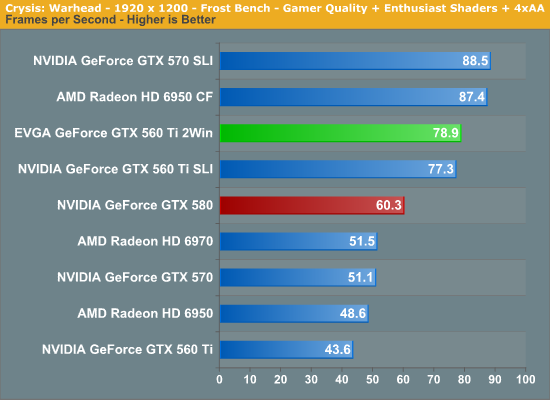 Starting as always with Crysis, we get a good setup for the rest of the benchmarks to come. The 2Win is well ahead of the similarly priced GTX 580, turning in a score 30% better than the 580. At the same time its performance relative to the GTX 560 Ti SLI is almost identical, owing to the 2Win's 3% higher core clock. At no point here will the GTX 560 Ti SLI and 2Win ever separate by an appreciable margin; it's really only faster on paper.
Looking at raw performance, we see that the 2Win turns in a solid performance at 2560 and is well above 60fps at 1920. SLI doesn't change the fact that AMD and NVIDIA will regularly jockey for position depending on the game, so even with a strong showing here, the 6950 CF still ends up being quite a bit faster.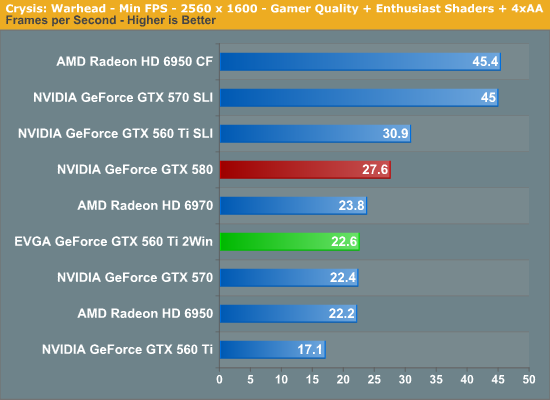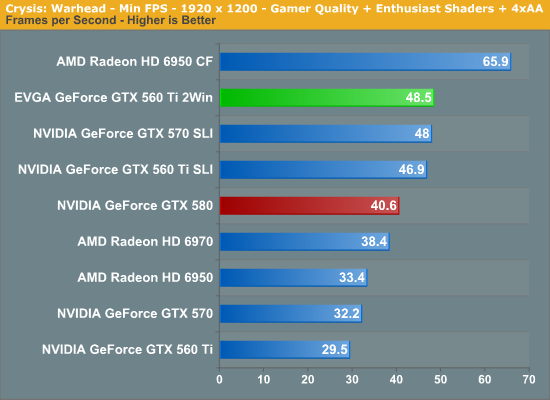 The Crysis minimum framerate test is one of the handful of tests we have right now that pays much attention to more than 1GB of VRAM. The fact that the 2Win does worse than the regular GTX 560 Ti SLI is not a mistake here – it's a telltale sign of swapping into VRAM. The 2Win is generally capable of handling 2560 in terms of rendering power, but with 1GB of effective VRAM it can run into other bottlenecks first, as we see here.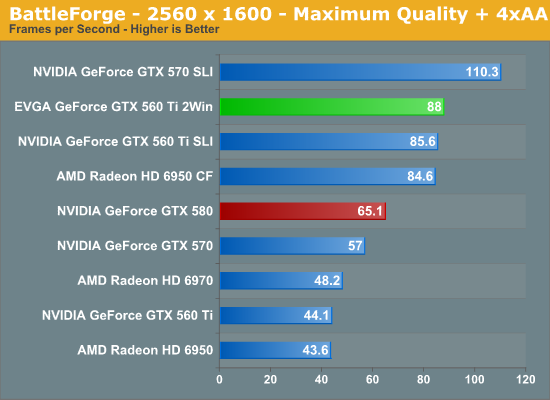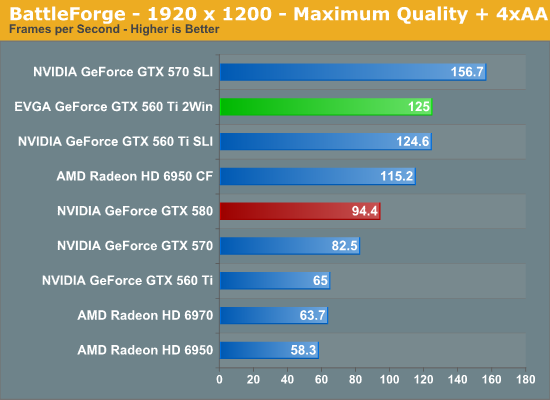 Given that it's a good deal more powerful than the GTX 580, the 2Win has no problem breezing through Battleforge. Even at 2560 it hits 88fps, 35% better than the GTX 580.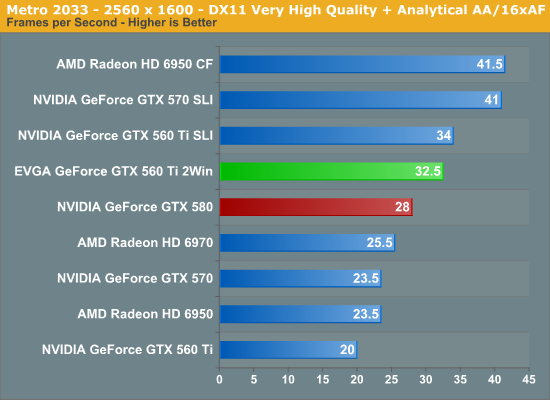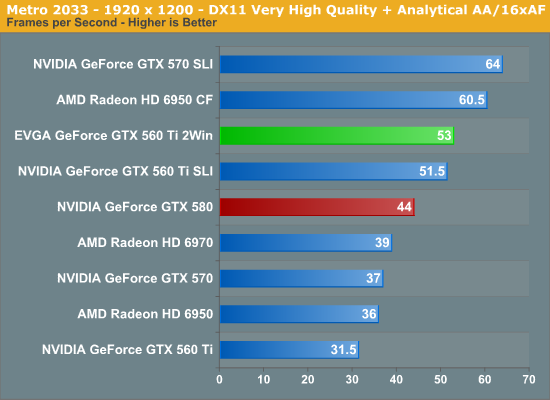 When it comes to SLI scaling Metro has always been a challenge, and as a result the 2Win loses some of its advantage here. It's still ahead of the GTX 580 at 2560, but only by 16%. Again we're looking at a potential lack of VRAM, but also the result of Metro's significant workload at 2560. This is one of the only titles we currently use that is still a struggle for every card we have, and as a result it's one of the few titles than the 2Win just isn't cut out for at 2560. It's only at 1920 that the 2Win can pick up enough speed to be playable, at which point its lead over the GTX 580 grows slightly to 20%.