For the last couple of years AMD has been pretty consistent about cascading their GPUs through their entire product line. Nowhere is this more evident than their professional graphics lineup, where consumer desktop video cards have transitioned over to professional products at almost 6 months on the dot. In May of this year we saw the introduction of the Cayman based FirePro V7900 and V5900, and now just a bit over 6 months after the Turks based Radeon 6570 and 6670 launched, Turks is getting the professional graphics treatment with the FirePro V4900.
| | | | | |
| --- | --- | --- | --- | --- |
| | AMD FirePro V7900 | AMD FirePro V5900 | AMD FirePro V4900 | AMD FirePro 3D V4800 |
| Stream Processors | 1280 | 512 | 480 | 400 |
| Texture Units | 80 | 32 | 24 | 20 |
| ROPs | 32 | 32 | 8 | 8 |
| Core Clock | 725MHz | 600MHz | 800MHz | 775MHz |
| Memory Clock | 1.25GHz (5GHz data rate) GDDR5 | 500MHz (2GHz data rate) GDDR5 | 1GHz (4GHz data rate) GDDR5 | 1GHz (4GHz data rate) GDDR5 |
| Memory Bus Width | 256-bit | 256-bit | 128-bit | 128-bit |
| VRAM | 2GB | 2GB | 1GB | 1GB |
| FP64 | N/A | N/A | N/A | N/A |
| Transistor Count | 2.64B | 2.64B | 716M | 627M |
| TDP | <150W | <75W | <75W | <75W |
| Manufacturing Process | TSMC 40nm | TSMC 40nm | TSMC 40nm | TSMC 40nm |
| Price Point | N/A | N/A | $189 | N/A |
As Turks was designed to replace the older Redwood GPU, so too is the FirePro V4900 designed to replace the FirePro 3D V4800 (AMD has dropped the 3D moniker). As you may recall from Turks' desktop launch, Turks improves on Redwood in a few different ways. With respect to performance Turks moves from 5 SIMDs (400 SPs) to 6 SIMDs (480 SPs), which gives it an immediate 20% compute and texture advantage over Redwood at the same clocks. Turks also brought with it the rest of feature improvements we saw with the Northern Islands GPUs: primarily support for DisplayPort 1.2 and color calibration in linear space, while UVD 3 is also present for video decoding purposes. All of these features will be available in the V4900, and in spite of these improvements Turks still comes within a few watts of Redwood's power budget, making the Turks based V4900 a drop-in replacement for the Redwood based V4800.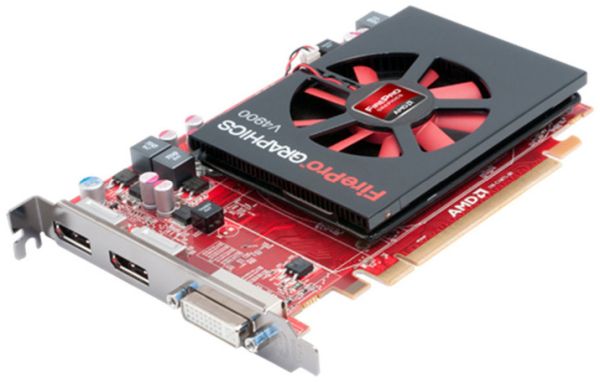 Since AMD keeps fewer FirePro cards than they do desktop Radeon cards, only a single variant of Turks will be launching as a FirePro card. The V4900 is for all practical purposes a GDDR5 Radeon HD 6670 when it comes to hardware, running at the same 800MHz core clock and 1GHz (4GHz data rate) memory clock as its consumer counterpart. AMD officially classifies the V4900 as having a sub-75W TDP, though giving the similarities to the Radeon HD 6670 it should be right around 66W. Compared to its desktop counterpart though AMD has gone with an entirely different form factor for the V4900, opting to use a full-height single slot card with an active cooler.
Meanwhile for the port configuration on the V4900 AMD has gone with something more traditional for the FirePro market, equipping the card with 1 DVI port and 2 full size DisplayPorts. The choice in DisplayPorts is significant as Turks brings with it DisplayPort 1.2 compatibility, which means the V4900 can be used to drive up to 6 monitors in Eyefinity mode when paired with MST hubs. And speaking of MST hubs, we've been waiting on them for quite some time now given that AMD has supported DisplayPort 1.2 for nearly a year. AMD is telling us that they finally expect those hubs to start shipping this quarter, so professional and consumer users alike will finally be able to drive more monitors off of the current crop of video cards.
As AMD is producing the FirePro series directly – a holdover from the early ATI days where ATI was vertically integrated – AMD provides direct support for the V4900 and other FirePro cards. In this case the V4900 will be supported with AMD's standard support package: a 3 year warranty and 24/7 support. And of course the V4900 will work with the company's FirePro driver set, which brings with it specific support and compatibility testing for professional applications such as AutoCAD and SolidWorks, which of course is the primary role for a professional card.
Wrapping things up, AMD has put the MSRP on the FirePro V4900 at $189. At this price the V4900 doesn't have any direct competition – it's more than $200 cheaper than the GF106 based Quadro 2000 and $50 more expensive than the GF108 based Quadro 600. This is largely a consequence of Turks' design, as it falls between those NVIDIA GPUs in performance. With professional cards however it's typically drivers that are the bigger factor, and AMD would prefer to consider the V4900 as competition for the Quadro 600 based on the pricing. Finally, AMD is expecting the V4900 to begin shipping from their factories today; so while today is the formal launch, we'd expect it to be a couple of weeks before cards actually start showing up for sale.