Introducing the HP TouchSmart 610
As much as it might pain some of us to hear it, Apple's iMac really did essentially legitimize the all-in-one as an alternative to the typical desktop-and-monitor combination. There have been Windows-based alternatives here and there historically, but it's only been in the past couple of years that the Windows all-in-one market has really started to gain traction. Of course, the fact that system requirements have also reached a point where a large range of CPUs are still sufficiently fast helps.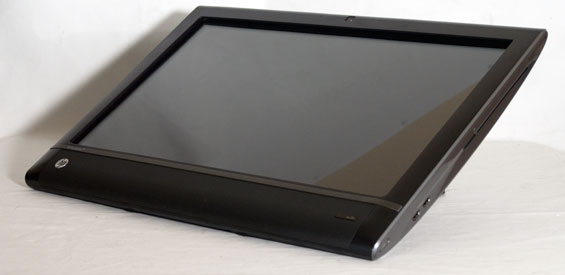 At present, the iMac's Windows counterparts also offer a functionality that Apple has yet to duplicate: touch interface. HP adds an additional wrinkle with the TouchSmart 610: a hinge that allows you to slide the unit down and use it "kiosk style". That hinge, along with the latest Intel hardware and a surprisingly high quality screen, suggests a machine intended for myriad uses...not just an all-in-one computer, but an all-markets-in-one appliance. Find out how it performs as we put the TouchSmart 610 to the test.
All the major players have a healthy number of all-in-one systems on the market today, enough so that big box retailers set aside floor space just for them. These systems frequently boast touchscreens, and those screens are almost always sizable. While Apple may have led the market a bit with the iMac, it's the PC vendors who have been experimenting the most with this form factor. The HP TouchSmart 610 is the first of these systems we'll be testing, but we have units from Dell and Toshiba on the way as well. For now, this is what HP's premium all-in-one has to offer:
HP TouchSmart 610 Quad Edition All-in-One Specifications
Processor
Intel Core i7-2600
(4x3.4GHz + HTT, 3.8GHz Turbo, 32nm, 8MB L3, 95W)
Chipset
Intel H67
Memory
2x4GB Samsung DDR3-1333 SODIMM (Max 4x4GB)
Graphics
AMD Radeon HD 5570 2GB DDR3
(400 stream processors, 550/1.6GHz core/memory clocks, 128-bit memory bus)
Display
23" LED Glossy 16:9 1080p
Samsung LTM230HP06
Hard Drive(s)
Western Digital Caviar Green 1.5TB 5400-RPM HDD
Optical Drive
Slot-loading Blu-ray Writer (HP BD-5841H5)
Networking
Realtek PCIe Gigabit Ethernet
Broadcom 802.11b/g/n
Bluetooth 3.0
Audio
IDT 92HD89D3 HD Audio
Stereo speakers
Headphone and mic jacks
Front Side
Webcam
Speaker grilles
Right Side
Slot-loading optical drive
2x HDMI input
Left Side
Volume control
SD/MMC/XD/MS Pro card reader
2x USB 2.0
Headphone and mic jacks
Back Side
AC jack
Subwoofer jack
5x USB 2.0 (one taken by wireless mouse and keyboard receiver)
Antenna jack for NTSC/OTA ATSC input
Ethernet jack
Operating System
Windows 7 Home Premium 64-bit
Dimensions
4.06" x 23.02" x 17.72" (WxDxH)
Weight
26.69 lbs
Extras
Webcam
Wireless keyboard and mouse
Flash reader (MMC, SD/Mini SD, MS/Duo/Pro/Pro Duo)
Blu-ray writer
Touchscreen
Warranty
2-year limited hardware warranty, 1-year limited software
(optional 3-year)
Pricing
Starting at $1,399 (including $300 instant rebate)
Price as configured: $1,399
There's a lot going on with the HP TouchSmart 610 Quad Edition. For starters, in its 23" shell HP has outfitted an Intel Core i7-2600 standard, period, and strapped to that four SO-DIMM (read: laptop memory) slots, two of which come equipped with 4GB of DDR3-1333, leaving two more free. The screen itself is most definitely not a TN panel, either. This 23" beast appears to be a 1080p PLS panel (or similar technology) from Samsung, as it has stellar viewing angles and deep, inky blacks. There's none of the shimmer I'm used to seeing from blacks on an IPS panel. Rounding things out is a healthy selection of networking connectivity and a slot-loading blu-ray writer.
Which is why it's unfortunate that HP loses their way in two big areas. The GPU that the TouchSmart 610 comes with by default is the anemic AMD Radeon HD 6450A, but ours (according to the Catalyst Control Center) has the Radeon HD 5570, an upgrade that as of this writing is free of charge. The problem is HP's graphics options for this all-in-one are a mess. Broken down, there's also the Radeon HD 6550A, which is a $30 upgrade that apparently has the exact same specs as our 5570. If you go the NVIDIA route, you can pay $10 more for a GeForce GT 425M (not recommended), an inexplicable $30 for a GeForce G210 (seriously?), and a whopping $50 to add an extra 1GB of video memory to that GT 425M for a total of utterly worthless 2GB.
I'm really hoping what we have is actually the Radeon HD 6550A, since our review unit boasts 2GB of DDR3 video memory while the 5570 offered only comes with 1GB. Either way it's pretty dire: a low 550MHz clock speed on the 400 shaders, and just 1.6GHz on the DDR3 strapped to a 128-bit memory bus. If the 5570 isn't going to cost you anything, go with that; a 5570 offers the same number of shaders (and same architecture, really) by default, and while you lose a gig of video memory, you should theoretically gain 100MHz on the core, making it essentially the fastest graphics option on the 610. Phew.
The other place HP drops the ball is the "free upgrade" to the 1.5TB Western Digital Caviar Green. For mass storage this drive is fine, but as a system drive it's a dog that hamstrings the entire user experience. Given that we only have one hard drive bay, it makes sense to opt for the 1TB 7200-RPM hard drive instead.