Microsoft's Ryan Haveson takes to the Building Windows 8 blog today to give us one of our first looks at a Windows 8 feature not included in the Developer Preview: new Task Manager features drastically increase its usefulness on multicore systems, especially on servers with large numbers of logical processor cores.
Rather than the old, graph-based approach, the Windows 8 Task Manager now displays CPU usage in numbers and colors - more heavily loaded processors are darker colored, while lightly used processors are lightly colors. Hovering your mouse over a particular processor will give you its logical processor ID. All of this makes it easier to tell at a glance what each of your logical CPUs are doing, especially in systems with as many cores as the one shown above.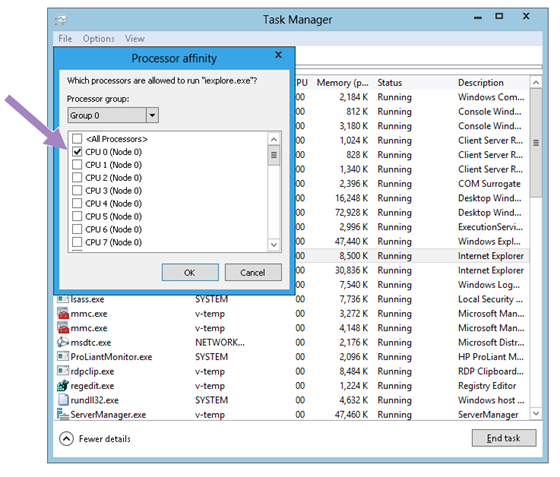 The new Task Manager also allows users to specify which logical processor or processors should run a particular process - one could, for example, restrict a browser or video encoding program to use only one or two of a system's cores, leaving the rest free for other tasks. This feature was also available in previous Windows versions, but the dialog boxes are more informative here.
For more, as always, check out the deeper and more informative post at the Building Windows 8 blog.
Source: Building Windows 8 Blog