Board Features
ASUS E35M1-M Pro
Market Segment
HTPC
CPU Interface
FT1 BGA
CPU Support
Fusion
Chipset
Hudson-M1 (A50M)
Memory Slots
Two DDR3 DIMM
Maximum 8 GB
Non-ECC Unbuffered
Expansion Slots
1 x PCIe x16 (x4 speed)
1 x PCIe x1 2 x PCI
Onboard
5 x SATA 6 Gbps Ports
1 x USB 3.0 header
4 x USB 2.0 headers
2 x Fan Headers
1 x Front Panel Audio Connector
1 x SPDIF Out Connector
Onboard LAN
Realtek® 8111E PCIe Gigabit LAN controller
Onboard Audio
ALC892 8-Channel High Definition Audio CODEC
Supports DTS Surround Sensation Ultra-PC
Power Connectors
24-pin ATX Power Connector
4-pin 12V CPU Power Connector
Fan Headers
1 x CPU (3-pin)
1 x CHA (3-pin)
IO Panel
1 x PS/2 Port
2 x USB 3.0
4 x USB 2.0
1 x HDMI
1 x D-SUB
1 x DVI
1 x eSATA 6 Gbps
1 x Gigabit Ethernet
3 x Audio Jacks
BIOS Version
0506
Warranty Period
3 Year
With regards to the networking and sound processors, ASUS have used the Realtek solutions. It is normal to see the Realtek chips onboard on a motherboard within this price range, but ASUS do occasionally use the Intel solutions on their higher end motherboards.
In The Box
2x SATA 6 Gbps cables
IO shield
1x CPU fan
Users guide
Driver DVD
No USB 3.0 bracket has been supplied but instead of the two SATA 6 Gbps cables which the manual stated, we received four cables in the box.
Software
As the software found with this board has been covered by both Ian in his ASUS P8Z68 Pro review and by me in the ASUS P8P67 review, I will just give you a quick run through. The software installation was easy - you have the choice to install all of the software which comes on the DVD or you can install each individual driver as you please. In our case, all of the drivers were installed in order to allow for a fair test.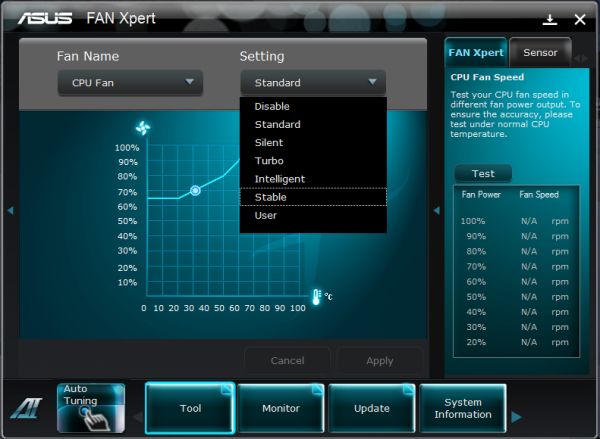 From within the ASUS Suite II, you can overclock your system, change and apply fan settings, monitor temperatures and voltages, change the power saving settings to your requirements as well as being able to update the BIOS. There are no issues with this software from what I can see.