A Brief History
Apple's affair with cloud services started way back in 2000 when they introduced iTools, a collection of free web-based services to Mac users. In 2002, iTools was renamed to .Mac with upgraded features, new backup tools and a copy of McAfee Virex. The upgrade also brought along with it a rather hefty subscription fee of $99/year, which was frowned upon by the Mac user community.
Subsequently, in June 2008, Apple rebranded .Mac as MobileMe. It let users seamlessly sync their mail, contacts, calendars, and bookmarks and other system data across multiple devices. Even with the inclusion of services like the MobileMe Gallery and Find My iPhone, the $99/year price tag was hard to justify in light of competing cloud-based services like Dropbox, Gmail, Picasa and several others that offered similar or much better functionality for free. MobileMe got off to a very bumpy start with frequent outages and less than stellar performance; its been widely regarded as one of Apple's most prominent failures in recent times. In fact, cloud services have historically been an area where Apple has been unable to succeed. But can Apple get it right the fourth time with iCloud?
Given the industry's to move towards cloud-based storage and services, it was only a matter of time before Apple leveraged its massive iOS user base and the tremendous success of the iTunes Music Store, App Store and iBookstore to let users store their data and media in the cloud and allow them on-demand access to it across devices. iCloud aims to do just that by building on MobileMe and correcting some of its flaws.
What is iCloud? How does it work?
iCloud essentially aims to be what MobileMe should have been from day one. A seamless way to store your content in the cloud, have it sync across all your devices, and give users access to their content on-demand. iCloud backs up a wide variety of content from your iOS devices and your Mac and keeps it intelligently synced across all of them. More importantly, iCloud and all its web applications are free. Each iCloud account comes with 5GB of storage space, with yearly subscription plans for additional storage ($20 a year for 10GB, $40 a year for 20GB, and $100 a year for 50GB). Unlike MobileMe, iCloud is tightly integrated with iOS 5 right from the time you start your device.
Building on the success of Find my iPhone, iCloud also includes support for Find my Mac in conjunction with OS X Lion (10.7) - at the moment, Apple does not appear to be interested in extending iCloud functionality to Snow Leopard. Lion features an updated preference pane for iCloud that lets users control features like PhotoStream, Back to My Mac and Find My Mac in addition to the usual stuff. Additionally, the iCloud pane on the Mac also lets you manage your storage and see exactly how much space is being used by all the devices being backed up to iCloud.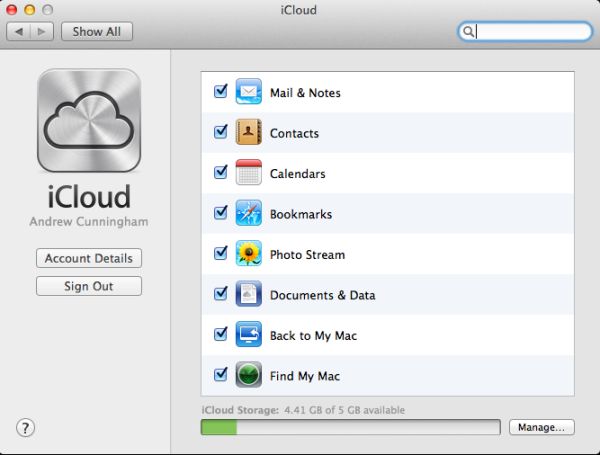 For more on how iCloud works with Macs and Windows PCs, check out the companion piece to this review.
Another feature called iTunes Match is also a part of iCloud and lets users mirror their iTunes libraries on iCloud for an annual fee of $29.99. So regardless of how and where you've gotten your music from, if its there on the iTunes Store, it automatically gets legalized and added to your account as 256Kbps AAC rip. Any song from your library for which there isn't a match on the iTunes store gets uploaded to iCloud as is, and can be downloaded to any of your other devices. iTunes Match is currently capped at 25,000 songs, which should be more than enough for even the biggest audiophiles. This feature should be enabled in iTunes 10.5.1, which according to Apple should be here by the end of the month.