Cache and Memory Performance
I mentioned earlier that cache latencies are higher in order to accommodate the larger caches (8MB L2 + 8MB L3) as well as the high frequency design. We turned to our old friend cachemem to measure these latencies in clocks:
Cache/Memory Latency Comparison
L1
L2
L3
Main Memory
AMD FX-8150 (3.6GHz)
4
21
65
195
AMD Phenom II X4 975 BE (3.6GHz)
3
15
59
182
AMD Phenom II X6 1100T (3.3GHz)
3
14
55
157
Intel Core i5 2500K (3.3GHz)
4
11
25
148
Cache latencies are up significantly across the board, which is to be expected given the increase in pipeline depth as well as cache size. But is Bulldozer able to overcome the increase through higher clocks? To find out we have to convert latency in clocks to latency in nanoseconds: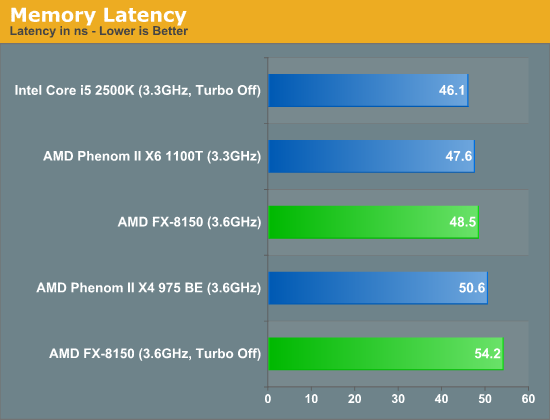 We disable turbo in order to get predictable clock speeds, which lets us accurately calculate memory latency in ns. The FX-8150 at 3.6GHz has a longer trip down memory lane than its predecessor, also at 3.6GHz. The higher latency caches play a role in this as they are necessary to help drive AMD's frequency up. What happens if we turn turbo on and peg the FX-8150 at 3.9GHz? Memory latency goes down. Bulldozer still isn't able to get to main memory as quickly as Sandy Bridge, but thanks to Turbo Core it's able to do so better than the outgoing Phenom II.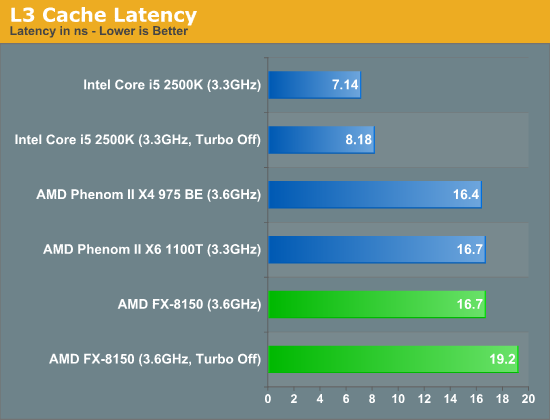 L3 access latency is effectively a wash compared to the Phenom II thanks to the higher clock speeds enabled by Turbo Core. Latencies haven't really improved though, and Bulldozer has a long way to go before it reaches Sandy Bridge access latencies.