The Western Digital My Book Live turns out to be an effective and efficient network attached hard disk. It is easy to set up and use right out of the box, and also offers enough tweaks and features for the advanced users.
The unit is fanless (lots of ventilation slots all around the unit). Except for the occasional hard drive noise, the unit is quiet. When idle, the My Book Live consumed 8W. Upon entering the sleep mode, it dropped down to 4.2W. During periods of heavy network and disk traffic, the unit consumed between 11.4 and 12.2W.
For stress testing, we simultaneously read and wrote around 300 GB of data. Towards the end of this process (after approximately 4 hours), the maximum temperature we recorded on the chassis was 58C (the ambient temperature was 25C). However, the internal hard disk temperature reached 71C (as reported by hddtemp). The data transfer speeds also took a slight hit in order to not let the drive heat up any further. Anything above 60C is considered harmful to the health of the drive. As such, the current thermal solution in the My Book Live is not conducive to such heavy workloads. Fortunately, mainstream users considering network attached hard disks are not likely to generate such traffic.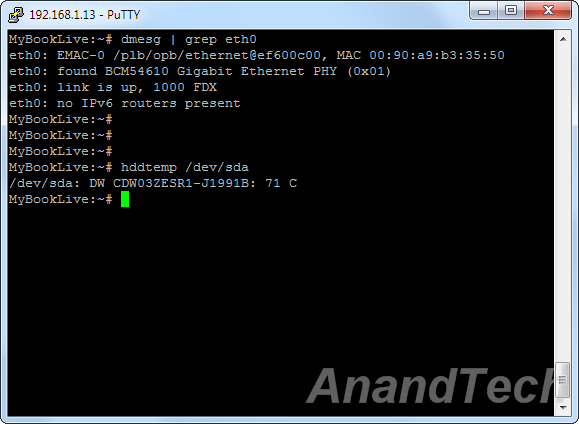 It is hard to find fault with the My Book Live when it performs as advertised (except for the claimed read speeds which can be achieved only under very specific conditions). However, it would be nice if this lineup was offered with the enterprise hard drives in addition to the consumer drives. Considering that there is no redundancy / availability built into this unit, data stored in the disk is much more at risk (particularly if it is not backed up periodically).
I also observed that the web interface slowed down when the unit was subjected to heavy SMB traffic. That is to be expected with such a low power chip powering the unit. Encryption of the hard drive's contents is also not supported out of the box, but users familiar with Linux can get that up and running. Despite qualifying as a good networked hard disk, it can't replace single bay NAS units due to the lack of USB / eSATA ports (which could have been easily added because the Applied Micro platform used in the unit does include USB support).

Except for these minor issues, it is quite easy to recommend the My Book Live 3 TB version. The low price premium over a barebones 3TB internal hard drive also works in its favour. If the periodic backup scheme is configured for data protection, there should be no surprises in store for the users who use the unit as a high capacity replacement for the router attached USB drives.