Camera - Stills and Video
I sound like a broken record here with how many similarities there are between the Bionic and the Droid 3, but camera is another of them. The Bionic has a rear facing 8 MP camera with single LED flash and autofocus, and captures stills at a maximum resolution of 3264 x 2448.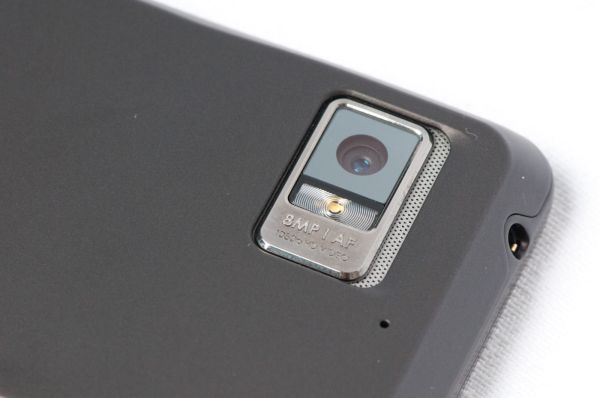 The rear sensor is based on an Omnivision OV8820 CMOS sensor which is backside illuminated, 1/3.2" in size, and has 1.4µm square pixels. This is a very modern sensor behind an optical system with F/2.8 optics and a 4.6mm focal length. If that sounds familiar, it's because this is exactly what's inside the Motorola Droid 3 as well.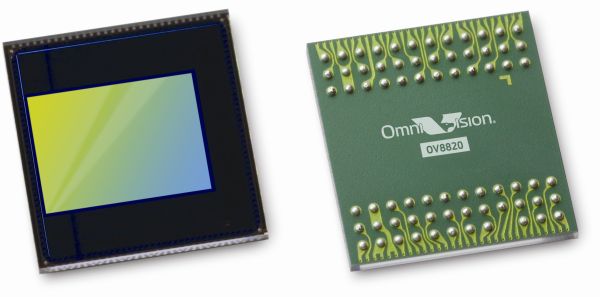 The front facing camera is home to a rather less interesting VGA (0.3 MP) fixed focus CMOS sensor. In this case, it's an Omnivision OV7739 with 3.0µm square pixels which is 1/7.5" in size. I've found all of these drivers and configuration files again lurking deep inside /system on the Bionic.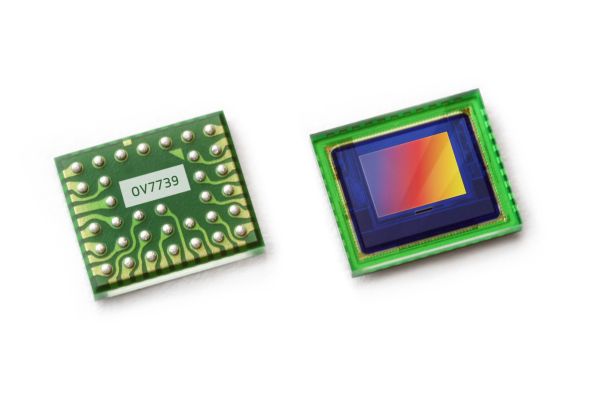 The Bionic also has the same exact camera application, though subjectively it seems a lot more finicky on the Droid Bionic. In still image shooting mode, one can toggle between widescreen 16:9 aspect ratio 6 MP or the sensor's native aspect ratio 8 MP, there aren't any other options for lower resolutions. The other options are for toggling storage location, shutter noise, and video capture resolution. There are the usual assortment of other toggles on a ribbon down at the bottom - effects, scenes, modes, brightness, and flash settings.
The Droid Bionic shoots pretty decent photos, the problem that I have with this is the software. It takes a while to get into the camera application, and there's a lot of shot to shot variance in speed. The other problem is that the Bionic seems to miss focus a lot more than I remember the Droid 3 doing - occasionally it'll just blow off the long press on capture button and take the picture before AF finishes. This is maddening at times and downright frustrating at others since you'll need to capture two or three to get one where AF has settled down, you can see this behavior below for yourself.
We've taken photos with the Bionic at the usual test location, and in the lightbox, with the lights on and off. Just like the Droid 3, the Bionic doesn't illuminate the scene when running AF in the dark, so often it'll expose perfectly but capture a blurry image. I'll let you be the judge of image quality, it's just like I saw on the Droid 3.
In video mode, you get the same layout, however instead the new options are audio scenes, video shooting duration, and an on/off toggle for LED lighting. Options for video shooting are pretty simple - 1080p30 at 15 Mbps, 720p30 at 10 Mbps, and a few others. For both of these, high profile features are used like we talked about in the Droid 3 review. You can actually see all of these configured from build.prop on the Bionic:
ro.media.camcorder.1080p=mp4,h264,30,15000000,aac,128000,44100,2 ro.media.camcorder.720p=mp4,h264,30,10000000,aac,128000,44100,2 ro.media.camcorder.d1NTSC=mp4,h264,30,6000000,aac,128000,44100,2 ro.media.camcorder.vga=mp4,h264,30,4000000,aac,128000,44100,2 ro.media.camcorder.cif=mp4,h264,30,1500000,aac,128000,44100,2 ro.media.camcorder.qvga=mp4,h264,15,500000,aac,64000,44100,2 ro.media.camcorder.mms=3gp,h264,15,128000,amrnb,12200,8000,1
Resolution, extension, video compression standard, framerate, video bitrate, audio codec, sampling rate, and number of channels. It's all right there in that order presented nicely in build.prop just like so many other Android devices.
I've also captured sample video at the usual place from the front and rear facing cameras. Video quality is very good, though the Bionic does run that AF routine a lot on the rear facing camera while shooting 1080p video. Again OMAP4's encoder implements some nice high profile feature, but still only uses 1 reference frame where 2–4 would ensure better encoder efficiency. I've also uploaded native samples from the Bionic to our server for you to watch without YouTube's transcoding.