The Global WIN VOS32-plus

The VOS32-plus is an enhanced version of the VOS32; it also includes a fan duct and an additional 80mm case fan. This way, the hot air from the heatsink is sucked away and directly removed from the case. This works very well - the VOS32-plus has the best cooling performance of all heatsinks tested in this comparison, and in addition, it kept the case temperature down. However, keep in mind that a direct comparison of the VOS32-plus to the other heatsinks is a bit unfair, since the VOS32-plus is more than just a heatsink; rather, it's a heatsink/case cooler combo.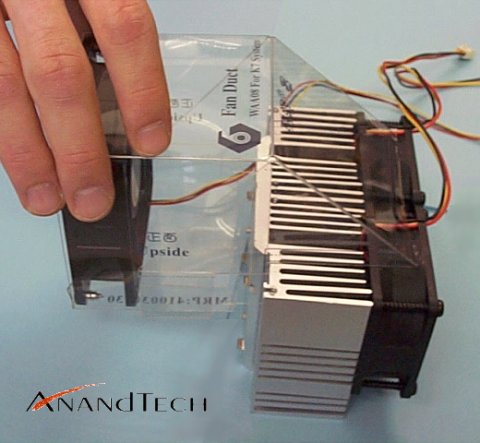 The major problem with the VOS32-plus is case compatibility. The fan duct can only be used if your PC case has a hole for an additional case fan directly behind the CPU. Most cases do, but sometimes the hole is not in the right location relative to the CPU, which means that the end of the fan duct won't be located in the center of the heatsink.
On the K7M, the VOS32-plus will block one DIMM slot. The trick of fixing the fans to the side of the heatsink to avoid this problem does not work in this case because of the fan duct.
The fans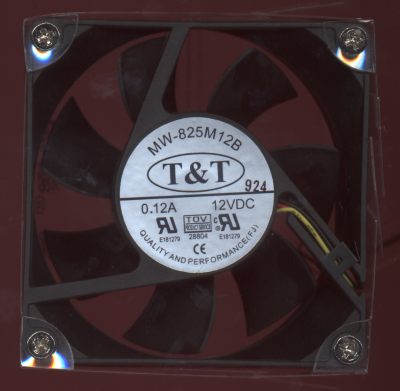 The VOS32-plus uses the same 60mm fans as the normal VOS32, so all comments made there also apply to the VOS32-plus' fans. The additional case fan is a 80x25mm dual ball bearing fan, manufactured by T&T. It is rated at 30.71 CFM. This fan is not excessively loud; most of the noise generated by the VOS32-plus comes from the two 60mm fans.
Installation

Installation is easy and straightforward; you install the VOS32 normally, put the 80mm in the fan duct, and install the duct in your case. All necessary screws are included. Sometimes you need to cut the fan duct a bit to shape in order to fit your system. The VOS32-plus comes with one Molex Y-adapter, so you need two free fan connectors on your motherboard. The 80mm fan's rpm monitoring feature does not work with the K7M; with other motherboards, it seems to work fine.
Conclusion
This cooler is the perfect choice if you're into hardcore overclocking - but only if it fits your case. The fan duct, even though it looks a bit cheap, does its job very well. Also, the VOS32-plus is not very expensive, considering the performance and the fact that a case fan is included in the price - VOS32-plus costs less than an Alpha P7125! Even if you can't use the fan duct with your case, the VOS32-plus would be a good buy, simply because of the included case fan.
VOS32-plus at a glance
Fans: Two 60x25mm YS Tech, one 80x25mm T&T

Fan rpm (measured): 4450 (60mm fans).

Weight: 440g (heatsink w/2 fans only)
very good cooling performance
Suitable both for SECC1 and SECC2
not very expensive, considering the performance and the fact that a case fan is included
Disadvantages
Does not work with all cases
very loud
needs minor modification to fit K7M
Blocks one DIMM slot on K7M