Final Words
Ivy Bridge will bring about higher clock speeds thanks to its 22nm process, however the gains will likely be minimal at best. Intel hasn't been too keen on pursuing clock speed for quite some time now. Clock for clock performance will go up by a small amount over Sandy Bridge (4 - 6%), combine that with slightly higher clock speeds and we may see CPU performance gains of around 10% at the same price point with Ivy Bridge. The bigger news will be around power consumption and graphics performance.
Ivy Bridge will be Intel's flagship 22nm CPU for some time. The chip was originally due out at the end of this year but was likely subject to delays due to issues with the fab process and the chip itself. The move to 22nm is significant leap. Not only are these new transistors aggressively small but the introduction of Intel's tri-gate technology is a major departure from previous designs. Should the fab engineers at Intel do their job well, Ivy Bridge could deliver much better power characteristics than Sandy Bridge. As we've already seen, introducing a 35W quad-core part could enable Apple (and other OEMs) to ship a quad-core IVB in a 13-inch system.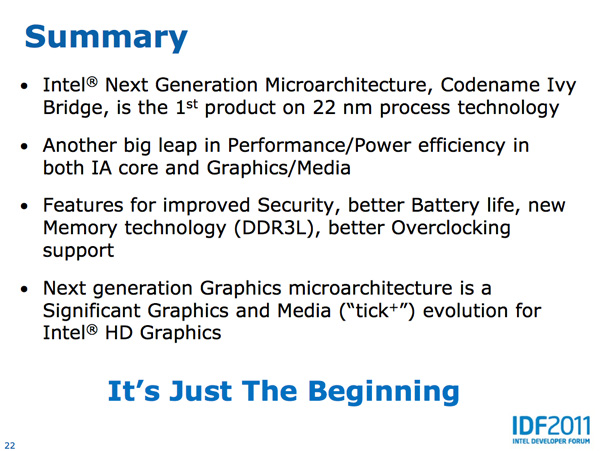 Ivy Bridge's GPU performance is particularly intriguing. With a 33% increase in execution hardware and a near doubling of performance per EU, it's clear that Intel is finally taking GPU performance seriously. If Intel can hit its clock and performance targets, Ivy Bridge could deliver GPU performance on-par with AMD's Llano. By the time Ivy Bridge arrives however, AMD will have already taken another step forward with Trinity. The question is who will address their performance issues quicker? Will AMD improve x86 performance faster than Intel can improve GPU performance? Does it even matter if both companies end up at the same point down the road? Short of 3D gaming workloads, I believe that x86 CPU performance is what sells CPUs today. Intel's embracing of OpenCL however and AMD's efforts in that space imply things are finally changing in that regard.
Sandy Bridge brought about a significant increase in CPU performance, but Ivy seems almost entirely dedicated to addressing Intel's aspirations in graphics. With two architectures in a row focused on improving GPU performance, I do wonder if we might see this trend continue with Haswell. Intel implied that upward scalability was a key goal of the Ivy Bridge GPU design, perhaps we will see that happen in 2013.
Ivy Bridge can do very well in notebooks. A more efficient chip built using lower power transistors should positively impact battery life and thermal output. Desktop users who already upgraded to Sandy Bridge may not feel the pressure to upgrade, but having better graphics shipping on all new systems can only be good for the industry.