Motorola Droid Bionic Preview
Hot off the heels of finishing our Samsung Galaxy S 2 review, I'm off to Microsoft's BUILD conference with Ryan while Anand covers IDF. Before we get knee deep in all of that conference excitement however, I wanted to give a quick preview of the Motorola Droid Bionic which I've had for close to a week now.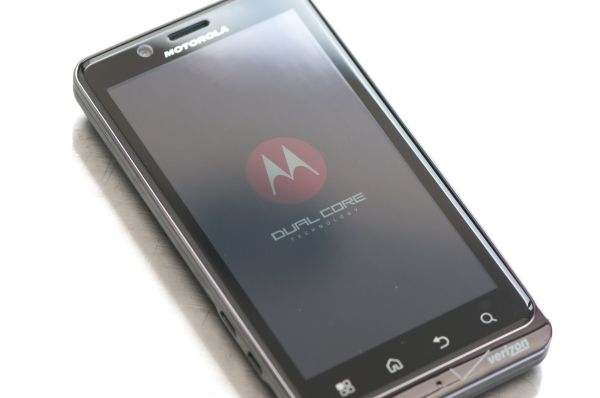 For Verizon subscribers, the Bionic has easily been the most anticipated device of the summer, as it's the first 4G LTE enabled smartphone with a dual core SoC. If you haven't been keeping track, up until now, 4G LTE basebands and dual core SoCs have been mutually exclusive in smartphones. The result is that in many cases page load speed and overall snappiness has been gated by single core SoCs.
Physical Comparison
HTC Thunderbolt
Motorola Droid X2
Motorola Droid 3
Motorola Droid Bionic
Height
122 mm (4.8")
126.5 mm (4.98")
123.3 mm (4.85")
127.5 mm (5.02")
Width
67 mm (2.63")
65.5 mm (2.58")
64.1 mm (2.52")
66.9 mm (2.63")
Depth
13.2 mm (0.52")
9.9 - 14.4 mm (0.39"-0.57")
12.9 mm (0.51")
10.99 mm (0.43")
Weight
183.3 g (6.46 oz)
148.8 g (5.25 oz)
184 g (6.49 oz)
158 g (5.57 oz)
CPU
1 GHz MSM8655 45nm Snapdragon
1 GHz Dual Core Cortex-A9 Tegra 2 AP20H
1 GHz Dual Core Cortex-A9 OMAP 4430
1 GHz Dual Core Cortex-A9 OMAP 4430
GPU
Adreno 205
ULP GeForce
PowerVR SGX 540
PowerVR SGX 540
RAM
768 MB LPDDR2
512 MB LPDDR2
512 MB LPDDR2
1 GB LPDDR2
NAND
4 GB NAND with 32 GB microSD Class 4 preinstalled
8 GB NAND, 8 GB microSD class 4 preinstalled
16 GB NAND, up to 32 GB microSD
16 GB NAND, 16 GB microSD class 4 preinstalled
Camera
8 MP with autofocus and dual LED flash, 720p30 video recording, 1.3 MP front facing
8 MP with AF/LED Flash, 720p30 video recording
8 MP with AF/LED Flash, 1080p30 video recording, VGA (0.3MP) front facing
8 MP with AF/LED Flash, 1080p30 video recording, VGA front facing
Screen
4.3" 800 x 480 LCD-TFT
4.3" 960 x 540 RGBW LCD
4.0" 960 x 540 RGBW LCD
4.3" 960 x 540 RGBW LCD
Battery
Removable 5.18 Whr
Removable 5.65 Whr
Removable 5.65 Whr
Removable 6.11 Whr
I've had a chance to run a bunch of our benchmarks and a limited set of our battery life test suite on the Bionic before hopping on the plane, and wanted to share those numbers. Before we do that, let's take a look at the device aesthetics.
Physical Appearance
To start, the Bionic as it is now is nothing like the Bionic we were originally shown at CES. That's because the current Bionic is really a Targa, but that's besides the point.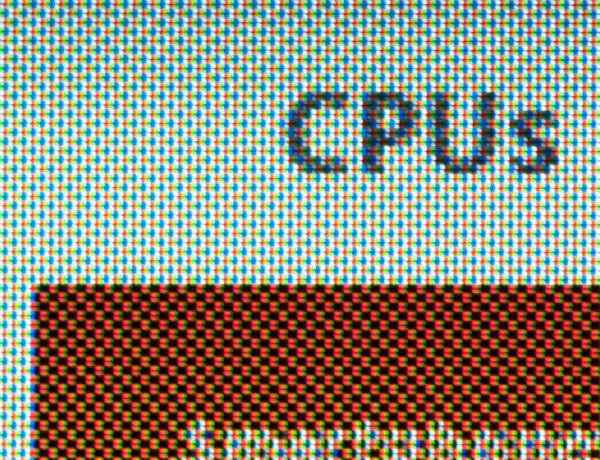 RGBW LCD on the Droid Bionic - 1:1 Macro
On the front of the device is a 4.3" qHD (960x540) RGBW-LCD display, which is effectively exactly the same as the display on the Droid X2 we took a look at earlier this summer.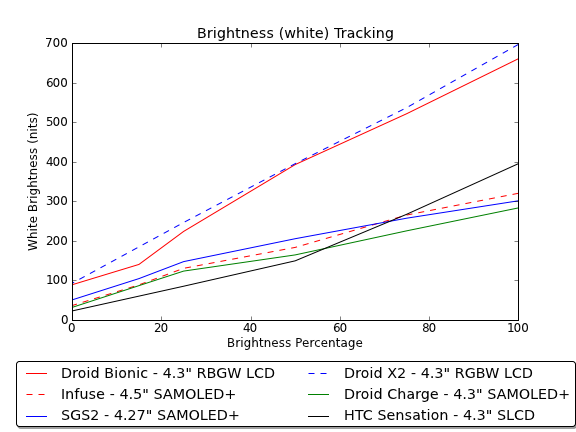 I've gone ahead and measured display luminance as a function of brightness percentage, and found that the Bionic's display unsurprisingly follows the performance of the X2 identically - no doubt this is literally the exact same panel.
The display is lipped and tapers down into the plastic to a point just before it meets up with the bezel. Unfortunately, this seems to be a place that dust and lint are already congregating, especially at the bottom. I've already hit the Bionic with a blast of compressed air or two.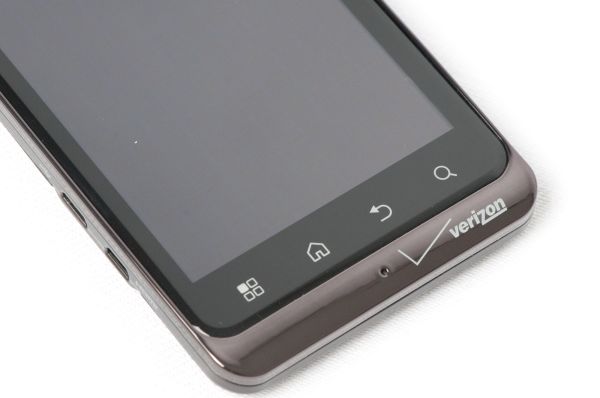 The capacitive buttons at the bottom retain the same Motorola style, backlighting, and order as we've seen before. Up at the top is a VGA front facing camera, and on the other side of the earpiece, the Bionic also includes a notification LED, something which will no doubt make many happy.

The rest of the Bionic honestly feels very closely related to the Droid X2. There's a microUSB and microHDMI port on the bottom left, located for use with the optional laptop dock.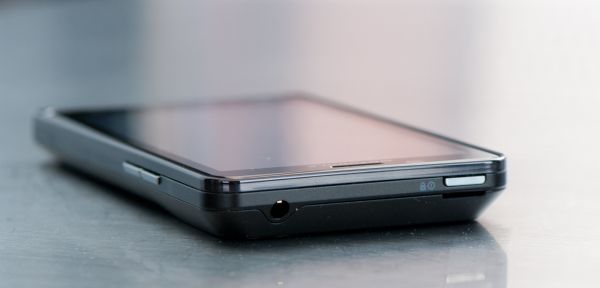 On the other side is the volume rocker, and up at the very top is the headset jack and power button.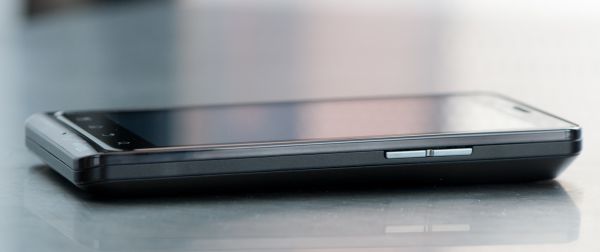 Probably my only major physical complaint about the Bionic is that the power button doesn't protrude enough, isn't clicky, and wobbles around quite a bit. It isn't communicatively clicky enough.
There's a notch on this back side for getting a thumb into, and peeling the back of the device off. The backside is a soft-touch brown material atop plastic.
Battery
Underneath that plastic battery cover is the device's relatively-large 6.6 Whr battery, which is marked as having a nominal voltage of 3.8 V and 1735 mAh capacity. The 3.8 V marking is a bit curious to me, as lithium-ion polymer batteries usually have a nominal voltage of 3.7 V. I haven't compared battery voltage at 0%, 50%, and 100% yet, but this seems curious to me. The battery is very thin, no doubt Motorola was concerned about not making the Bionic too thick. This also makes the Bionic's battery the largest inside any of the Verizon LTE smartphones.
LTE Smartphone Battery Size Comparison
HTC Thunderbolt
LG Revolution
Samsung Droid Charge
Motorola Droid Bionic
Nominal Voltage
3.7 V
3.7 V
3.7 V
3.8 V
Capacity in Whr
Removable 5.18 Whr
Removable 5.6 Whr
Removable 5.92 Whr
Removable 6.6 Whr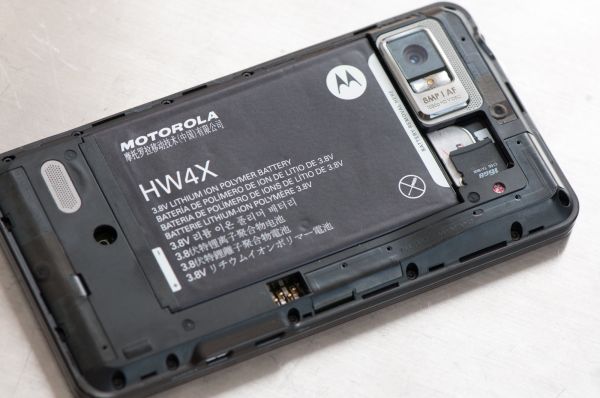 Of course on the back of the Bionic is the 8 MP rear facing camera with LED flash, speakerphone port at the bottom (the grille next to the camera doesn't seem to serve any purpose), and two microphones.
The overall appearance of the Bionic really is clearly inspired from the industrial design of the X2. The two phones share a thicker-at-top shape, the same 4.3" display, though the Bionic is just over 1 mm thicker at its thinnest point.
OMAP4430 + LTE
I've described the Bionic to multiple people as a Droid 3 with an X2 form factor and LTE, and that's really what it is at the end of the day. The Bionic uses the same OMAP 4430 SoC and Qualcomm MDM6600 for CDMA 1x and EVDO, though the Bionic has 1 GB of RAM. What's really different is that the Bionic is sans keyboard, and includes a Motorola-branded LTE baseband that we don't know much about at this point.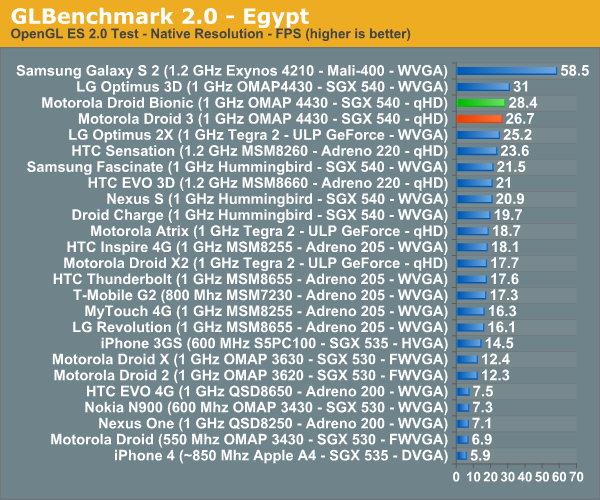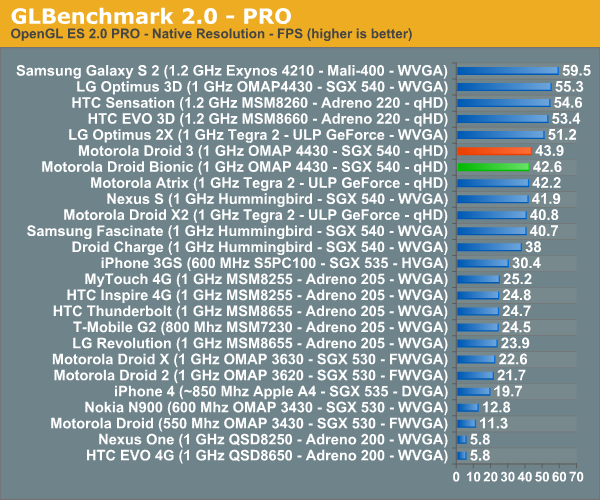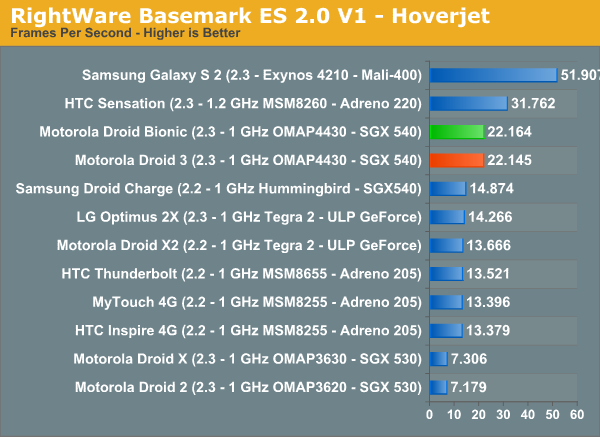 OMAP 4430 performance is something we've largely already gone over in the Droid 3 review, though I've again run all the benchmarks on the Bionic that we'd normally run. All that's really different here is an extra 512 MB of LPDDR2.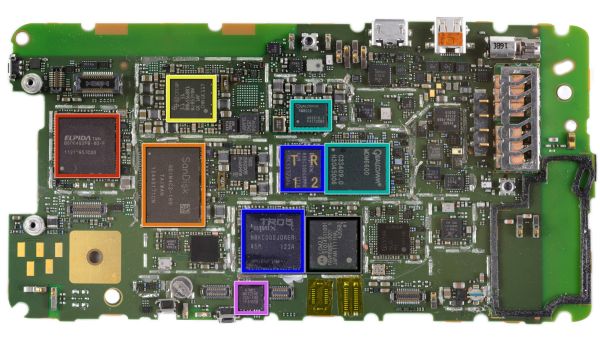 Motorola LTE LCM2.0 Baseband - Ensquared in Black Above, Courtesy iFixit
We first caught glimpse of the Bionic's mysterious LTE baseband inside the FCC photos, now courtesy of iFixit we have a better photo of the die and some markings. Unfortunately that's about all we know for certain, though it's highly likely the baseband is a LTE Category 3 device.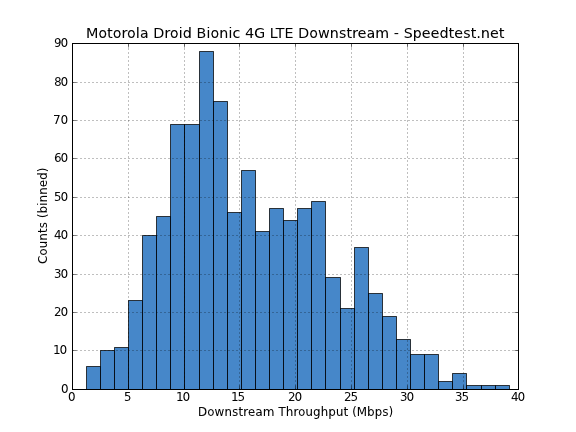 Throughput on LTE is where it should be with the Bionic. I've run over 400 speed tests in my freshly-enabled LTE market in Tucson, AZ, and a few in Phoenix, AZ. Average downstream is almost exactly 15.5 Mbps, with a standard deviation of 6.5 Mbps. I've seen a maximum of 39.1 Mbps so far.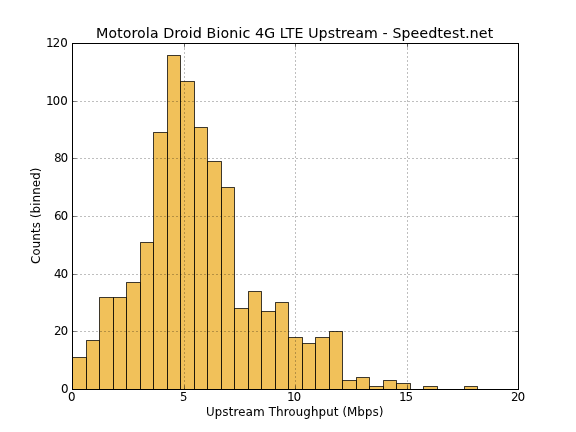 Upstream is on average 5 Mbps with a standard deviation of 2 Mbps, and a maximum of 12.7 Mbps.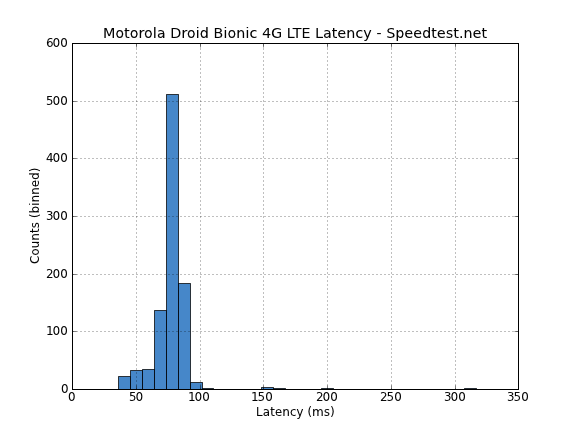 Latency is interesting, when I posted some early histograms, a number of people pointed out that latency is lower on the Bionic. Sure enough, I measured an average latency of 78ms on the Bionic, and 97ms when I tested the Thunderbolt a few months ago.
So throughput is where it should be, and 4G LTE connectivity on the Bionic doesn't seem to suffer from any dramatic issues other than a rare disconnect or two.
Battery Life
There's a big but coming, and that "but" is battery life. I haven't had a chance to run all the battery life tests yet, but I've run what I think are the two most important ones for the Bionic: smartphone web browsing on LTE, and WiFi hotspot on LTE. Bear in mind again that the Bionic has the largest battery of the four Verizon smartphones right now. I've also measured a charge from 0-100% time (with the display off and no use) of about 3 hours.
First up is the smartphone web browsing test, which consists of the device loading through a few dozen webpages with the display at 200 nits until the phone dies.
I think results speak for themselves. I actually had a chance to run this twice, which I did, just to ensure that the first test wasn't an errata. The second time the phone performed almost exactly the same, and I averaged the results together.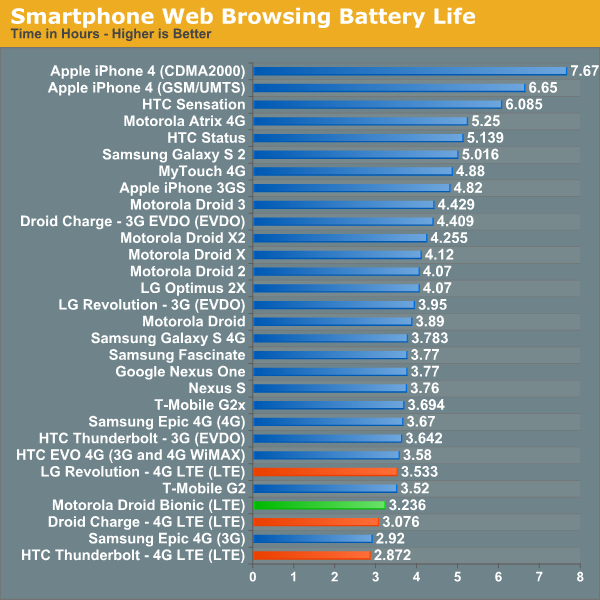 Next up is the WiFi hotspot test, where a notebook connected over WiFi to the device loads four tabs of the page load test alongside a 128 Kbps MP3 internet radio station, again until the phone dies.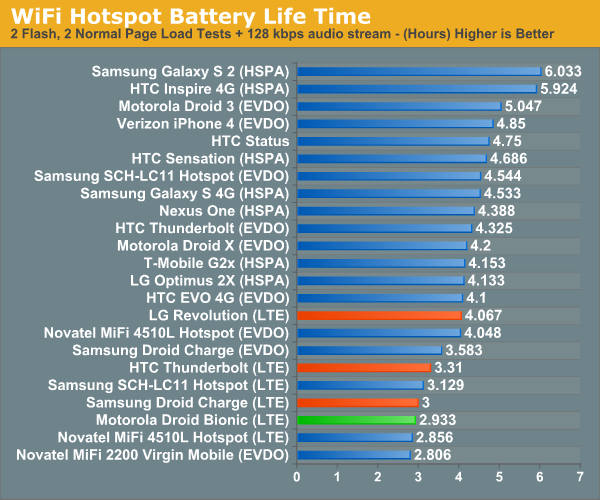 Unfortunately the Bionic doesn't fare very well in either test, despite having the largest capacity battery. There's really no sugar coating those results. I expect 3G/EVDO web browsing and call test time battery life to be slightly better than the Droid 3 at this point owing to the larger battery capacity.
Heat
The other thing about the Bionic is that it gets hot. I've handled a lot of warm smartphones, but the Bionic gets notably warm. After our smartphone battery life test finished, I pulled out my contactless IR thermometer and measured 112 F surface temperature.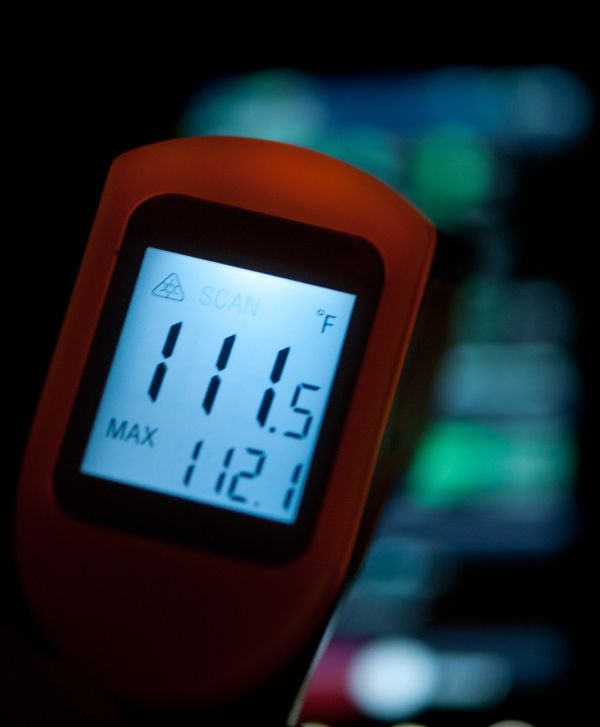 It seems to me that the surface of the display gets warm before the backside or rest of the device.
Camera
I've only had a chance to take photos with the rear-facing camera in our lightbox, and have updated some to a gallery alongside a few other photos. In addition I've captured 1080p30 video from the Bionic at our test location. Just like the Droid 3, the Bionic captures 1080p30 video at 15.0 Mbps H.264 high profile.
Note that the lighting conditions this last time were not similar to our other videos, and normally I go to great lengths to ensure similar lighting, however due to the time constraint I didn't get a second day to go back, so these will be re-captured for the final review.
Final Words
Don't think that this replaces any longer-form review, as we're still going to do an in-depth review of the Droid Bionic after we've had more time with it. I just wanted to give some quick impressions on the device and the results of preliminary battery life testing before we get neck-deep in IDF and Microsoft BUILD related coverage.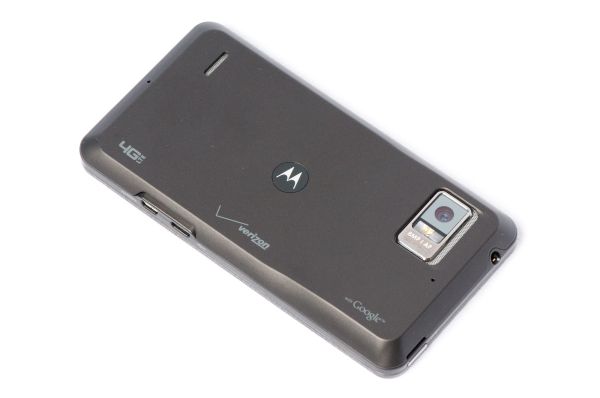 At this point the Bionic is looking to have similar battery life to the other LTE devices, even with a larger battery and dual core SoC. The rest of the battery life testing suite will really tell the story about whether Motorola's rather mysterious LTE baseband is the culprit here, and we've asked for more information about it and hope to hear back. The Bionic is proving to be incredibly similar to the Droid 3 - they both run the same version of Motoblur, version of Android, same SoC, and possibly even the same (or at least very similar) kernel. Battery life and hot exterior temps aside, however, the Droid Bionic proves that a dual core smartphone with 4G LTE can make web browsing a very speedy experience. Stay tuned for our upcoming full review.