Gaming Performance
The Sony VAIO S' AMD Radeon HD 6470M is going to be good enough for light gaming (really, the lightest of gaming), but as you'll see from our test results, I still really have to question the point of even including it along with the muxes and additional hardware and cooling complications it brings. Intel's HD 3000 integrated graphics aren't spectacular, but the 6470M isn't either. A downclocked HD 6630M would have been a far better choice for a discrete GPU.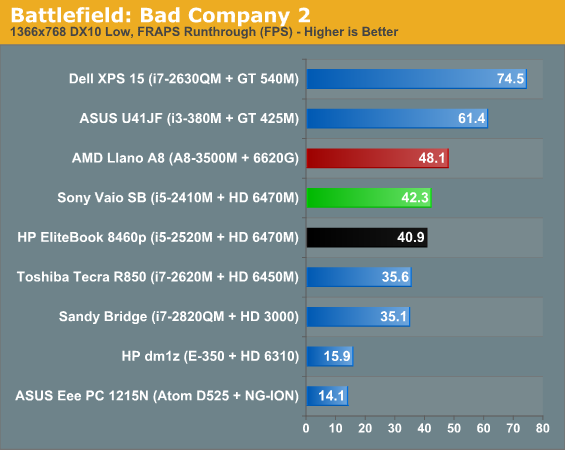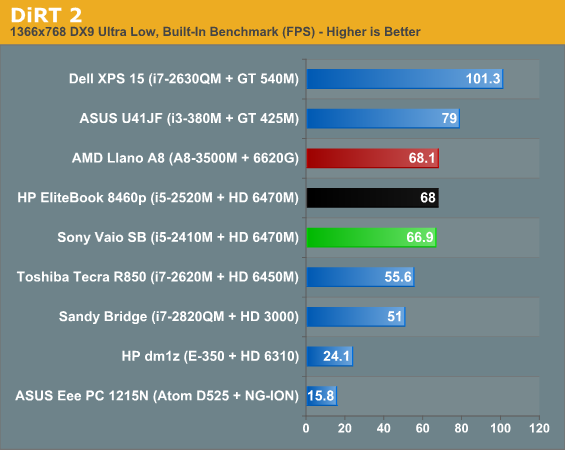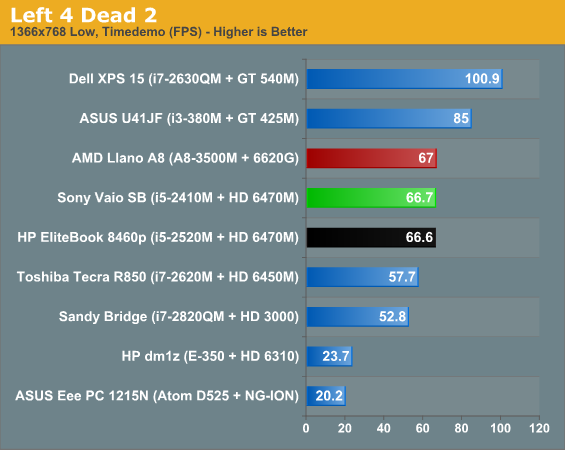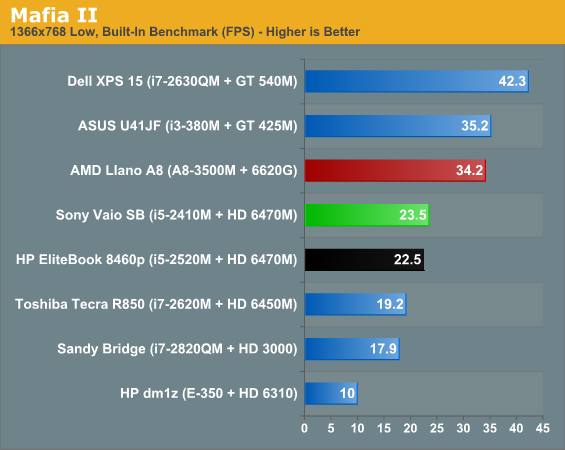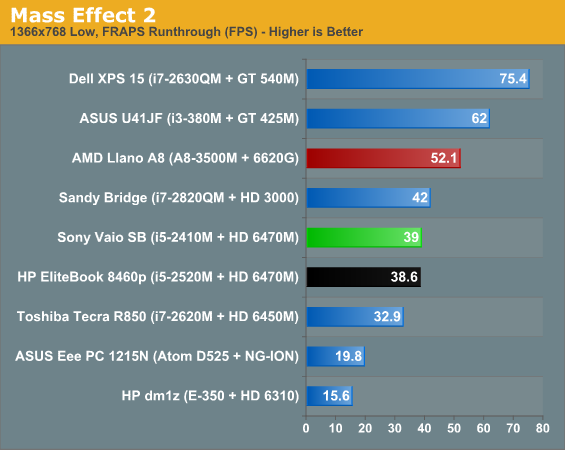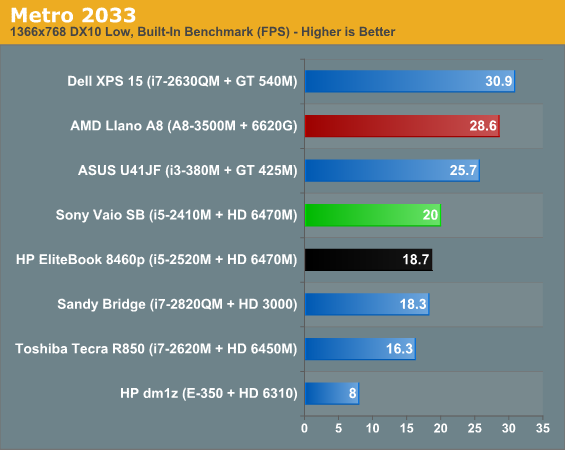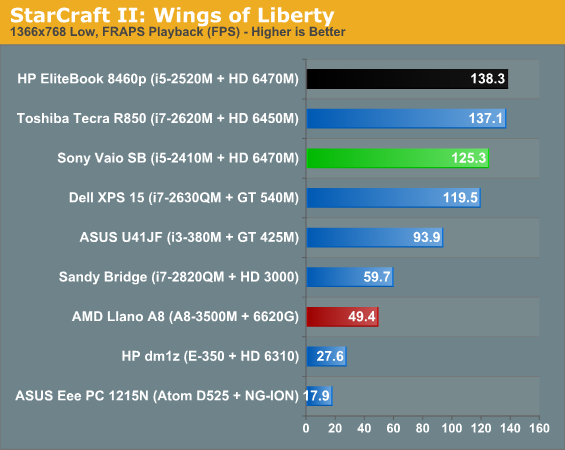 At no point in our "low" testing suite does the VAIO's HD 6470M mean the difference between playable and not playable compared to the HD 3000, and in every situation but the notoriously CPU-limited StarCraft II it falls behind Llano. I think what may really be damning are the results for the entry-level NVIDIA GeForce GT 425M (slower than the current generation GeForce GT 525M), which consistently outpaces the 6470M and offers Optimus technology, allowing the ASUS U41JF to eschew muxes entirely.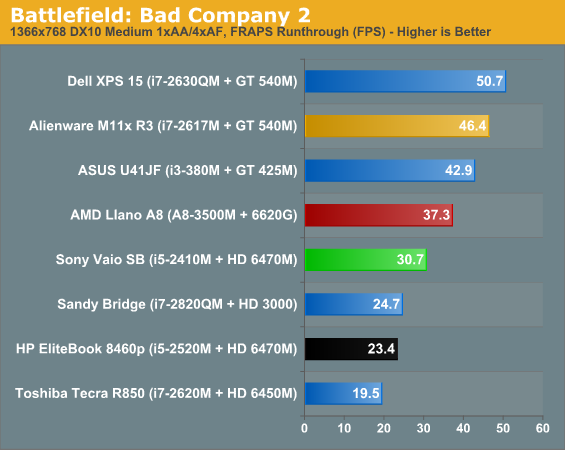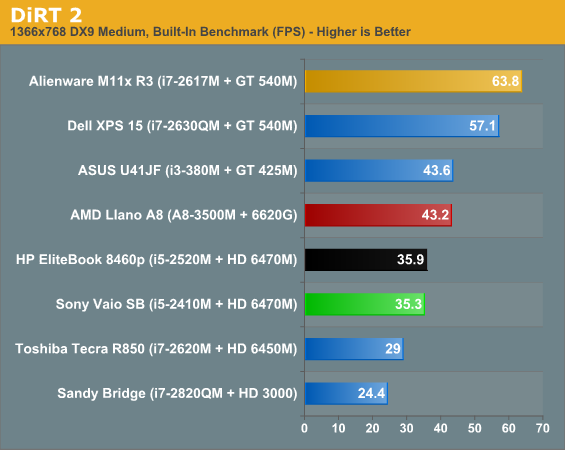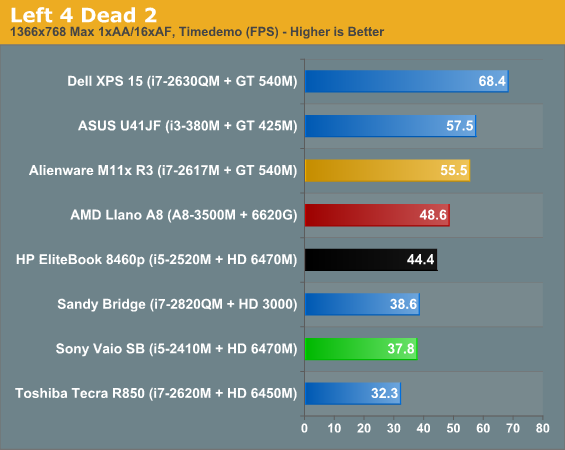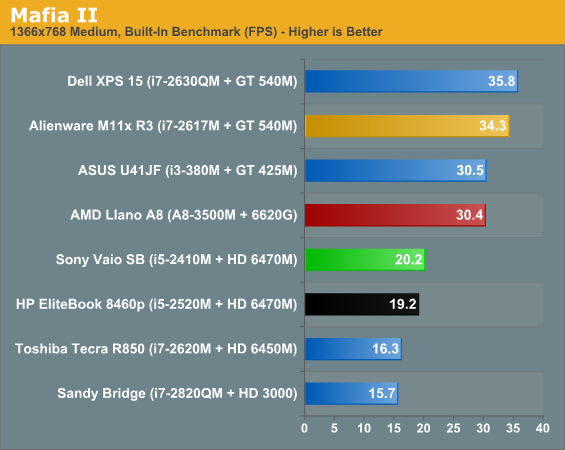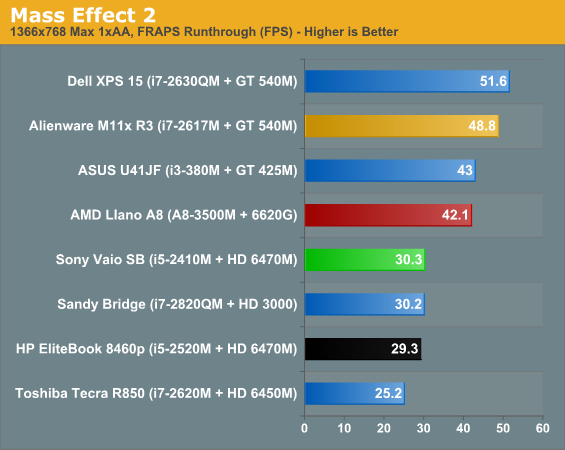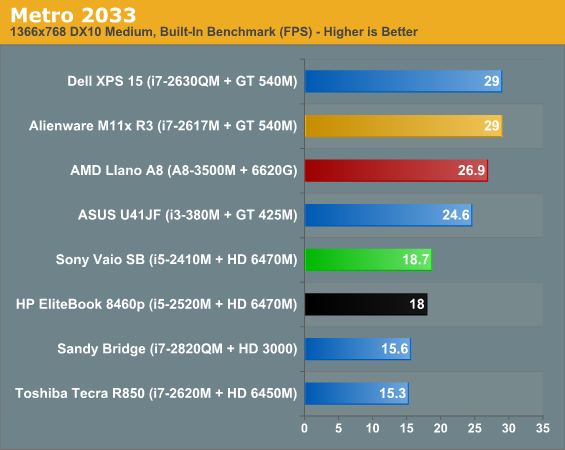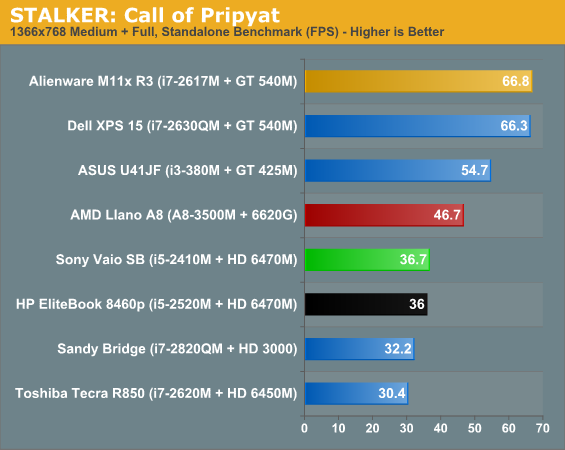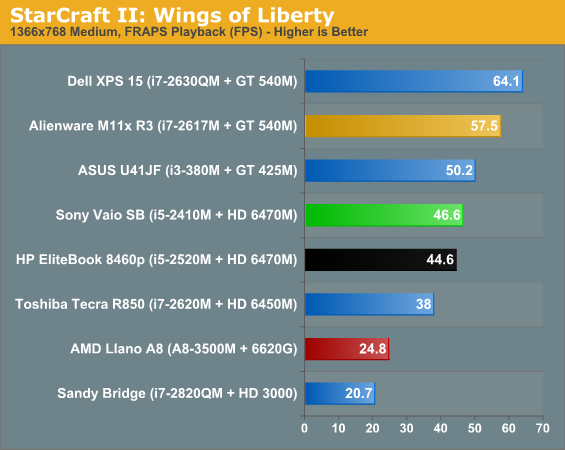 At our "Medium" settings the 6470M starts to separate from Intel's HD 3000, but it's still never quite enough to really justify its inclusion. If gaming on the VAIO S is going to be any kind of priority, you'll likely be better off investing in the offered AMD Radeon HD 6630M upgrade as the 6470M is just too meager for any serious use. Like the old GeForce G 310M and the current GT 520M/520MX, we just don't see much point in continuing to include barely-faster-than-IGP discrete GPUs. Hopefully when Ivy Bridge hits, we'll finally see the end of discrete mobile GPUs below the GT 525M/HD 6630M.
One other item we need to mention with regards to gaming is the drivers. Our test suite is sufficiently old at this point that we didn't encounter any difficulties, but we'll be revamping our games list in the near future. Why that matters is that Sony isn't participating in AMD's mobile driver program. More to the point, AMD's reference drivers won't work with their switchable graphics solution regardless. You need a single package that contains both the Intel and AMD graphics drivers, along with knowledge of Sony's switching hardware, and the only place you're going to find that is at Sony's support site. We haven't tested newer titles with the VAIO S, but we'll be looking at another laptop with AMD's switchable graphics in the near future, and we're going to be testing a bunch of newer titles for compatibility.
Long-term, we're more than a little concerned for gaming prospects with the HD 6470M, and the HD 6630M may only see one or two driver updates over its lifetime (if we're lucky). With every month that passes, the chances of a new title having a graphics bug that requires a new driver increases, and if you can't get updated drivers you're basically at a dead end. So for gaming enthusiasts, we'd be very cautious about considering the VAIO S.