The ASRock CoreHT 252B is covered quite nicely with respect to networking hardware. With support for both Gigabit Ethernet and 802.11n, it really doesn't matter if you keep the unit beyond cable reach from the router. All our network streaming tests were carried out with a 300 Mbps 802.11n network (currently provided in my lab location by a RT-N16 802.11n gigabit router from Asus). We were easily able to stream HD clips of more than 50 Mbps. HD YouTube videos and HD Netflix streaming had no issues.
While on the topic of network streaming, let us take a brief look at how the system performs while accessing online video services. We used Flash 10.3 in Firefox 4 with Intel Graphics Driver v2372 for testing. The first set of screenshots below show the CPU usage while playing back a 1080p YouTube video with and without hardware acceleration enabled. This is the same clip used in all the other SFF HTPC reviews.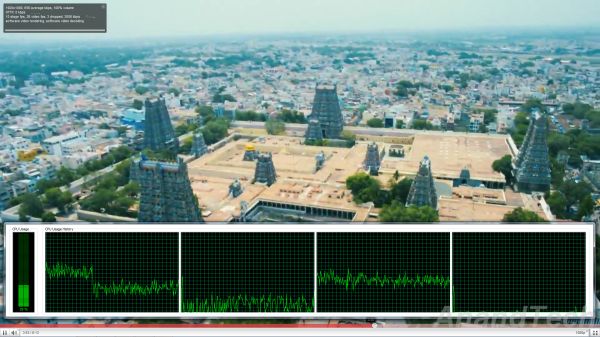 1080p YouTube HD Streaming without Hardware Acceleration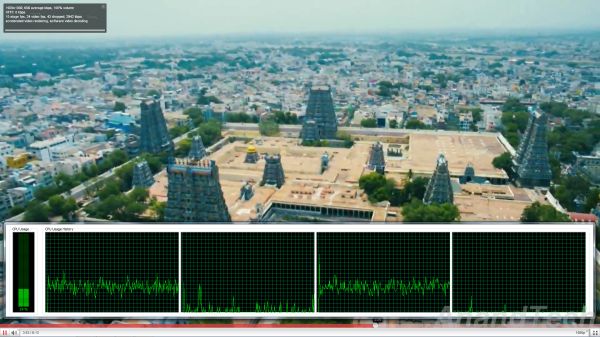 1080p YouTube HD Streaming with Hardware Acceleration (Flash in Firefox)
Unfortunately, enabling hardware acceleration in the Flash properties seems to result in only accelerated video rendering. The decode still ends up being done in software. This accounts for the ~5% decrease in CPU usage when hardware acceleration is enabled. Just before posting the review, we also confirmed that the issue still exists on IE9 / Firefox 6.0 with Flash 10.3.183.7. Another puzzling aspect was the fact that we could get hardware accelerated decoding for some videos occasionally.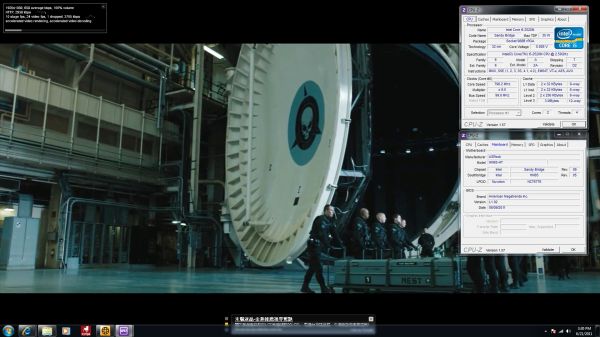 1080p YouTube HD Streaming with Hardware Acceleration (Flash in IE9)
It looks like the Adobe Flash Player has some trouble in hooking up to the Intel DXVA library. Both AMD and NVIDIA platforms support GPU acceleration for Flash without issues. It is disappointing to note that the largest GPU vendor (in terms of install base) still hasn't got this working right.
Netflix streaming, on the other hand, uses Microsoft's Silverlight technology. Unlike Flash, hardware acceleration for the video decode process is not controlled by the user. It is upto the server side code to attempt GPU acceleration. Thankfully, Netflix does try to take advantage of the GPU's capabilities. This is evident from the A/V stats recorded while streaming a Netflix HD video at the maximum possible bitrate of 3.8 Mbps. While the video is definitely not 1080p, we observe that the CPU utilization of around 18% is lower than the CPU usage for a 1080p YouTube video.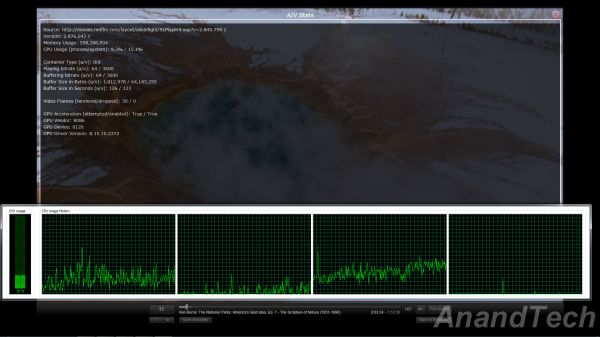 Netflix HD Streaming with Hardware Acceleration
Users of media streamers streaming online videos often have to put up with messages of the sort 'This content is not available on TV connected devices' or need to queue up the videos on a PC before accessing them through their media streamer box. HTPC users don't need to worry about any such limitations.
On a side note, it is disappointing to see Netflix restrict its 1080p / DD+ 5.1 offerings to the PS3 and Roku 2. It is the PC platform which launched the streaming business for Netflix. It would be good if they do not relegate HTPC users to being second string consumers as their popularity grows.