Introducing the Corsair Carbide 400R
Corsair started their enclosure business from the top of the market and worked their way down. Their first case was an expensive black monolith, the Obsidian 800D, popular for watercooling setups but less so for air. They fired a shrink ray at it and came up with the Obsidian 700D, roughly $50 less. It wasn't until the Graphite 600T that they produced a case with an enthusiast pricetag but also a design that deviated from the Obsidian standard; we were very happy with the 600T in our review back in December. That case proved to be a real success for Corsair; so many of its design cues were married to the design of the Obsidian series, and the net result was the even less expensive Obsidian 650D. Yet Corsair still hasn't tackled the sub-$100 market...until now.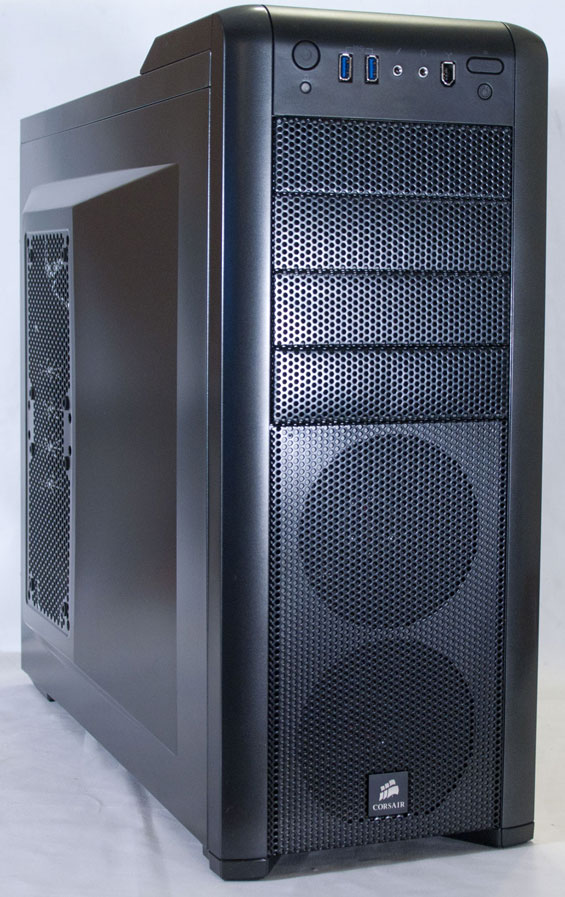 What makes the Carbide 400R particularly interesting is that it's Corsair's first positive pressure case design. Not just that, but in many ways it's simultaneously their most advanced design despite being their least expensive. Take a look at these specifications:
Corsair Carbide 400R Specifications
Motherboard Form Factor
Micro-ATX, ATX
Drive Bays
External
4x 5.25"
Internal
6x 3.5"/2.5"
Cooling
Front
2x 120mm intake fan
Rear
1x 120mm exhaust fan (supports 140mm fan)
Top
2x 120mm/140mm fan mount (supports 15mm spaced 240mm radiator)
Side
2x 120mm/140mm fan mount
Bottom
1x 120mm/140mm fan mount
Expansion Slots
8
Front I/O Port
2x USB 3.0, mic and headphone jacks, 6-pin FireWire, fan LED toggle
Top I/O Port
-
Power Supply Size
ATX
Clearance
12.5" (Expansion Cards), 175mm (CPU HSF), 280mm (PSU)
Weight
20.5 lbs.
Dimensions
20.5" x 8.1" x 19.8"
Price
MSRP $99
The more I examined the Carbide 400R, the more I felt like Corsair was "advancing in reverse." Each new release of theirs is just a little more innovative than its predecessor, and with the 400R we see a lot of features that frankly we'd like to see scale up the chain. Mercifully, though, the extremely flexible system for fans coupled with the increased real estate behind the motherboard tray, LED toggle, and USB 3.0 motherboard header cable are launching at the low $99 price point. That's a straight up win for the consumer: Corsair's first $99 enclosure is also one of its most advanced.