In and Around the NZXT Tempest 410 Elite
The NZXT Tempest 410 Elite is basically just the windowed version of the Tempest 410 at $10 less, trading in the Tempest 410's dual 120mm side intake fan mounts for a window. Whether or not that's worth it is up to you, but I know in my testing experience an intake fan can often have tremendously positive effects on both cooling and noise.
For the front bezel of the 410 Elite, NZXT uses what they call a "honeycomb steel mesh" to improve airflow into the enclosure, and they back that up with two 120mm fans that are, like the drive bay shields, easily removed. I'm actually quite fond of the aesthetic of the 410 Elite; while it looks a little bit chintzy just due to the amount of plastic, it's at least fairly understated compared to how gaudy and ostentatious enthusiast cases typically are. NZXT's mesh is attractive, while the column of ports below the power and reset buttons on the right side states pretty clearly where the end user should orient themselves relative to the case.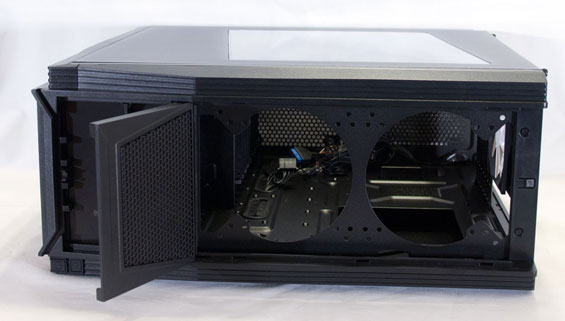 On the top of the 410 Elite is a pocket that can be popped open and used to store cables, flash drives, and optical media, while the steel mesh behind it can be removed to allow for installation of a 240mm radiator. That space would ordinarily be a welcome inclusion, but as you'll see in testing, it winds up being an active detriment to the enclosure's acoustics. The steel mesh that snaps on and off maintains a clean design, but beneath it are just two massive holes for 120mm fans. I can't help but wonder if there wouldn't have been a better way to handle this mounting solution.
Popping open the enclosure reveals a reasonable amount of space for a mid-tower, including tool-less clasps for the optical drives and a staggering eight drive sleds, each able to support a single 3.5" drive tool-lessly or a 2.5" drive with screws. Once again there are holes in the motherboard tray for routing cables, and again, the rubber grommets are held in fairly loosely and liable to pop out if provoked. Finally, there are seven expansion slots which use mesh covers, and each of these are held in place by thumbscrews.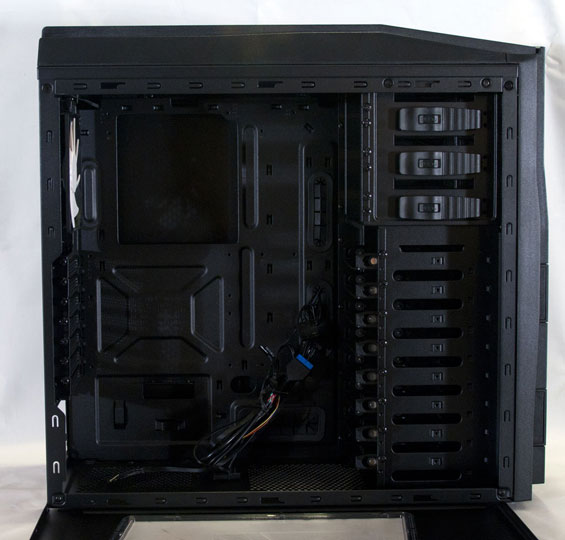 Speaking of thumbscrews, this is one convenience that I appreciated in NZXT's H2 and again here: NZXT sees fit to mount rows of thumbscrews inside the enclosure, pretty much just to make sure they're readily available. These things are like getting a pleasant postcard from a friend travelling overseas: I'm not sure how useful they are (especially with the 410 Elite's design), but they're pleasant and thoughtful and I'd just as soon have them than not.
When we move behind the motherboard tray, we find a healthy amount of space for hiding cabling. It's not stellar, but it's enough, and the hole for mounting heatsinks is always welcome. I haven't griped about it for a while so now seems like as good a time as any: Intel needs to fix their mounting system, period. When two entire industries are picking up the slack for your crappy mounting system, there's a real problem. Pushpins begone!