Introducing the HP Z210 SFF Workstation
We're taking our second excursion into enterprise-class desktop territory with the kind of machine that should be of interest both to IT management and enthusiasts alike: HP's Z210 SFF (small form factor) workstation. Desktop computers are capable of getting smaller and smaller these days, and with the Z210 SFF, HP is hoping to make serious number crunching power available in even the tightest of spaces. It's always interesting to see just how much performance can be crammed into a tiny computer, but did HP have to make any sacrifices to hit this target?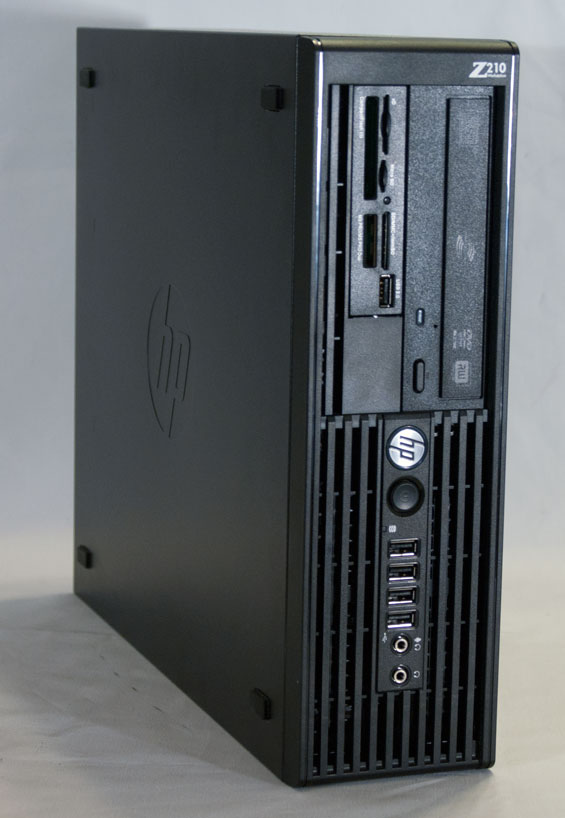 I'll readily admit I'm a huge geek when it comes to smaller computers like this one, so whether it was enterprise class or not, the Z210 SFF was going to be something I'd want to get my hands on personally. Thankfully, it fits right in with our hopefully expanding coverage of enterprise-class towers. We're still working out kinks in our testing of workstations, so suggestions on how to improve it are always welcome. The last time we reviewed a desktop workstation was our Dell Precision T1600; as you'll see there were some changes made here.
HP Z210 SFF Specifications
Chassis
HP Custom
Processor
Intel Xeon E3-1245
(4x3.3GHz + HTT, 32nm, 8MB L3, 95W)
Motherboard
HP Proprietary Motherboard with C206 chipset
Memory
4x2GB Hynix DDR3-1333 ECC @ 1333MHz (expandable to 16GB)
Graphics
NVIDIA Quadro 600 1GB DDR3
(96 CUDA Cores, 640/1280/1600MHz core/shaders/RAM, 128-bit memory bus)
Hard Drive(s)
Intel X25-M 160GB SSD
Optical Drive(s)
HP DVD+/-RW Combo Drive
Networking
Intel 82579LM Gigabit Ethernet
Audio
Realtek ALC662 HD Audio
Speaker, mic/line-in jacks for stereo sound
Front Side
5x USB 2.0
Headphone and mic jacks
Optical drive
Card reader
Top
-
Back Side
2x PS/2
6x USB 2.0
2x USB 3.0
1x Ethernet
2x DisplayPort
Serial
VGA
Speaker, mic/line-in
DVI-D
Operating System
Windows 7 Professional 64-bit SP1
Dimensions
13.3" x 15.0" x 3.95" (WxDxH)
Extras
SD/CF/MS/MMC Card Reader
ISV Certification
HP Performance Advisor
90% Efficient PSU
Warranty
3-year parts, labor, and onsite service
Pricing
Starts at $569
Review system configured at ~$1,799
Unfortunately, at time of publication HP didn't have a page up for custom configuring the Z210 SFF; the top-of-the-line model they list is basically identical to our review unit, but with the NVIDIA Quadro 600 workstation graphics card added. Keep in mind that's the most powerful workstation card HP offers with the Z210, and it retails for $169. Given vendors' proclivity towards adding a premium to upgrades, I'd expect the end price for this kit to be around $2,000.
So what do you get for your money? For starters, HP equips the Z210 SFF with an Intel Xeon as opposed to a consumer-grade Core i3/i5/i7, in this case the E3-1245. The E3-1245 is roughly equivalent to a Core i5-2500 with the additions of Hyper-Threading, Intel HD Graphics 3000, and 2MB more L3 cache; it runs at a nominal 3.3GHz and is capable of turbo-ing up to 3.7GHz on a single core (losing 100MHz for each additional active core under turbo), sports 8MB of L3 cache, and maintains a 95W TDP. Connected to the integrated memory controller are four 2GB Hynix DDR3-1333 DIMMS with ECC.
Pulling graphics duties is a half-height NVIDIA Quadro 600 workstation card, and we have some surprises for you when we get to the workstation benchmarks. The Quadro 600 is the enterprise-class version of the GF108 chip that powers the desktop GeForce GT 430, featuring 96 of NVIDIA's CUDA cores with 1GB of DDR3 strapped to a 128-bit memory bus. Clock speeds are a bit underwhelming, though; the GT 430 ships at 700MHz on the core and 1400MHz on the shaders, against the Quadro 600's 640MHz core clock and corresponding 1280MHz shader clock. The DDR3 runs at an effective 1.6GHz. Still, remember that this is a workstation card and benefits from NVIDIA's Quadro drivers.
The rest of the system is relatively tame and unsurprising for a workstation, but HP does add both a USB 3.0 expansion card and an Intel X25-M 160GB SSD based on 34nm NAND. In our admittedly anecdotal experience, Intel's SSDs tend to be extremely popular in the enterprise sector; outside of the current issue with the 320 series SSDs, Intel drives have typically demonstrated the lowest failure rates on the market. So for those of you wondering why we're not seeing high performance SandForce-based SSDs or SATA-III kit, there's your answer.