Noise and Thermal Testing, Stock
Puget Systems recently ran an article pitting the SilverStone Fortress FT02 against Antec's P183 v3 and orienting them in different ways to test the effectiveness of SilverStone's rotated motherboard approach, specifically trying to ascertain whether or not natural convection really plays much of a role in the FT02's thermal performance. I don't disagree with their results, but when evaluating the FT02 specifically I don't find them particularly relevant either.
My primary points of interest are thus: the FT02 delivers a massive amount of directed and unobstructed airflow straight through the motherboard area, right into blower-style video card coolers and right into tower-style CPU coolers, and I'm concerned about the resulting noise from having that air vent out of the top of the case. A lot of us keep our computers under our desks, and instead of routing the accompanying noise out of the back of the case it comes out of the top and has a pretty good path straight into our ears.
The FT02 includes switches near the 120mm exhaust fan (meaning you'll have to remove the panel to change them) that can change the speeds of the 180mm fans between high and low settings; I tested the enclosure with both settings. Other cases with fan controllers built in have their most balanced results listed.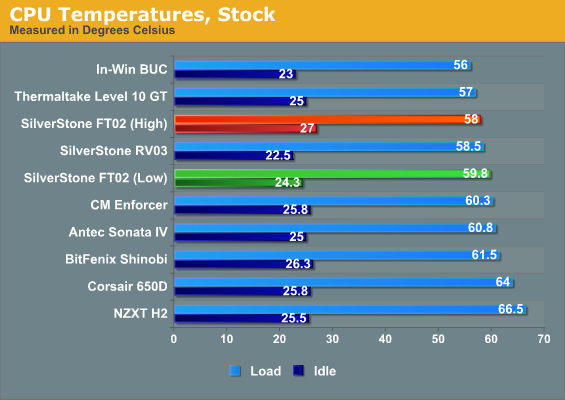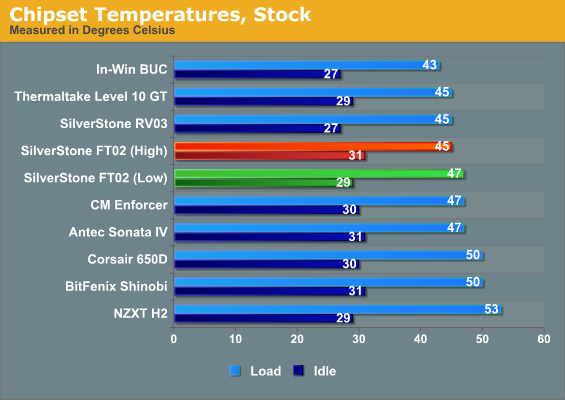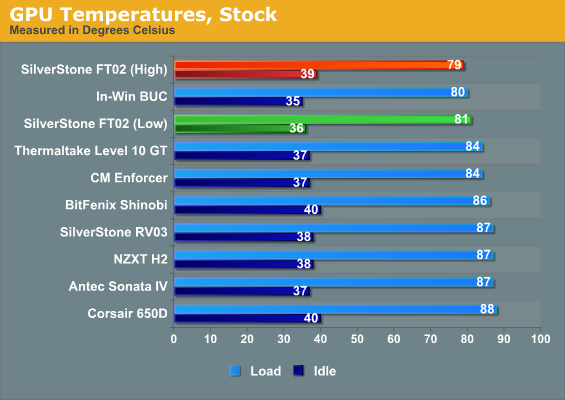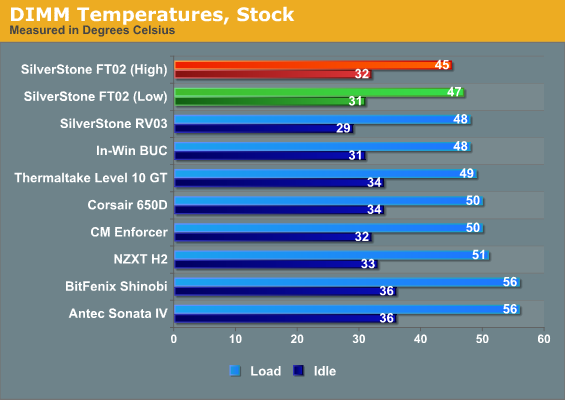 Right away we can see the FT02 delivers respectable, if not awe-inspiring performance. The differences between the two fan settings are, as is often the case, slight. I'll admit to having expected better, though: the In-Win BUC continues to run wild, and the Thermaltake Level 10 GT also produces stellar results competitive with the FT02. Something about those side intake fans makes a major difference, a notion we'll be testing when we review Corsair's upcoming Carbide 400R.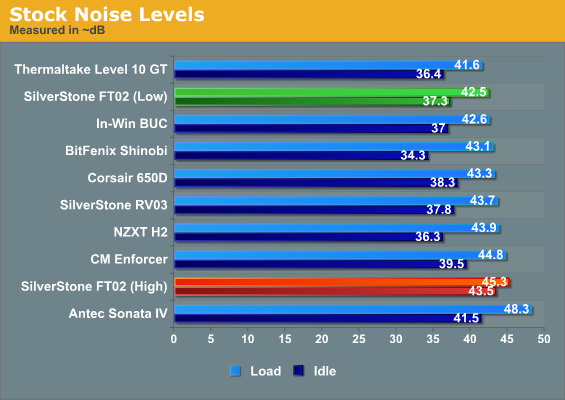 On the flipside, the FT02 is among our quietest cases with the fans on low. Once again it's tough to justify running the case's fans on high if you're not overclocking: noise increases disporportionately with thermal performance. If nothing else, the FT02 is efficient.