Introducing the SilverStone Fortress FT02
Ever since we reviewed the SilverStone Raven RV03, a lot of you have chimed in about their Fortress FT02 enclosure, with more than one even proclaiming it the best air-cooling enclosure ever; high praise to be sure. To be fair, we were impressed with the FT02 when we reviewed the DigitalStorm BlackOps, a monster of a boutique build that nonetheless ran remarkably quiet and cool given the massive overclock on its Core i7-950 and the pair of GeForce GTX 580s sandwiched together in precisely the way NVIDIA tells you to avoid. It didn't matter: the system was cool and quiet despite pulling nearly 700 watts under our testing load and undoubtedly capable of pulling more. The FT02 has been around for a couple of years now and SilverStone warns that it doesn't enjoy some of the conveniences modern enclosures do, but can it hold up?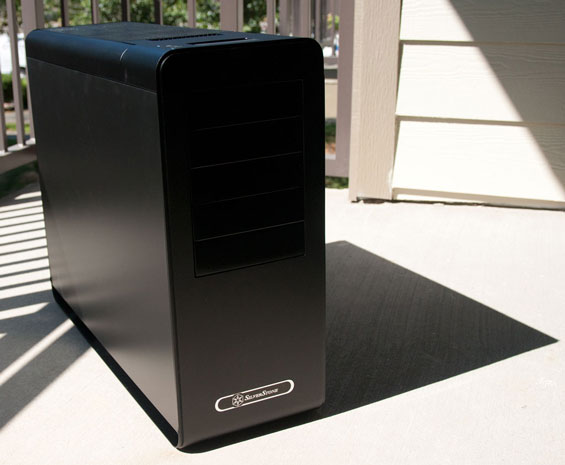 Spoiler alert: it absolutely can. Those of you who found the exterior of SilverStone's Raven RV03 ostentatious, or just find many gamer-oriented enclosures ostentatious in general, it doesn't get much simpler than the Fortress FT02. But this is a luxury enclosure with a pricetag that has it competing squarely against the recently reviewed Thermaltake Level 10 GT, and like the Thermaltake case, SilverStone has made some unusual choices in the design of the FT02.
SilverStone Fortress FT02 Specifications
Motherboard Form Factor
SSI CEB, ATX, Micro-ATX, Mini-ITX
Drive Bays
External
5x 5.25"
Internal
5x 3.5"/2.5", 1x 2.5"
Cooling
Front
-
Rear
-
Top
1x 120mm exhaust fan
Side
-
Bottom
3x 180mm intake fan
Expansion Slots
7
Front I/O Port
-
Top I/O Port
2x USB 2.0 (user-replaceable with separately sold USB 3.0 bracket), mic and headphone jacks
Power Supply Size
ATX
Clearance
12" (Expansion Cards), 165mm (CPU HSF), 330mm (PSU)
Weight
33.1 lbs.
Dimensions
24.25" x 8.35" x 19.57"
Price
$249
Just looking at the specs a few things should jump out at you: it's big, it's heavy, it's expensive, and it...has three massive intake fans on the bottom? As you'll see it's another unusual design from the mad scientists at SilverStone, and while it's definitely a major step up from the newer RV03, like every other SilverStone enclosure I've played with...it's a little bit special needs.