Iwill DS133R
As we mentioned before, the Iwill DS133R is the only dual processor i820 board that made it into the roundup.  The board is nothing too special, it features 5 PCI slots with an OEM option of 1 shared ISA slot.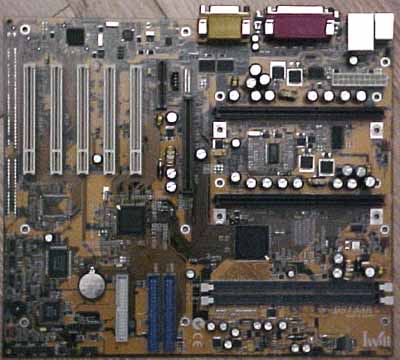 The board features no on-board SCSI but Iwill does have other dual processor i820 boards that do offer that option.  The only unique quality of this motherboard is that it features integrated Intel 10/100Mbit Ethernet through the use of the 82559 chip present just above the 3rd PCI slot. 
The integrated Ethernet is a very useful option, especially for a workstation/server board like the DS133R and is cheaper than going out and purchasing an Intel 10/100 adapter, plus it doesn't take up a PCI slot. 
An interesting absence from the DS133R is the AGP Pro slot, especially since this is a workstation board, but it seems like Iwill didn't see any need to include it.  Whether they were right in that assumption or not has yet to be determined, it's just an interesting point to make.
The stability of the DS133R wasn't anything to complain about; while it wasn't as solid as the previous four boards, it came quite close.