MTech has often been attributed with the role of producing high quality motherboards based on SiS chipsets. However lately MTech seems to want to explore the realm of Intel chipset based motherboards, their MIG R539 was a disappointing yet valid example of this attempt. How much did MTech improve their TX board design since then? Should MTech remain in the TX market? Let's find out...
---
Socket Style:

Socket-7

Chipset:
i82430TX
Cache:
N/A (On Chip)
Form Factor:
AT
BUS Speeds:
55 / 60 / 66 / 75 / 83 MHz
Clock Multipliers:
2.0x / 2.5x / 3.0x / 3.5x / 4.0x
Voltages Supported:
2.1 / 2.2 / 2.3 / 2.4 / 2.5 / 2.6 / 2.7 / 2.8 / 2.9 / 3.0 / 3.1 / 3.2 / 3.3 / 3.4
RAM Slots:
2 72pin SIMM Slots (EDO) [R540 only]
2 168pin DIMM Slots (EDO/SDRAM)
3 168pin DIMM Slots (EDO/SDRAM) [R541 Only]
PCI/ISA Slots:
4 PCI Slots
4 ISA Slots (0 Shared / 1 Full Length)
BIOS:
AWARD PnP BIOS
PCI EIDE Controller:
Super I/O
2 EIDE Channels
1 FDD Channel
2 Serial /1 EPP
---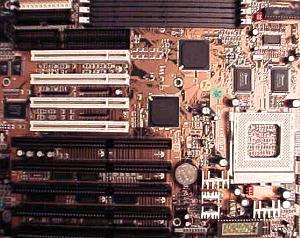 Figure 1. MTech R541
| | |
| --- | --- |
| The design and layout of MTech's MIG R541 and 540 is fairly standard for a TX based AT motherboard. The R541 comes equipped with 3 DIMM slots for the power hungry user while the R540 offers 2 DIMM and 2 SIMM slots for those of you interested in re-using your old SIMMs and you don't want to give up the chance to use SDRAM in the future. | Figure 2. MTech R540 |
| | |
| --- | --- |
| Both the 541 and the 540 place their memory expansion slots in the lower right hand corner of the motherboard itself making installing/upgrading your RAM a tedious task in some cramped cases. MTech provides you with a hearty 4 PCI and 4ISA slots with both TX board, however the large heatsinks on the voltage regulators (4 on the 541 and 3 on the 540) prevent full length ISA cards from populating 3 of the 4 ISA slots. MTech included core voltage settings on the R54x ranging from 2.1v to 3.4v in 0.1v increments to make this much more of a flexible motherboard. | |
| | |
| --- | --- |
| | The MIG 541's jumper setup is completely documented in MTech's thorough manual which also includes the classic, MTech Quick Reference Card, for on-the-fly tweaking. The R540 on the other hand uses a few sets of dip switches as an alternative to jumpers for its configuration. The R540's manual is just as thorough as that of the 541 and also covers all dip switch settings for all of the supported bus speeds, officially and unofficially (60 - 83.3MHz). Included in MTech's package are the standard set of IDE/FDD cables in addition to the Intel BMIDE drivers. |
Both successors to MTech's MIG R539, the 541 & R540 corrected many problems the original 539 posed. The 75MHz bus speed setting, fully documented in both the manual of the 541 and the 540 is now rock solid with AMD's K6, Intel's Pentium MMX, or Cyrix's 6x86MX (the 3 processors used in the tests). Unfortunately that is the end of the Good section of the R541/540 review...want to know why? Keep reading...
| | |
| --- | --- |
| The good section of this review started out by talking about the layout of the motherboard and that is how the bad section will start out. The MTech R541, like its predecessor, features a highly uncommon and complicated jumper setup. The jumper blocks are difficult to set for a first time builder. It is usually good practice to equip a motherboard with at least enough jumpers for every setting to be theoretically achievable without having to buy more jumper caps. This practice doesn't seem to have been instated with the R541 since setting the board to 83.3MHz x 2.5 requires the use of one more un-supplied jumper cap. The bottom line? Have the manual ready and a few spare jumper caps handy when setting up the R541. I should mention that the R540 with its dip switch driven setup doesn't provide these problems. While MTech may have fixed the stability of the 2 boards at the 75MHz bus speed, the 83.3MHz setting on the R541/540 remaining virtually inoperable. So don't plan on doing any remotely serious overclocking with either of these two. | |