As I mentioned earlier, the Slide has a 3.7" WVGA Super-LCD display. Brian gave a pretty thorough rundown on what Super-LCD actually is in his Sensation review, so I'm just going to quote him. He's an optical engineer, he knows this stuff a lot better than I (a mechanical engineer) do.
So what is Super LCD? Earlier I mistakenly stated that it was IPS - it's actually a PVA derivative. So why PVA? Well, remember AMOLED's strengths - excellent (completely off) blacks, extremely fast response times, and good viewing angles. It's easy to nail the first and last with IPS, but I wager that HTC also wanted to eliminate any chance of smear, and went for S-LCD which (thanks to its PVA heritage) offers a nice balance of the three. In addition, the S-LCD panels use a traditional RGB (3 subpixel per pixel) stripe rendering layout, making it even better in some ways than the original AMOLED for things like web browsing and sharp-edged or one pixel thick UI elements. Panel types aside, S-LCD is good enough that it's hard to tell apart from IPS.
Unfortunately, unlike the Sensation, which has a new-age 4.3" qHD screen, the Slide makes do with the same 3.7" WVGA panel from the G2. This is borne out in the numbers - the brightness is way low, but the contrast ratio and viewing angles are more than decent, but more importantly, they're all within 2-3% of what we saw from the G2 last year. The white temperature is basically spot on with other HTC devices at 6365K, giving much more natural whites than Samsung (who seems to really enjoy having relatively cool displays with rather oversaturated blues).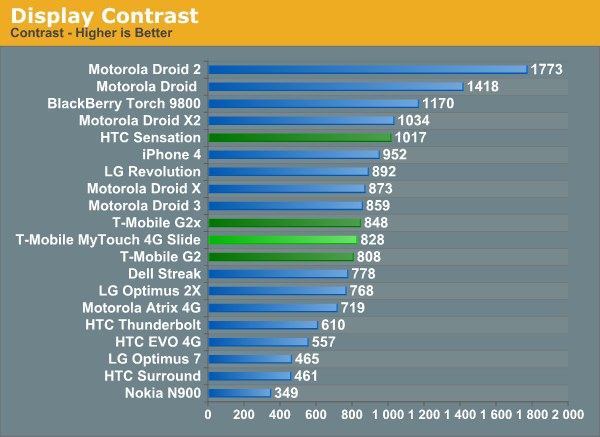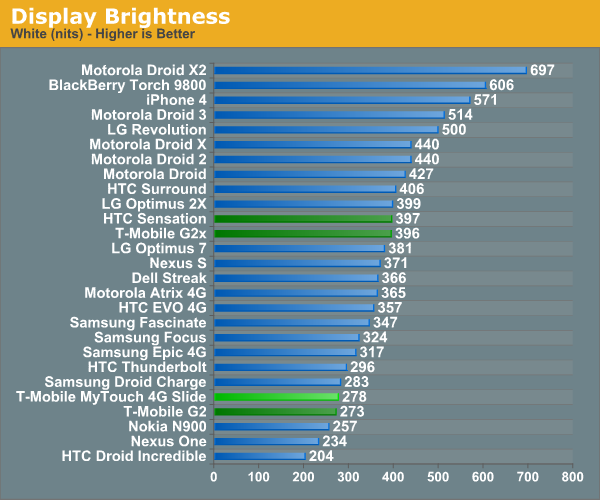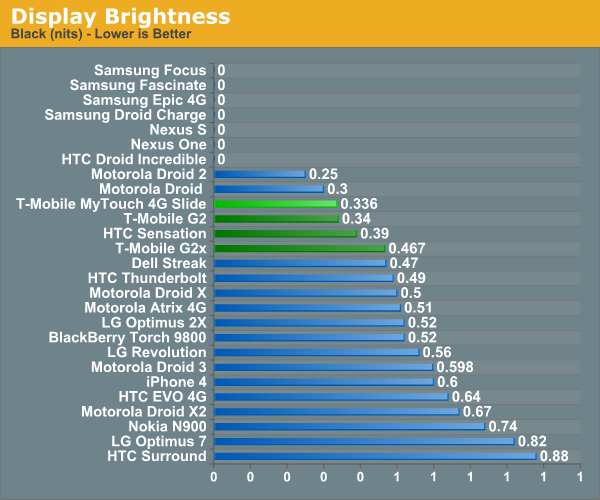 The panel is still okay, but it's definitely not near the top of the class in this day and age. For the next go around, I'd really like to see HTC go for a higher brightness, higher resolution display.