Battery Life
We've already established that the new MacBook Air lineup is significantly faster than its predecessor, but what does that do to battery life? Interestingly enough with a couple exceptions, not too much.
Let's look at the facts. Last year's MacBook Air used a 45nm Intel Core 2 Duo CPU paired with an NVIDIA chipset. The Core 2 is a very mature architecture that uses very little power under load. The 2011 Air gets the benefits of integration. The CPU and GPU are both on 32nm compared to 45/40nm for the previous generation. On top of that there's also power gating and architectural efficiencies to take into account.
The new Air models retain the same battery capacities as their predecessors: 35Wh for the 11 and 50Wh for the 13. It wasn't too long ago that the 15-inch MacBook Pro only had a 50Wh battery so this new 13-inch MacBook Air should be a good upgrade for users of older MacBook Pros even from a battery life standpoint.
Light Web Browsing
Here we're simply listening to MP3s in iTunes on repeat while browsing through a series of webpages with no flash on them. Each page forwards on to the next in the series after 20 seconds.
All screen savers are disabled, but the hard drive is allowed to go to sleep if there's no disk activity. The wireless connection is enabled and connected to a local access point less than 20 feet away. This test represents the longest battery life you can achieve on the platform while doing minimal work. The results here are comparable to what you'd see typing a document in TextEdit or reading documents.
Last year's 13-inch Air did amazingly well in our light web browsing battery life test, shattering even Apple's own expectations for the system. The new 13-inch MacBook Air doesn't fare as well.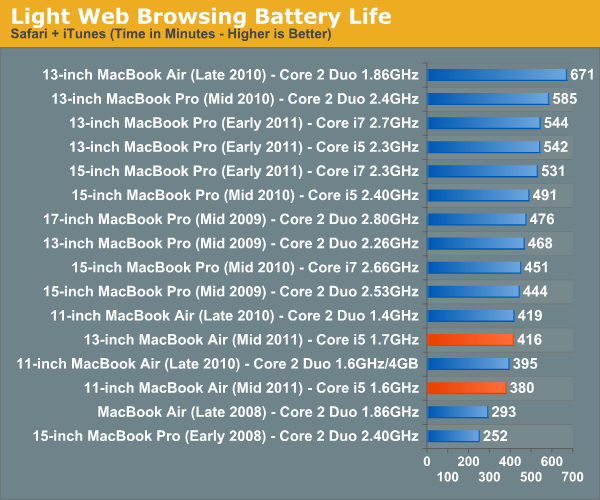 While the new Air still delivers a respectable 6.9 hours of battery life in our lightest test, it's no where near what last year's model provided. If you're used to using your Air as a glorified typewriter, expect less battery life with the new model.
I'm not entirely sure why the 2010 13-inch MacBook Air did so well in our test. It lasted more than 60% longer than the 11-inch Air despite only having a 42% increase in battery capacity. There was something unique about that model that has since been lost.
The new 11 also loses out in the battery life department, but the drop isn't nearly as significant. The new 11 dies about 10% faster than last year's model in this test.
I should add that these results do generally support Apple's battery life claims for the MacBook Air. Apple lists the 13 as having up to 7 hours of battery life and the 11 with up to 5 hours.
Flash Web Browsing
The test here has three Safari windows open, each browsing a set of web pages with between 1—4 animated flash ads per page, at the same time. Each page forwards onto the next after about 20 seconds.
As always, the displays are set as close to one another as possible, audio at two bars, screensaver disabled and the hard drive is allowed to go to sleep if idle. The wireless connection is enabled and connected to a local access point less than 20 feet away.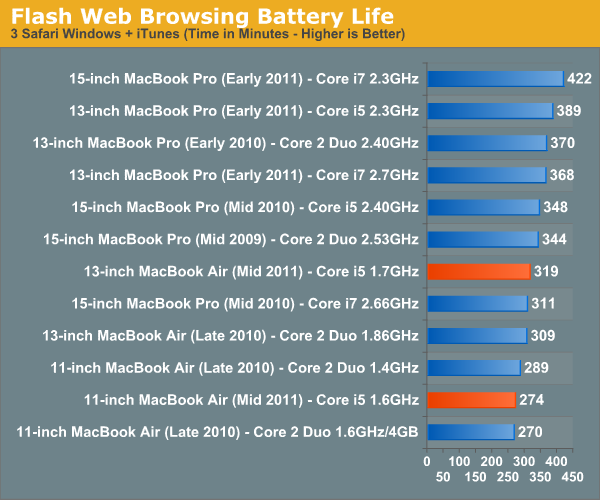 Our light web browsing test is really the absolute best case scenario for battery life under OS X. I often use the term glorified typewriter because that's typically when you see these numbers: just typing away in a TextEdit window. For a writer, that's a valid usage model but for the majority of the population you'll be doing a bit more. This is where our Flash Web Browsing test comes in to play.
Here the numbers drop and the gap between last year's MBAs and the new systems shrinks to basically nothing. You can get around 5.3 hours of browsing duty out of the new 13 and a little over 4.5 hours from the new 11. Those numbers are near identical to last year's model, telling us that the increased power consumption of Sandy Bridge is almost entirely offset by better integration and the move to 32nm.
Multitasking Battery Life
Our final battery life test is the worst case scenario. In this test we have three open Safari windows, each browsing a set of web pages with between 1—4 flash ads per page, at the same time. We're also playing an XviD video in a window all while downloading files from a server at 500KB/s.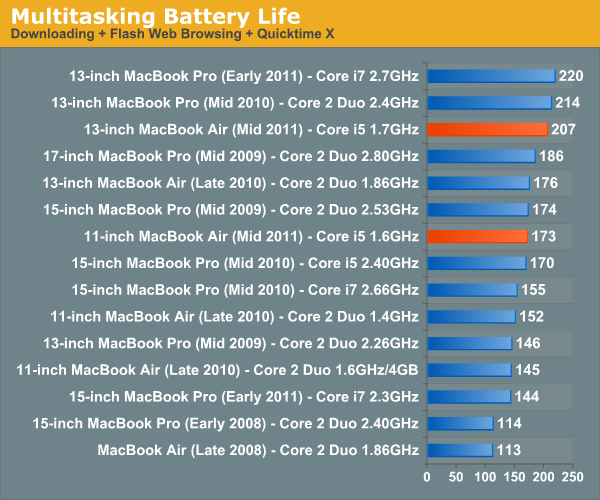 This test is really going to be the number a lot of power users see on a regular basis. Not giving the CPU much time to go to sleep results in very quick battery drain. Higher CPU demands also ensure that Sandy Bridge has room to flex its muscle, giving the new machines a bit of an advantage over last year's models. In a race to sleep, the faster CPU typically wins. If there's never any chance to sleep, the slower CPU usually lasts longer.
The new 13 does very well here, it's in the top 3 barely behind the 13-inch MBPs from last year and earlier this year. The 11 also puts forth a respectable effort, tying the 15-inch MacBook Pro from 2009/2010 and besting this year's model. Note that the 11 is significantly slower than the new 15-inch MacBook Pro, so while it'll last longer you may not be able to get as much done in the same amount of time. But compared to the rest of the systems in Apple's mobile lineup, the new Airs do relatively well under heavy load.
Looking at absolute numbers however the data is less impressive. The 13 is borderline acceptable with its 3.75 hours of battery life, while the 11 is a bit more disappointing at under 3.
The 11 vs. 13
If you're deciding on the 11 vs. 13, here's how the battery life breaks down between the two. On average you're going to gain another 38 minutes of usage with the 13-inch MacBook Air vs. the 11-inch model.
OS X Battery Life Comparison
Light Web
Flash Web
Heavy Multitasking
Average
13-inch MacBook Air
416 minutes
319 minutes
207 minutes
-
11-inch MacBook Air
380 minutes
274 minutes
173 minutes
-
Advantage in Minutes
36 minutes
45 minutes
34 minutes
38 minutes
Advantage in Percent
9.5%
16.4%
19.7%
15.2%
It looks like you'll see anywhere from an additional 10% to nearly 20% battery life from the 13. If we're talking time, the 13 will give you at least another half an hour of battery life from a full charge under OS X.