Thermals & Power Consumption
Both the 11 and 13-inch MacBook Air use the same 45W MagSafe power adapter as the 2010 models. To get an idea of how much power the platform as a whole uses I measured power using the same power brick and a fully charged battery on all three MBA systems (2 new, 1 old). I chose two high-load scenarios: Cinebench R11 and Half Life 2 Episode 2. The former is a purely CPU load while the latter is a good mix of CPU and GPU load.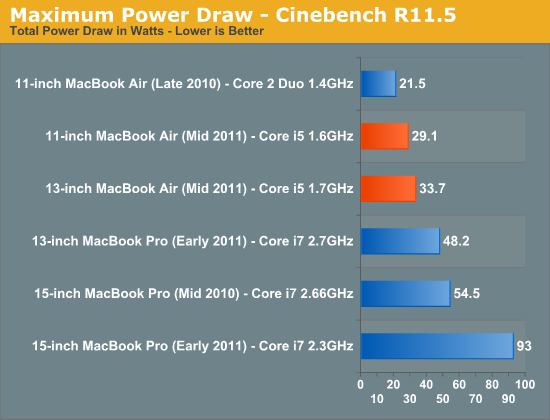 Peak power consumption has gone up significantly since last year. The 11-inch MacBook Air draws 35% more power under full load compared to its 2010 counterpart. In Cinebench R11 however, the new 11 is over twice as fast as the old one. A 35% increase in max power for a 2x increase in performance? I'll take it.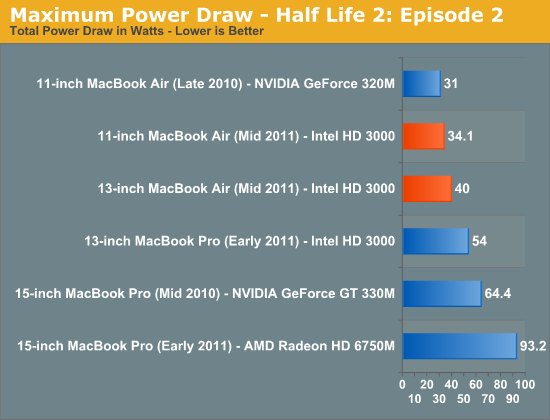 Overall power consumption isn't too bad. You're looking at under 35W for full load on the 11 and around 40W for the 13. Neither exceeds the maximum power draw of a 13-inch MacBook Pro.
How hot are the new Airs on your lap? For the most part they aren't too bad. Under a light load the fan won't spin up and you won't feel more than 31C on your lap: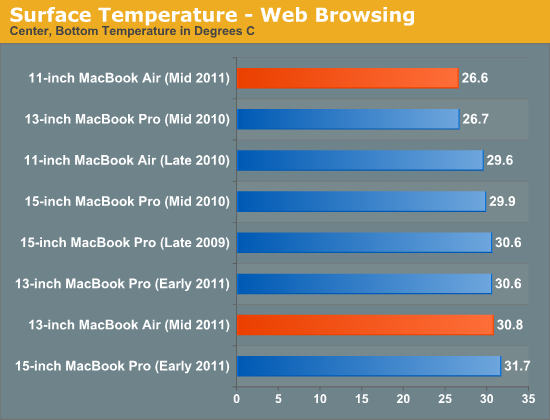 It's under load that these things can get warm. If you're just measuring surface temperature then the new 11 can hang with the 15-inch MacBook Pro: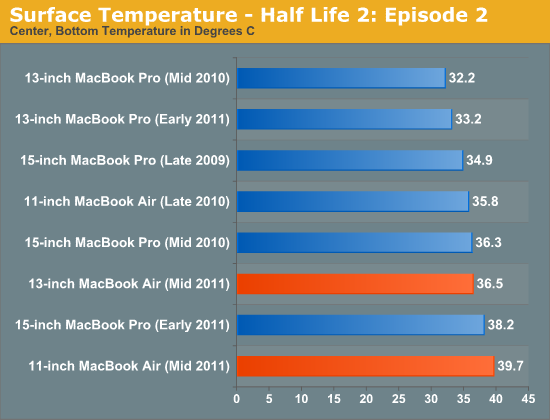 The 11-inch MacBook Air actually has it the worst. With a more cramped chassis things seem to get hotter more quickly in there compared to the 13. However max temperature is no where near as bad as the 15-inch MacBook Pro: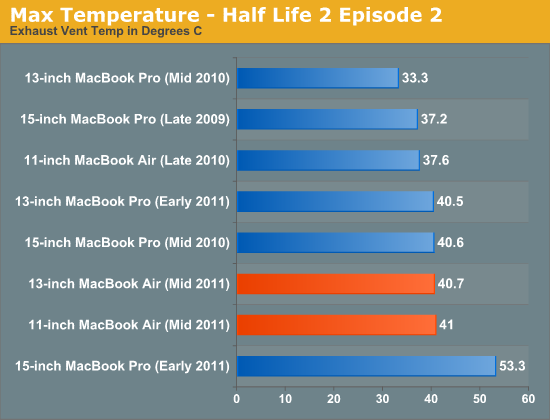 Overall the thermals seem to be in line with a 13-inch MacBook Pro, despite being confined to a much smaller chassis.