WiFi
The TouchPad supports dual-band 802.11n via an Atheros 6003 WiFi stack. Bluetooth support comes via a separate chip (BluCore 63T23). I tested performance on both 2.4GHz (20MHz channels) and 5GHz (40MHz channels) networks. Just like Android, webOS seems to prefer connecting at 2.4GHz even when an AP supports both bands. I had to force my AP to have a separate 5GHz SSID to get the TouchPad to connect at the higher frequency.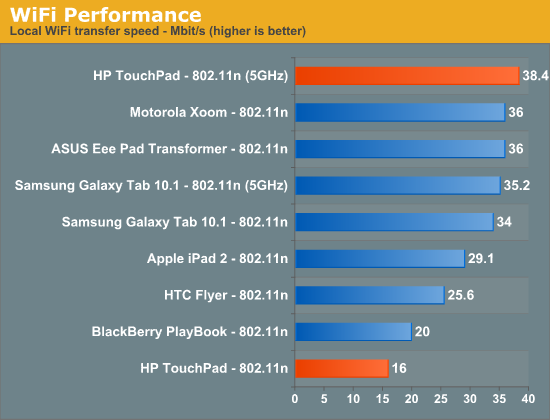 Performance at 2.4GHz isn't that great compared to the other tablets we've tested. At best I managed 16Mbps to the TouchPad from a local server connected via GigE. Switching to 5GHz mode I got much better performance - 38.4Mbps. The Galaxy Tab 10.1 also supports 5GHz, forcing it to connect to the higher frequency SSID resulted in better performance as well - although the TouchPad still managed a slight advantage.
Battery Life
With the performance issues I've mentioned on the TouchPad, battery life is bound to suffer. We've spent the past decade really learning that power efficient hardware and software can be both high performing and very good for battery life. Clearly the long app load times and poor performance while multitasking are going to impact battery life, and indeed they do.
In our light multitasking battery life test we're constantly checking a Gmail account, playing music and running through our standard smartphone battery life test. All tablets here are set to nearly the same brightness using our colorimeter to ensure a level playing field.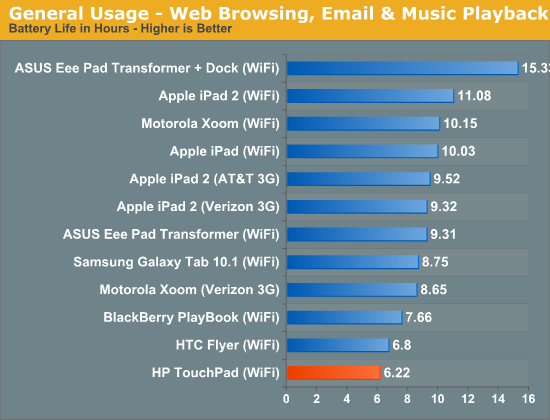 The TouchPad does the worst out of all of the tablets we've tested thus far, including the tiny HTC Flyer. Just over six hours isn't bad, but when the competition does at least 40 - 50% better it's a sign that webOS needs improvement here.
Video playback battery life is a little better: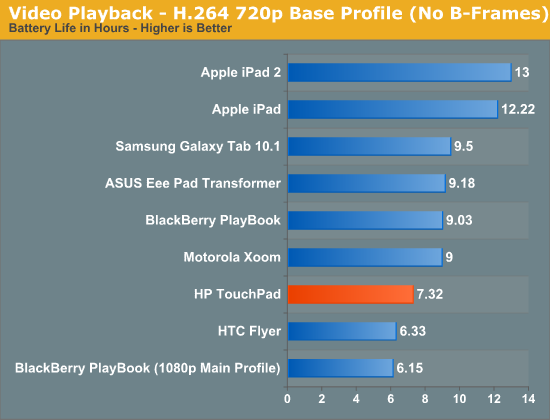 We had to trim our test file to under 2GB in order to deal with the video player app limitation I mentioned earlier, but the actual workload remains unchanged. The TouchPad does better than both the PlayBook and HTC Flyer but is still a couple of hours short of the Honeycomb tablets and very far behind the iPad 2. Still, seven hours is enough to get more than a couple of movies in on a really long flight.
I suspect the battery life issues will be addressed alongside the performance issues as the APQ8060 shouldn't be a problem here, it's just a matter of how long that will take.