Photos, Videos & Music
By default there are no folders on the TouchPad's media partition for photos, videos and music. It's up to the end user to create and maintain your own folder structure. You don't have to, but it does make things easier - particularly when it comes to photos. Note that there is a DCIM folder for pictures captured with the TouchPad's sole front facing camera, although there is no standalone camera app.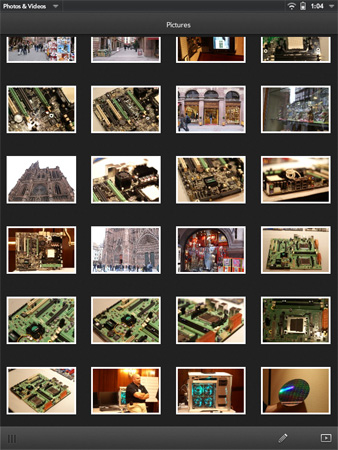 Any compatible file types found on the media partition will automatically appear in the Photos & Videos application. While you can create albums on the TouchPad itself, webOS treats each folder of photos as a separate album by default. The Photos app does integrate your profile pictures and other Facebook albums if you've given webOS your FB login information.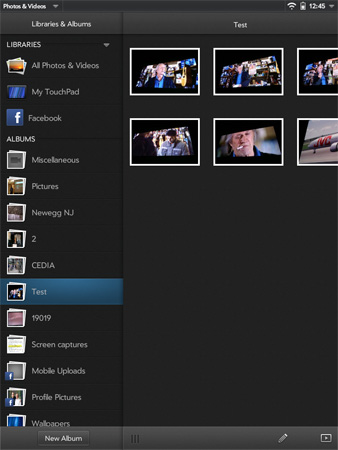 There are no fancy UI transitions or anything when viewing photos, you just get a pretty standard touchscreen photo viewing experience.
The TouchPad supports H.264 movies encoded in High Profile at up to 10Mbps without issue, higher bitrates are possible as well depending on the content and settings. MKV containers aren't supported but .mp4 is. Don't get too excited about the high bitrate support however, the TouchPad's video player app has a disappointing 2GB file size limitation currently in place. While the VFAT file system on the media partition in the TouchPad supports up to 4GB files, I couldn't get any video larger than 2GB to actually play in the app - regardless of bitrate or encode quality. I'm hoping this is a bug that gets addressed soon otherwise there's a lot of wasted hardware potential inside the TouchPad.

Video playback controls are pretty standard. You can view movies in their standard aspect ratio or stretch to fit in the TouchPad's 4:3 ratio.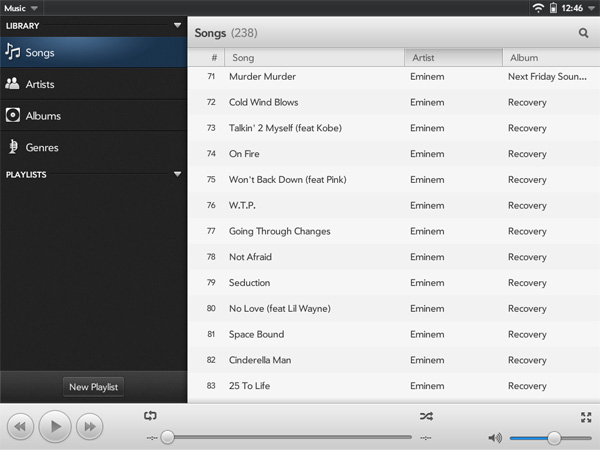 The Music player app is similarly run of the mill. What sets the TouchPad apart in media playback however are its speakers. By no means are these great speakers, but they are the best I've heard on a tablet and arguably better than a lot of ultra portable notebooks/netbooks. While the Beats by Dre sound processing may not sound great to everyone, the implementation on the TouchPad delivers music that actually has some bass to it and doesn't sound tinny. The TouchPad even gets loud enough to keep you company while in the shower. Overall I'm very pleased with the music playback experience on the TouchPad, I only wish it had Google Music support.