Maps
Despite Google search integration, the TouchPad ships with a Bing Maps application. The WiFi only TouchPad doesn't have any GPS support, so location data is provided via Google Location Services' WiFi positioning data. You will need to be on an active WiFi network to pull your current location, but you'll also need to be on one to download map data to begin with.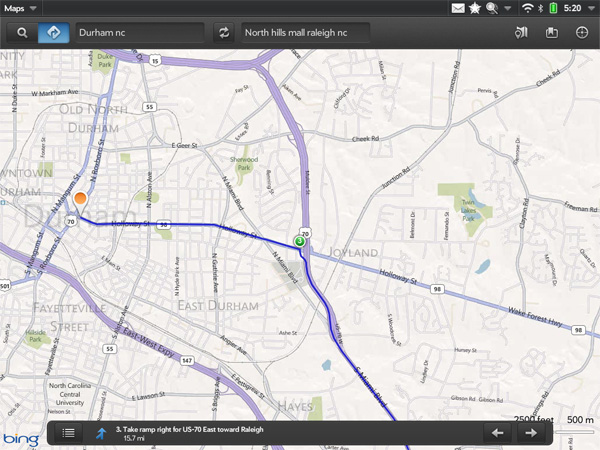 The Maps app lets you search for an address or give you driving/public transport/walking directions between two addresses. While I had no problems searching for specific addresses or getting directions between two addresses, the Maps app didn't always know what I was talking about when I searched for local landmarks or businesses by name. For the most part it worked fine but in general I felt that the Android and iOS Maps apps are backed by better search data than the Bing powered webOS app.
You can overlay traffic data as well as drop a pin anywhere on the map, both standard features for a Maps app. You can display road, satellite and the Bing-special bird's eye view of the map: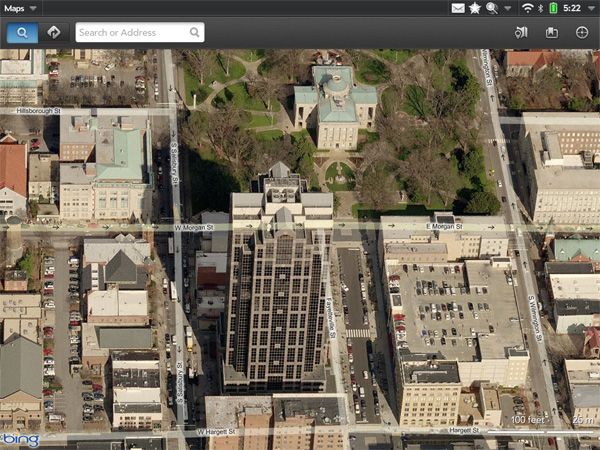 The bird's eye view has to be my favorite feature of the TouchPad's Maps app. Bird's eye view uses images captured from low flying aircraft rather than satellites to provide a more lifelike view of the map.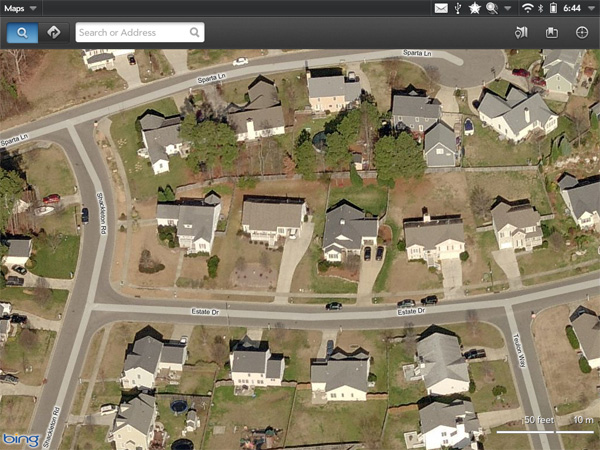 Calendar
The Calendar app is pretty well done. It will import events from Facebook, Google, Exchange and/or Yahoo. If you have multiple calendars it takes one tap to hide/reveal them individually. You can also hide all events and display a blank calendar with a single tap.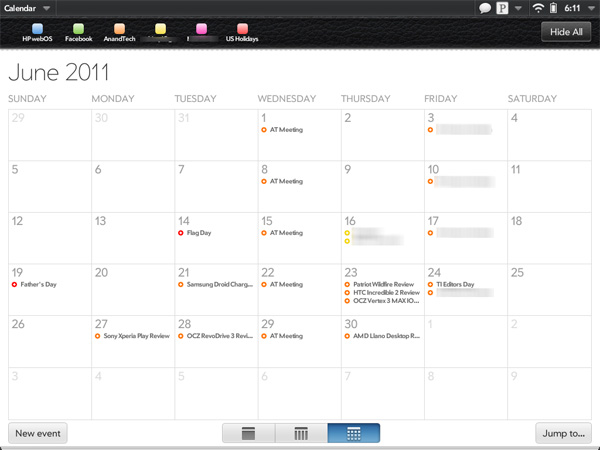 Creating events is simple although if you're in month view the app wants to create all new events for the 1st of the month rather than the present day. Creating an event in day view defaults the start date to the day you're viewing.
Performance in the Calendar app really varies. At times it's smooth but then it'll start chopping while you swipe between calendar pages. With better UI performance I'd be pretty pleased with the Calendar app.