Almost a month ago, we posted about the Motorola Droid 3 popping up in GLBenchmark 2.0's online result browser, with a dual-core 1 GHz OMAP 4430 SoC at its core. Since then, Motorola made the Droid 3 official, announcing online availability for July 7, and in-store availability July 14 for the pretty standard $199.99 on a two year contract. We waited patiently and sure enough a Motorola Droid 3 hit our doorstep today, which we'll have a full review on sometime before the week is up. Until then, we're going to go over high level things in our usual This Just In format.
We're still running all our benchmarks, but for the time being have scores for the web suite, GLBenchmark 2.0, and RightWare's Basemark ES2.0. We now have independent confirmation that those previous Droid 3 results from the GLBench online result browser weren't crazy, in fact, Egypt has gone up slightly.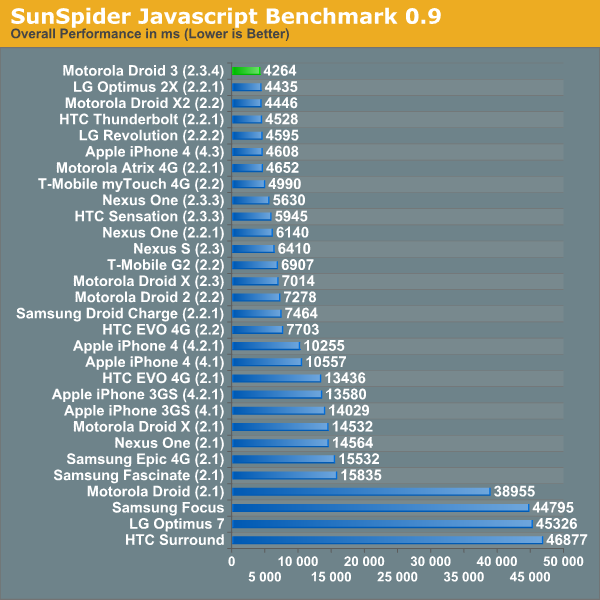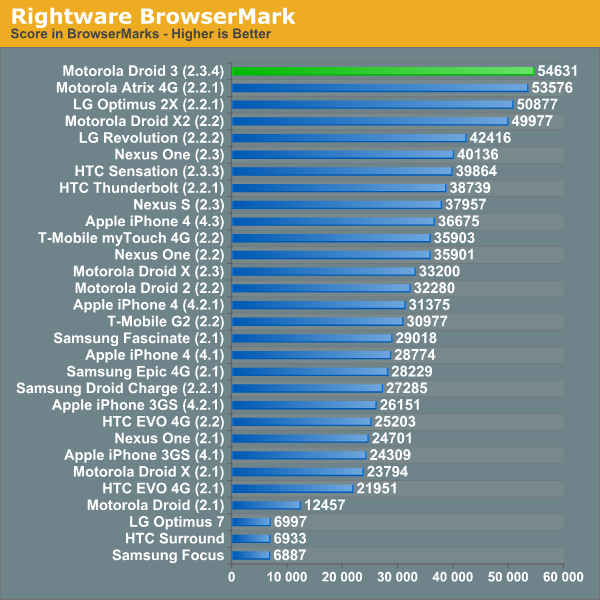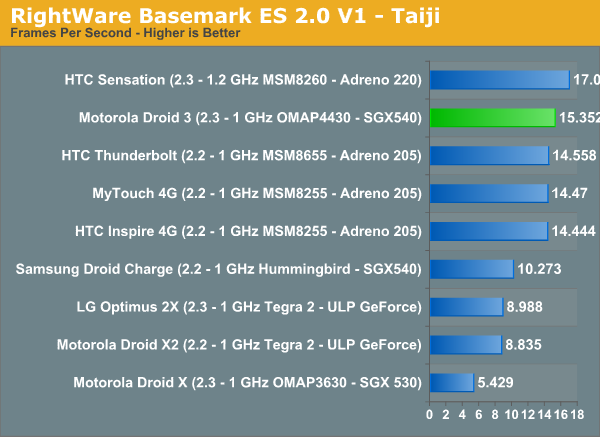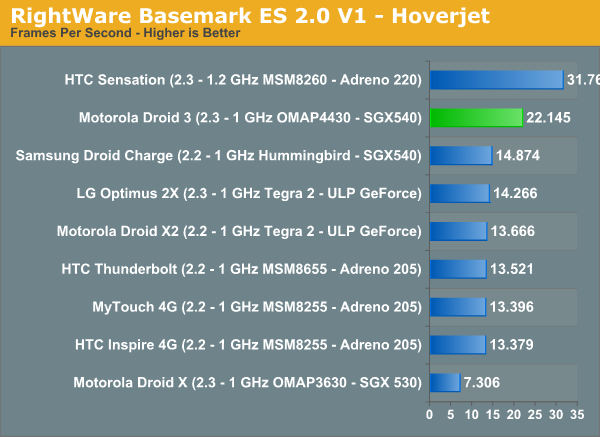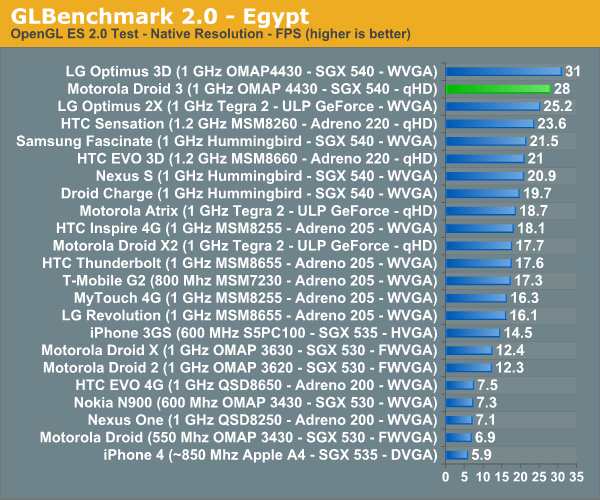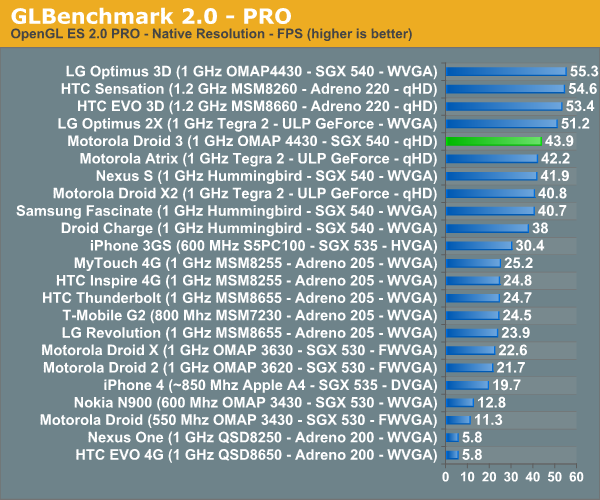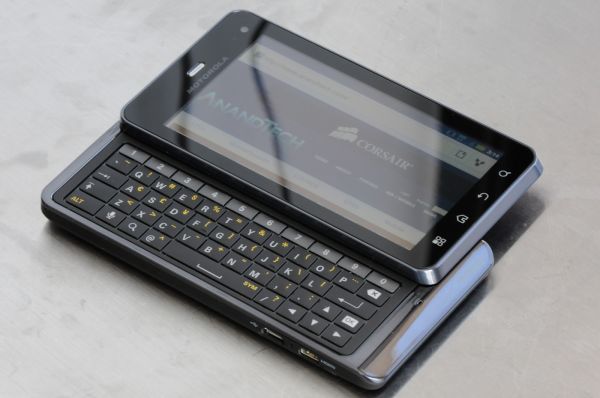 The Droid 3 is a world-branded phone, and thus includes a dual-mode baseband. If you've been following some of Motorola's other devices closely, it shouldn't come as a surprise that Qualcomm's MDM6600 baseband is inside the Droid 3.
There's the standard CDMA2000 1x/EVDO Rev.A 800 / 1900 MHz connectivity for Verizon and some roaming on other CDMA carriers, alongside GSM/UMTS 850 / 900 / 1800 / 1900 support for roaming abroad. There's 2.4 GHz 802.11n support, though no 5 GHz love for 802.11an.
Motorola Droid 3 - Network Support
CDMA2000 1xRTT/EVDO Rev.A
800 / 1900 MHz
GSM/EDGE
850 / 900 / 1800 / 1900 MHz
WCDMA/UMTS
850 / 1900 / 2100
HSPA Speed
HSDPA 10.2/14.4 (UE Cat. 9/10), HSUPA 5.76
Qualcomm MDM6600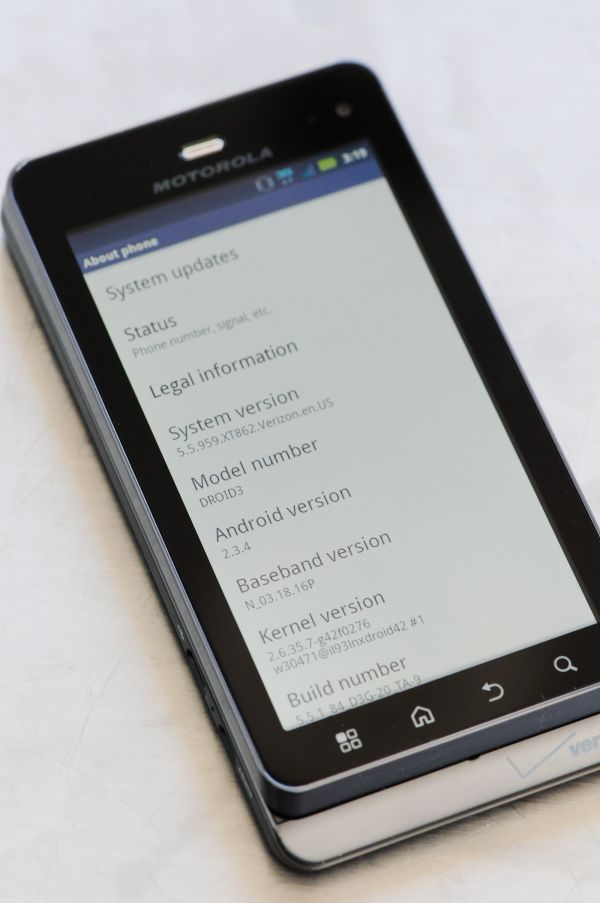 The Droid 3 comes running the very latest version of Gingerbread out right now, 2.3.4. It's a breath of fresh air to play with something that isn't launching running 2.2 Froyo for a change. The device is also running the new brand of Motoblur Motorola's UI skin, which includes a new lock screen and some eye candy on the application launcher and home screens. I'm still making my mind up about how this compares to the previous brand of Motoblur that comes with the Droid X2.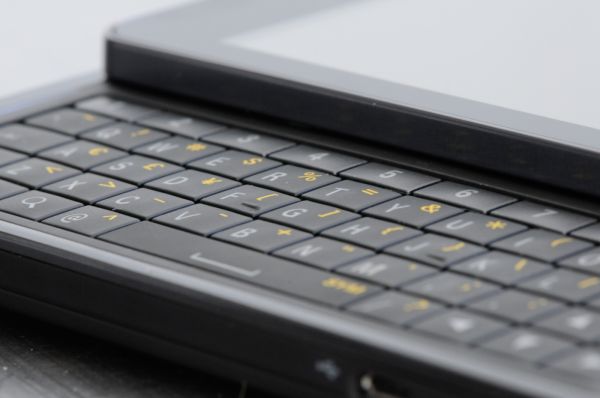 The other big change is of course the new five-row QWERTY keyboard, which thus far is honestly spectacular. I picked up the Droid 3 and immediately was speeding along comfortably. The domes are convex, very clicky, and provide great haptic feedback. I have to admit that I initially questioned the wisdom of dedicating an entire row to 0-9, but I completely understand how helpful this is after entering my 20 character WPA PSK and getting the Droid 3 on my WiFi network. Moreover, it provides a nice buffer so fingers and long nails don't hit the bottom of the slider. The slide mechanism still isn't spring loaded or on a particularly smooth rail, however.
The device is also 0.8 mm thinner than the Droid 1 and 2, and it's surprising how much that actually translates to a device that feels like it hasn't put on weight just because it has a keyboard. Check out the gallery for some shots of the sides and all around.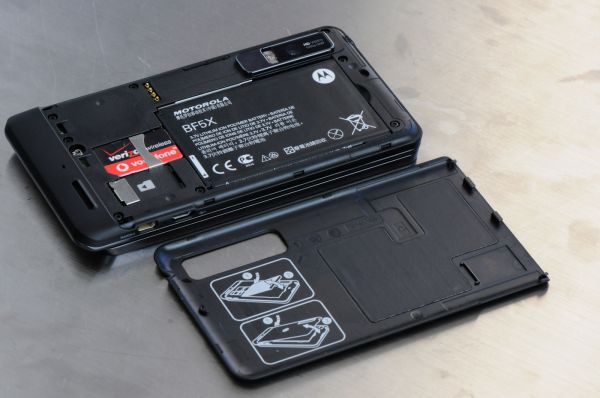 The Droid 3 curiously comes without a microSD card, instead going with 16 GB of internal storage. I was a bit confused at first, but sure enough there's no microSD card mentioned on the box.
There's an 8 MP rear facing camera with LED flash. It's down to one LED instead of two with the Droid 3, but it looks like the LED has an improved fresnel lens atop it, and no doubt more power output. There's also a VGA front facing camera.
The device can capture 1080p30 video at 15 Mbps with stereo audio. I'm not passing judgment quite yet, but things in the lightbox look a bit undersaturated, but there's great high frequency spatial detail. Check out the gallery for some quick pictures I took with the rear facing camera.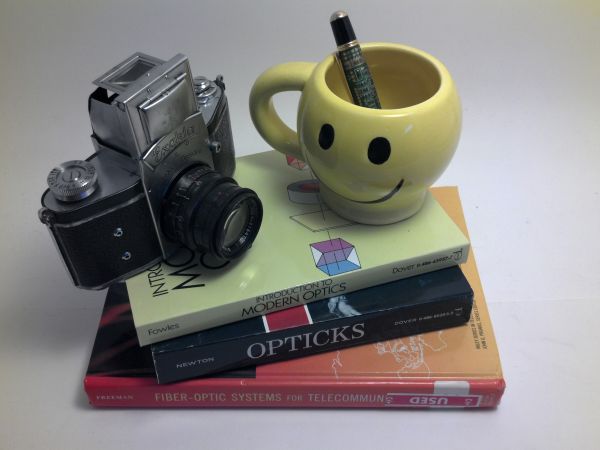 Stay tuned for our full review!