3DMark 11
We're going to start the graphics benchmarks with the synthetic 3DMark test. The latest version, 3DMark 11, is still very GPU dependent. However, it does include a CPU Physics test and a combined graphics/physics test for simulating those types of loads. We'll use the overall score with the three subtests to see if we can find any areas where memory performance makes a noticeable difference.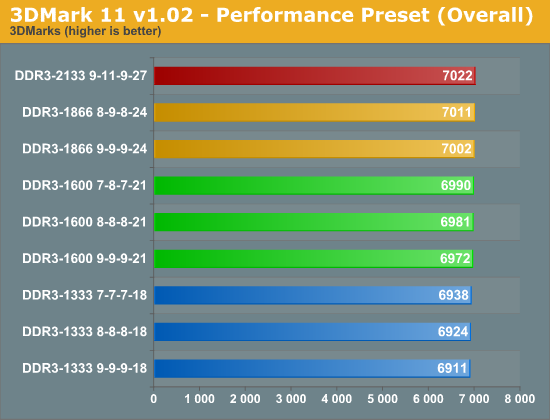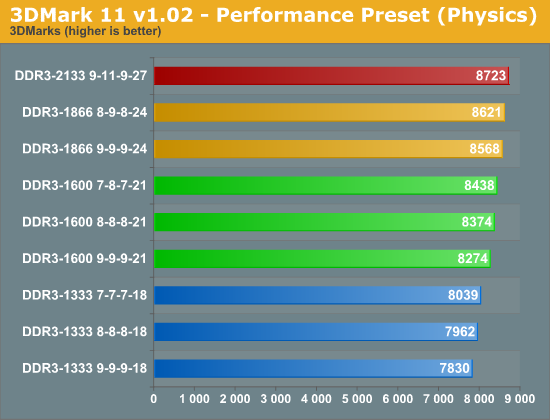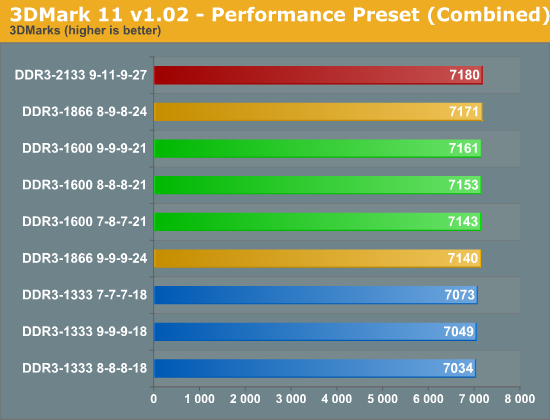 The overall score, which is heavily based on the graphics tests, shows a mere ~1% change across the board. When you get to the graphics test, you can see that the faster memory makes absolutely no difference at all. It's not until we get to the physics test where we see some improvement from increasing the memory speed. We get performance boost of up to 11% when going from DDR3-133 to DDR3-2133. The combined test entails the rendering of a 3D scene with the GPU while performing physics tasks on the CPU. Here again, were see a very small 2% increase in performance from the slowest to the fastest.
Crysis and Metro 2033
Based on 3DMark 11, then, we'd expect most games to show very little improvement from upgrading your memory, but we ran several gaming benchmarks just to be sure. I decided to combine the analysis for Crysis: Warhead and Metro 2033 due to the virtually non-existent differences observed during these tests. Crysis: Warhead was the previous king of the hill when it came to bringing video cards to their knees. The newer kid on the block, Metro 2033, has somewhat taken over that throne. Just how do they react to the various memory configurations we're testing today?
It's worth noting that the settings used here are the settings that I would actually play these games at: 1920x1080 with most of the high quality features enabled. Frame rates are well above 30, so definitely playable, though they're below 60 so some would say they're not perfectly smooth. Regardless, unless you play at settings where your GPU isn't the primary bottleneck, you should see similar scaling from memory performance.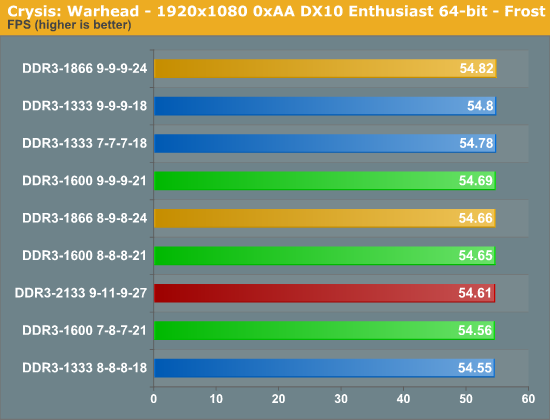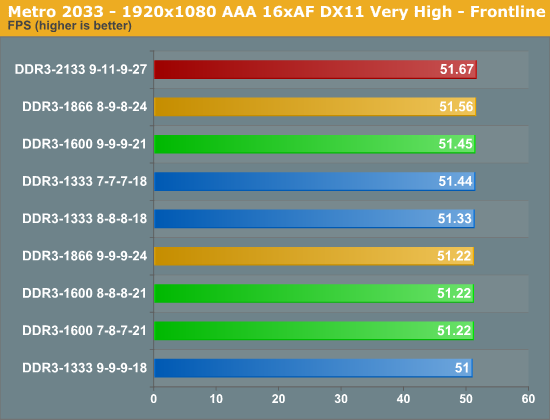 The results weren't very stimulating, were they? Just as expected, gaming with faster memory just doesn't make any notable difference. I could have potentially lowered the resolution and settings in an attempt to produce some sort of difference, but I felt that testing these games at the settings they're most likely to be played at was far more enlightening. If you want better gaming performance, the GPU is the best component to upgrade—no news there.