BIOS
The first thing you notice when you turn on the motherboard is that it beeps at you - a few low pitched beeps for all the USB devices connected, and a final high pitch to confirm it's booted. In my mind, a good addition to have(!), but it needs a switch or a BIOS option to turn the beeping on or off.
Speaking of the BIOS, unfortunately nothing in the Zotac BIOS is spectacular - it's a simple American Megatrends interface, with not a lot of style or substance. This is a problem with some of the more niche motherboard makers such as Zotac who have to licence in a default BIOS. ASUS, ASRock and the like can make their own, but Zotac use a default base and build on it with their own design.
I initially started this review on the release BIOS, and was supplied the latest internal BIOS Zotac had for further testing - the latest BIOS I had (which should be available on the Zotac website soon) had some mild USB 2.0 performance increases, but not a lot else.
The BIOS main screen at least has a variety of information, such as the processor, frequency, voltage and the memory details. There are still a few vendors not providing this information on the front screen, and it should be the default, really.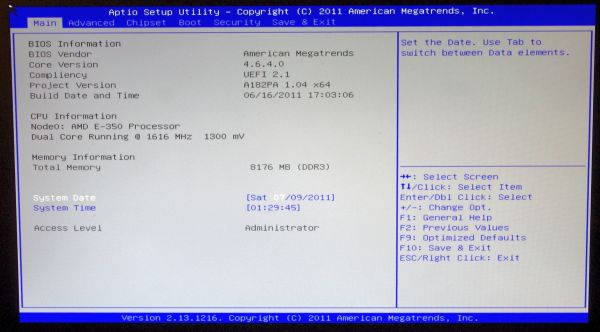 The IDE configuration screen automatically lists the SATA ports as IDE by default, rather than AHCI, so users of faster HDDs or SSDs will have to change this setting to extract maximum performance. The fan controls are found in the PC Health menu, showing start up temperature goals, temperature ramps and temperature goal when the fans are 100%.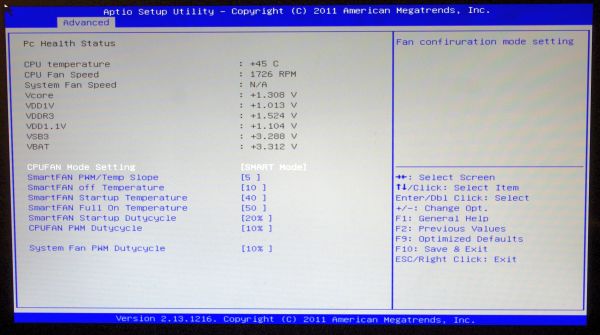 Overclocking on the Zotac board is essentially non-existent. There's no option to increase any frequencies, any multipliers, of either the CPU, memory or the integrated GPU. The only thing you can change is the memory voltage, in an obscure menu where the numbers aren't lined up properly: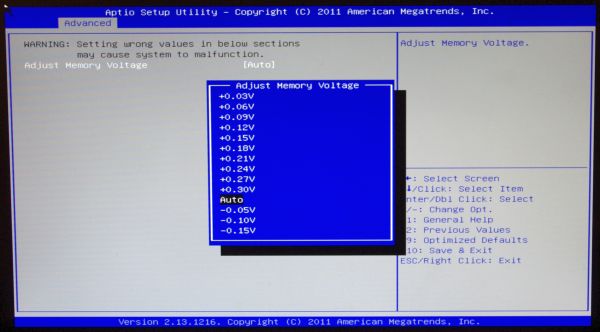 Overclocking
As I wrote in the previous paragraph, there are no options to overclock (or underclock) this Fusion board, not even from the operating system. As far as I know, there are no plans to add this feature to the board.