On the outside, this Zotac Fusion board mimics the view I see in almost all of Zotac's product range - mini-ITX, jam-packed full of features, and for a little price premium. Some of this is true - the FUSION350-A-E has a Cooler Master designed passive cooler, SO-DIMM memory to improve space on the board, and a Wifi card with a pair of antenna. For the most part, however, I've found this board has underperformed. In terms of performance, it's nothing spectacular (or worse than the rest at times), and doesn't offer anything significantly different. It needs a fresh injection of BIOS and software, as well as more robust controllers to become a more desirable product.
Visual Inspection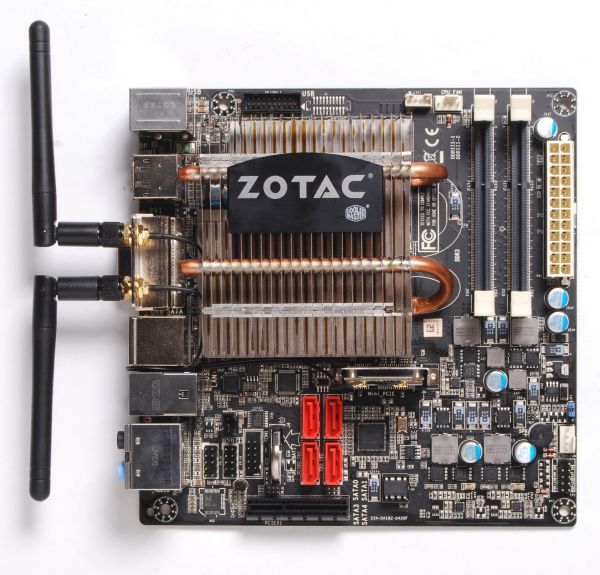 On the front of it, looking at the Zotac board and seeing such a small cooler compared to the ASUS board can be a bit puzzling. On show are the obvious copper heatpipes, and a Cooler Master logo, showing the joining of the two companies to produce the passive heatsink. Along the top sports a USB 3.0 header, a CPU fan header (a chipset requirement, even if it is a passive solution), and the two SO-DIMM memory slots.
Along the right hand side is the 24-pin power connector, the clear CMOS jumper, a 4-pin system fan header and the front panel connectors. Nothing too out of the ordinary here, though there is space to put the SATA connectors here rather than above the open ended PCIe x4 slot.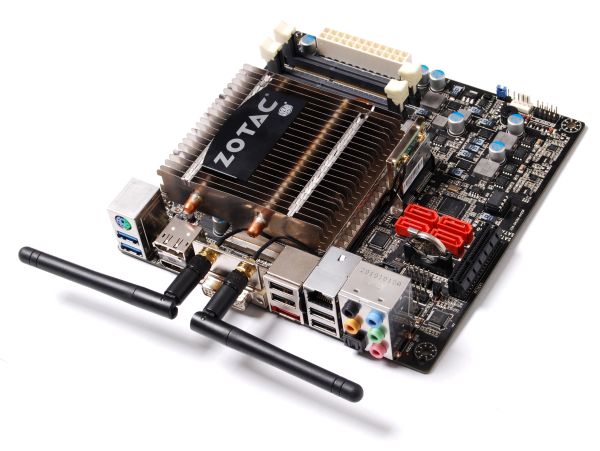 The open ended PCIe x4 slot is essentially what a PCIe x16 slot is when it is in x4 mode. So there is scope to add some GPUs here. Above this are the four SATA 6 Gbps connectors and the mini-PCIe wifi card, which is hooked into the antenna holders on the I/O panel automatically. The board also sports a COM header, a USB 2.0 header, a SPDIF out header, and the front panel audio header, all in the corner around the PCIe x4 and the I/O panel.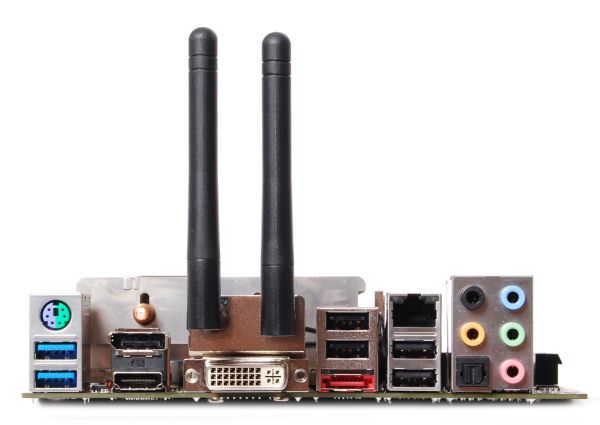 Nothing too different on the I/O panel compared to other models, except the USB 3.0 ports powered by a VIA controller are directly below a legacy PS2 port. This motherboard supports HDMI, DisplayPort and DVI from the onboard connectors (VGA requires a converter). Alongside four USB 2.0 ports is the eSATA 3 Gbps, a gigabit Ethernet port, 8-channel HD audio and an optical SPDIF output.