After using the HDC-I, and running it through our bench suite, I was presently surprised. It has one awesome feature that other products don't have - a BIOS option that applies an automatic 33% overclock. So instead of having a dual core 1.6 GHz, we've got two cores at 2.13 GHz, which actually makes a lot of difference. There are some design flaws though, such as the position of the front panel headers, there's nothing to hold the wifi aerial, and I had some issues playing HD video smoothly. This board is a combination of adequate, with one particularly awesome feature.
Visual Inspection
With this mini-ITX board, as we've got active cooling on the heatsink, the heatsink is small compared to the ASUS beforehand. This should, theoretically, give more space for other additional bells and whistles on the board. However, aside from the front panel and the audio headers, there are only two USB headers. These are all on the bottom left of the board, potentially making them awkward in a case.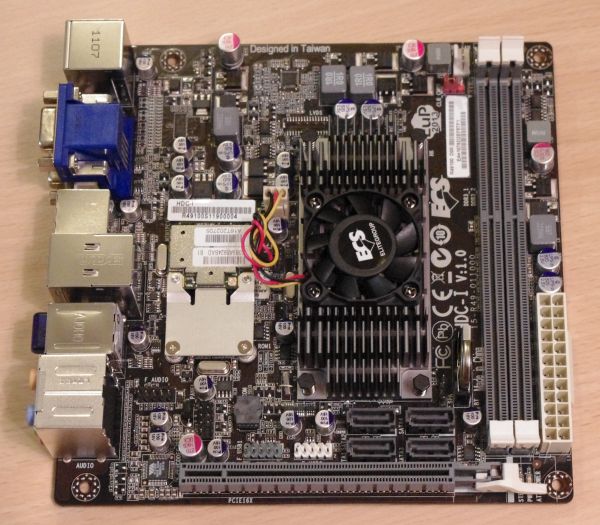 The Front Panel audio could be especially tricky to deal with, depending on the case or and PCIe card you are using. The PCIe slot can support a 16x card, but will only run at 4x speeds, like the ASUS, which leads to disappointing results later in the gaming test suites when I overpower this board with a GTX 580.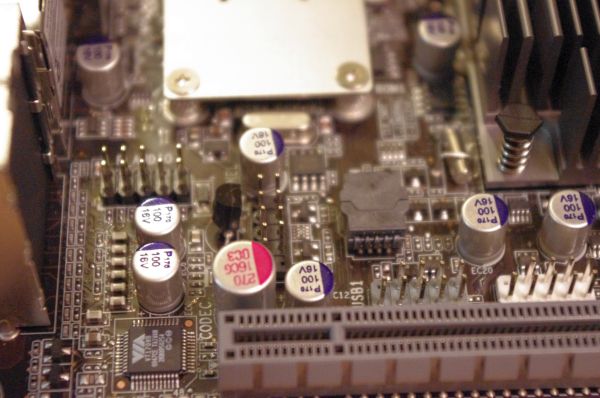 The SATA ports are in the corner of the DIMM and PCIe slots - here we have four SATA 6 Gbps all native to the chipset. Beside this in the corner is a couple of lights - one to confirm power to the board and another to confirm the board has been switched on. In terms of fan headers, there is one at the top of the board, next to the clear CMOS header, but no others.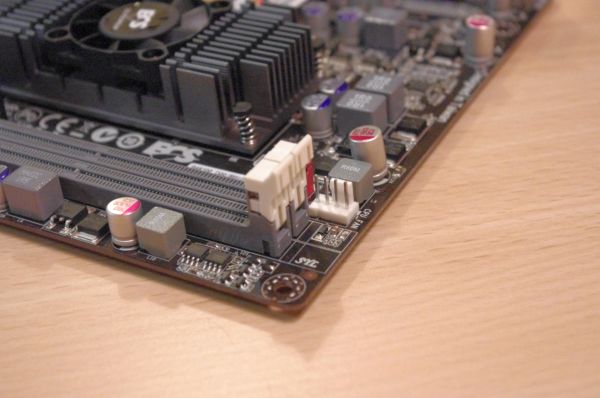 The I/O panel is one of the more feature rich of the ones being reviewed today, but that is in part to using active cooling (which on the ASUS board takes up the equivalent of a DVI slot) and that there's nowhere to set the wifi antenna in to. Nevertheless, there are HDMI, DVI and VGA outputs on the rear, Ethernet, Bluetooth, optical S/PDIF out, audio input/outputs, six USB 2.0 ports, two USB 3.0 ports and an eSATA 6 Gbps port.