Gigabyte has released their Z68 lineup, and today I am going to look at the UD3H - a $170 Z68 board aimed at the mainstream consumer market. The Z68 based motherboards are very similar to the P67 equivalent but they have had a few extra features added. They include Virtu and SSD caching as well as allowing you to take advantage of the GPU built into your Sandy Bridge processor. Is it worth switching from P67 to Z68 for a few extra features? Well, after what I have seen, no, not really.
Visual Inspection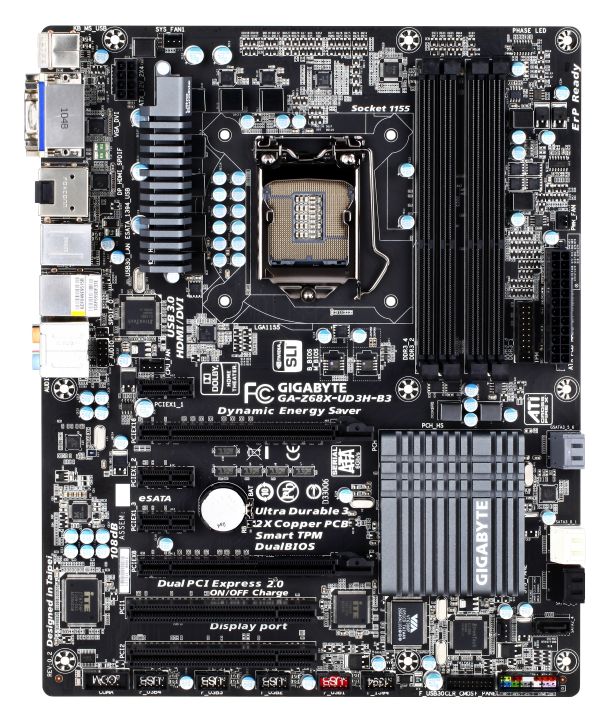 Just like most of Gigabyte's latest range, they have gone with the black and gray theme for this motherboard. In my eyes, it looks very classy and professional.
Gigabyte engineers have used their heads when it comes to the PCIe layout. There's plenty of room for dual GPU configurations and there's even a slot for breathing space when utilizing dual slot GPUs. From top to bottom, we have a PCIe 1x, 16x, 1x, 1x, another 16x and two PCI slots. When two GPUs are used, the PCIe 16x lanes run at 8x/8x.
As the PCH heatsink is small and passive, so if dual GPUs are utilized, there may be a heat conductance issue on to the heatsink if there is a lack of airflow. Some aftermarket graphics card coolers vent hot air into the case which will also cause the PCH to warm up if the chassis isn't vented properly. In fact, when the board was put through its paces on the test bed, the PCH heatsink got very warm to the touch if there was no fan pointed at it.

There is a regular looking I/O panel. The picture above details the selection of connectivity options at the back of this motherboard. A PS/2 port which can be used for either a keyboard or a mouse but not both at the same time. There are a total of four USB 2 and two USB 3 ports, an eSATA 3Gb/s port as well as a FireWire port. The display ports include DVI, VGA, HDMI and a display port. The HDMI and DisplayPort connections carry audio. The single Ethernet port is controlled by the Realtek RTL8111E chip. You can use either the SPDIF or the typical audio connections for your sound.
With regards to the SATA connections, we have three (internal) SATA 3Gb/s connections and four SATA 6Gb/s ports. There is an eSATA port on the I/O of the motherboard which takes the total of SATA 3Gb/s ports to four. Two of the four SATA 6Gb/s ports are controlled by a separate controller – a Marvell 88SE917. These are colored gray and have support for RAID 0 and 1. The rest of the SATA ports are controlled by the Intel Z68 chipset and allow for RAID 0, 1, 5 and 10. You are able to create a RAID array across the SATA 3Gb/s and 6Gb/s ports although the performance may vary (according to Gigabyte).
After comparing to other motherboards, the SATA layout is a tad odd. On most motherboards, you would typically find a row of SATA connectors that are adjacent to each other and then color-coded accordingly. Even though it is only one port which points out of the board and the rest stick out of the side, it looks odd and it doesn't make sense why this has been done.
A total of four fan headers can be used on this motherboard. There is one for the CPU cooler and three for chassis fans. The CPU fan header is not located in a familiar position as you'd find with other motherboards - it's in the center board just above the PCIe 1x slot. The two system fans are on opposite sides of the board - one is located just above the VRM heat sink and the other is located just below the PCH heat sink. It would have made more sense to use the header located above the VRM heat sink as the CPU header and vice versa. The PWR fan header is located just above the 24pin power which just like SYS_FAN1 does not allow for speed control.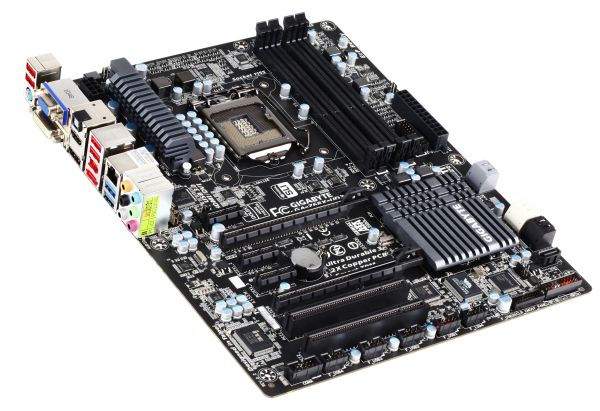 What is included in the box?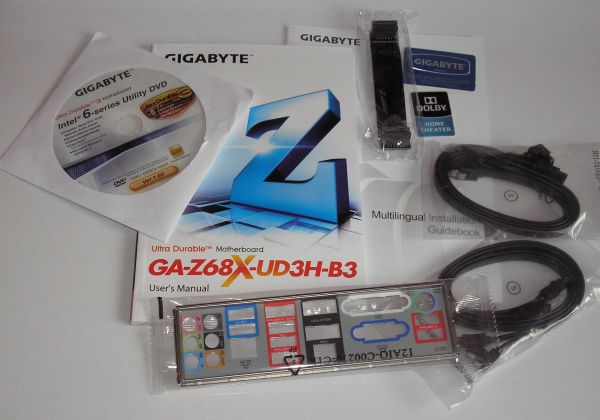 A user's manual and a multilingual guidebook.
Driver and utilities DVD
2x SATA 6Gb/s cables
2x SATA 3Gb/s cables
A SLi bridge
I/O shield
1x Gigabyte case sticker
1x DOLBY case sticker
You do not get many extras with this motherboard. In fact, it is pretty minimalist. Just like other manufacturers, Gigabyte have included the essentials to get your system up and running, and nothing more. If you want more accessories such as the 3.5" front panel with two USB 3.0/2.0 ports or a SATA bracket, you will have to buy the more expensive, higher end models.