It's Bootable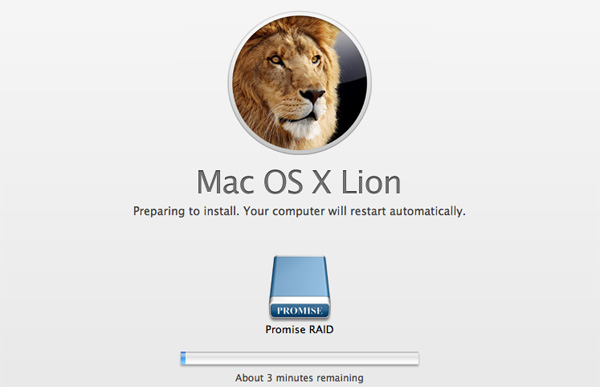 With the Thunderbolt firmware update installed on your MacBook Pro or iMac, the Promise Pegasus is a bootable device. You can install OS X to it and select it as a boot device either at startup (hold down option) or through OS X's Startup Disk preference pane: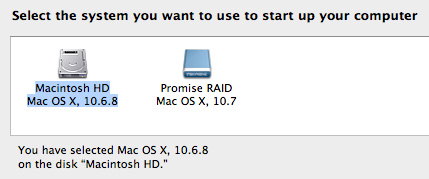 I would still recommend using a single SSD to boot from. Even in a 6-drive RAID-0 configuration you get much better small file random read/write performance from a single SSD. As a result you get better boot and application launch times. Although sequential performance is far better on the Promise array.
Power, Thermals & Noise
With six 3.5" 7200RPM drives inside, the Pegasus R6 consumes a decent amount of power. At idle a fully configured R6 draws around 64W of power at the wall. Under maximum load I saw just under 70W on our power meter.
Power Consumption Comparison
Idle
Sequential Write
Random Write
Promise Pegasus R6 (6 x 2TB RAID-5)
64.3W
69.1W
68.1W
The single 100mm fan tasked with cooling all six drives does a good job. Even after writing 10TB of data to the RAID-5 array for nearly 8 hours the highest temperature of any drive in the Pegasus was 45C. Under load the drives tend to stay in the 41 - 45C range and the fan likes to spin at 1200 RPM.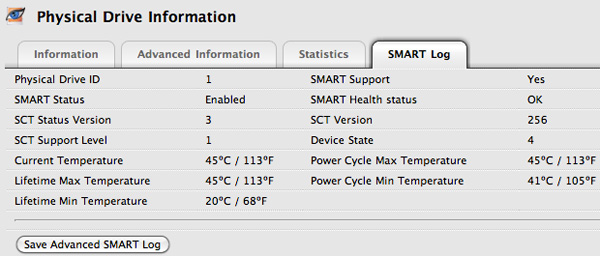 The fans are the loudest part of the Pegasus R6. While you can hear the 7K3000s spin up, random and sequential accesses are typically quiet. The noise level at my desk is around 43dB, with the Pegasus R6 running it peaks at 48dB with all of the drives crunching and idles at 47dB. The Pegasus is by no means silent - it definitely adds low fan noise to your environment.