System Information (called System Profiler in all previous OS X versions) is, more or less, Apple's version of Windows' Device Manager. Its aim is to tell the user what his hardware consists of. It can be accessed from About this Mac by clicking "More info" but it can also be found in Utilities folder in your Applications folder.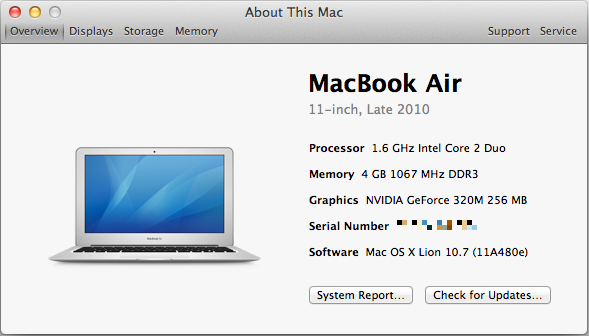 It's a bit confusing that you still have to hit the "More Info" button to get this new, much more informative About This Mac window - why not just get rid of the first window altogether and save the user the extra click? I'm nitpicking, I know, but this kind of redundancy is annoying.
Anyway, when you open System Information, you will be provided an overview of your Mac. This includes information about your CPU, RAM, GPU, serial number and the OS you are running. It also tells you the obvious things: model of your Mac, screen size and revision. The overview information should be sufficient if you contact Apple or ask help in a forum, so the other end will know what Mac you have.
Down at the bottom, there are two links: the Check For Updates link just opens Software Update, and System Report gives you the look of old System Profiler with all the nitty-gritty details of your Mac. This hasn't been iOS-ified (yet) so you can really see every small bit of information that you want to. This can be useful to more advanced users who want to know the speed of their SATA ports, for example.
Next tabs are displays, storage and memory:
The display tab simply tells you what is the size of your screen, the resolution (including external displays, if connected )and the basic specs of your GPU. There is also a link to display preferences.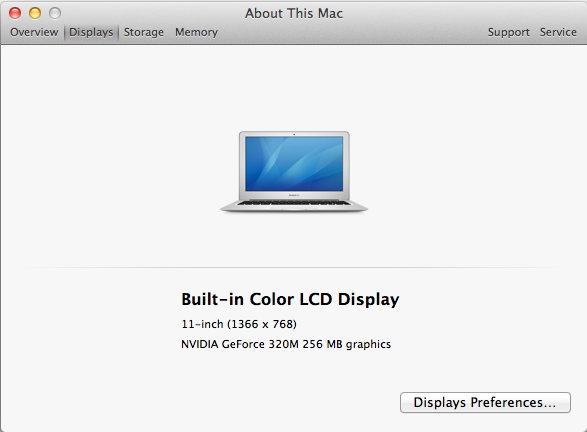 In the storage tab, you will get an iTunes-inspired view which tells you how much space you have in total and how much free space you have left on your internal hard drive and any external volumes (including optical discs). It also briefly shows you what kind of files are taking up space on your drives, e.g. Movies and Music. In the right bottom corner, there is a link to Disk Utility.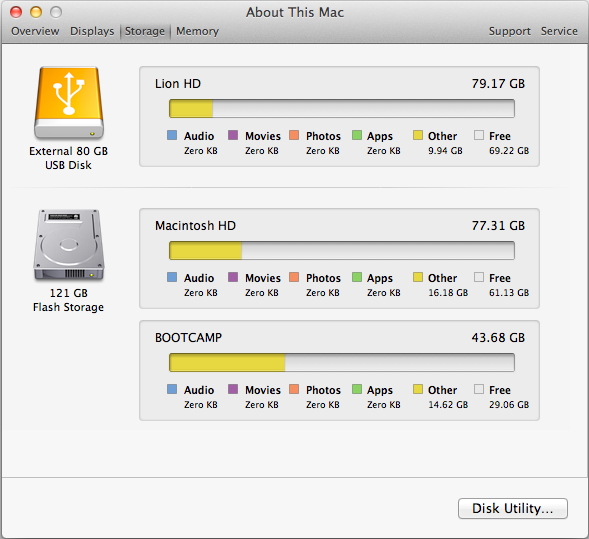 The memory tab offers a simple layout of your memory and tells what kind of RAM you Mac uses and whether you have free RAM slots or not. There is also a link to RAM upgrade instructions in the right bottom corner, which is definitely helpful for newbies who want to upgrade their RAM.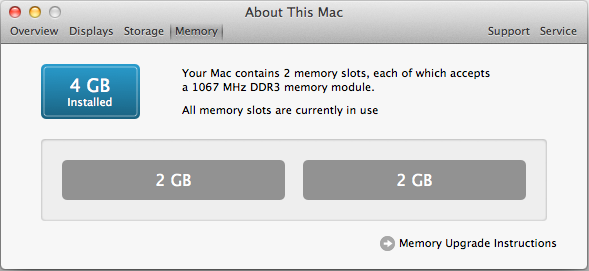 That isn't all. In the right top corner, there are two tabs that are called Support and Service. The Support tab offers links to software and hardware help. Help Center includes basic guides for OS X and its apps, for example how to connect to WiFi network. The remaining four links just redirect you to appropriate pages on Apple's site. In the Service tab, you will be provided with basic information concerning your Mac's warranty and links to check your warranty status, repair options and additional details on AppleCare.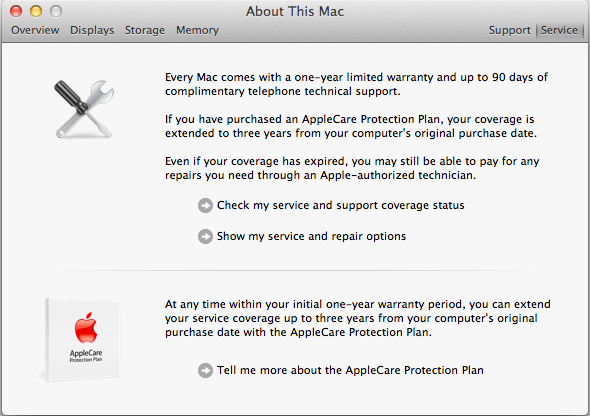 I think this is a step in right direction. The old System Profiler wasn't very simple for an average user and could be confusing to navigate. The About this Mac window (which is still hanging around for some reason) didn't always provide enough information either. The new System Information gives a balanced mix of hardware and software details with useful links for average users.