Now that we've talked a bit about how things look in general, let's talk a bit more about the Finder specifically.
My first impression of the Finder was that it had lost some weight - Finder windows, in general, can now show the same amount or more using the same number of pixels, though that does come at the expense of some functionality. The arrangement and spacing of the left sidebar has been adjusted to take up less space than before, which is especially welcome on 11" and 13" Macs. Note that the Devices field now shows up at the bottom of the list instead of the top, another small step toward obscuring the filesystem (and, as well, steering newbie users away from just dumping everything on the desktop or the root of their drive).

Finder windows also shed some pixels (and, yes, I'm going to harp on this some more, downplay the notion of "files" and "disk space") by removing the bottom toolbar by default - the one that shows the number of items in a given folder and the amount of disk space remaining on the volume, along with the slider that allows users to easily change the size of the icons. Thankfully, those who miss these features can switch them back on by opting to "Show Toolbar" up in the View menu.
Also missing is the button in the upper right-hand corner that would invoke icon-only view - those of you who use it will have to become acquainted with Alt+Command+T, a keyboard shortcut that toggles this change.
The default view when you open up a new Finder window now is called "All My Files," which uses Spotlight's file indexing to show you all files of a certain type no matter where they are on your hard drive - this is similar to Windows 7's Libraries in that it groups your files together in one place without actually altering the fundamental directory structure (i.e., documents show up in All My Files, but they're still physically stored in the Documents folder).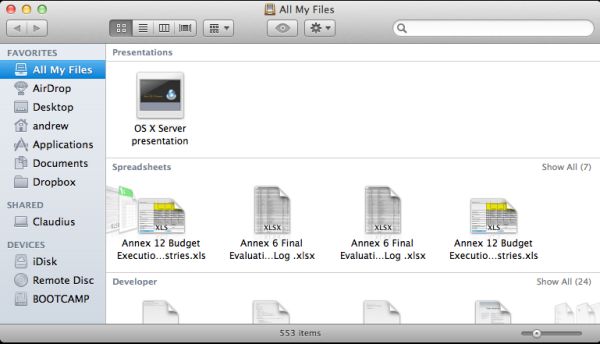 All My Files is organized by rows, and by default, you'll be shown just the first few files of a given type in each row - clicking on the left and right-hand side of the row will allow you to navigate through the files, and you can also click "show all" to see your icons tiled in a more traditional Finder view.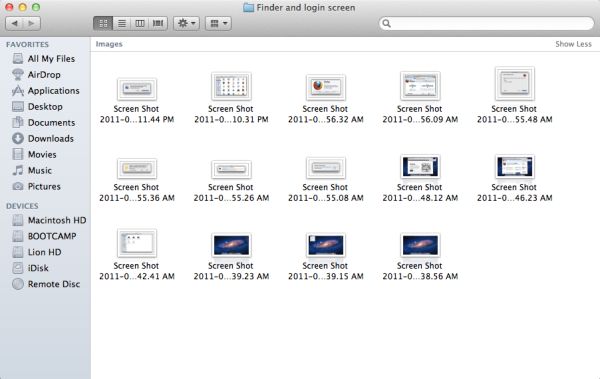 Snow Leopard introduced the ability to thumb through multi-page documents, PDFs, and presentations, and Lion further enhances that functionality by adding a full screen mode to Quick Look (which is still invoked by selecting a file and hitting the spacebar).
Finally, Finder gains some abilities that Windows Explorer has had, like, forever: the ability to merge two folders of the same name, and the ability to keep two files of the same name during a copy operation by renaming one of them. It's boring stuff and Windows has done it for years, but that doesn't make me appreciate it less now that Apple has finally implemented it.