Battery Life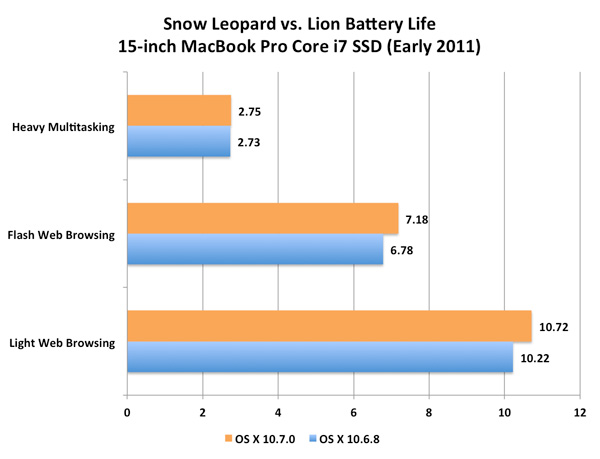 Battery life on the Sandy Bridge MacBook Pro improved in our two lighter workload tests by 5%, however under heavy load there was no change. Given that we only saw improvements in our two workloads with built in idle time I suspect Lion may have tweaked some power management settings vs. Snow Leopard, but nothing more. The improvements here might be limited to newer architectures or systems with Apple SSDs however, because they definitely weren't echoed on our older MacBook Pro: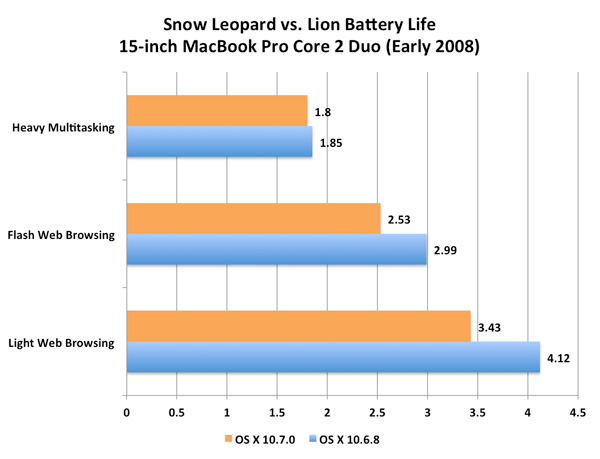 The early 2008 MacBook Pro showed around a 20% decrease in battery life in our two web browsing battery life tests. Once again we saw no difference in our heavy multitasking test. Once again I'm guessing this change is due to some tinkering with OS X's behavior at idle. Our performance data above doesn't suggest any performance issues causing lower battery life on the old Core 2 Duo based MacBook Pro, so there's got to be something keeping the CPU out of its lower idle states during our tests. I checked Activity Monitor during the benchmarks and didn't see anything obvious, meaning it's likely a lower level OS issue. Our own Brian Klug theorized that the lower battery life could be due to the Core 2 Duo MacBook Pro now loading Lion's 64-bit kernel by default instead of the 32-bit kernel like it did in the Snow Leopard days.
The impact is pretty significant on the older MacBook Pro. Older mobile Mac owners dependent on battery life may want to wait to pull the trigger on Lion until at least the first point update.
I will add that something very strange happened on one of our battery life runs with the 2011 MacBook Pro. During our Flash Web Browsing battery life test we recorded a full battery rundown that took under 3 hours, instead of the ~7 hours you see above. Once again I checked Activity Monitor to ensure nothing funny was going on and didn't find anything odd. Subsequent runs couldn't duplicate the result either. It's pretty unusual for us to see that sort of run-to-run variation in our tests so it's not totally clear what happened there, other than Lion does seem to be doing more in the background which could impact battery life than previous iterations of OS X.