Performance: Similar to Snow Leopard
Benchmarking Macs is a lot like benchmarking smartphones: there's a huge user experience component and not enough tools to really do a thorough job of evaluating performance. The majority of our OS X benchmarks involve patience and a stop watch and we've redone the whole suite in anticipation of Lion.
Generally speaking, performance under Lion hasn't changed all that much since Snow Leopard. Earlier beta releases of the OS were significantly slower than Snow Leopard, but the final code appears to perform on par with SL regardless of microprocessor architecture.
We tested Lion on two platforms. A brand new Core i7 15-inch MacBook Pro and a much older Penryn Core 2 Duo 15-inch MacBook Pro. We measured performance across a number of applications as well as battery life.
The graph below shows the 2011 MacBook Pro and how its performance fares under both OS X 10.6.8 and 10.7.0. As you can see for the most part performance really remains unchanged: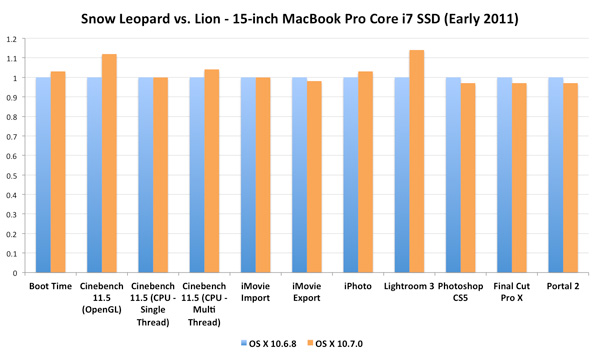 There were a couple of tests that showed more than a 10% increase in performance (possibly a reflection of Lion's upgrade to OpenGL 3.2 from 10.6's not-quite-3.0) but generally Lion performs no differently than Snow Leopard regardless of the nature of the benchmark. GPU performance also remained mostly unchanged as you can see by the Portal 2 numbers, although the Cinebench 11.5 OpenGL test did go up a bit.
The situation isn't really any different on the older Core 2 Duo MacBook Pro either: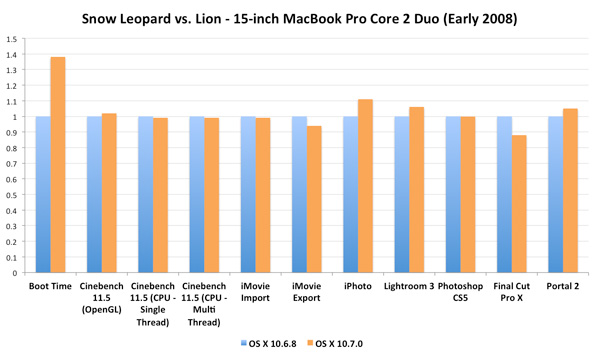 Boot time skyrocketed for some reason (perhaps an artifact of the Lion upgrade on a system with a standard HDD instead of an SSD) but otherwise performance remained mostly unchanged.
Only our iPhoto test showed a greater than 10% increase in performance. Everything else either dropped slightly, stayed the same or showed a small increase in performance.
The seat of the pants feel while using Lion echoes our performance results. While some UI animations seem sped up, most tasks don't feel any quicker under OS X 10.7. Some of the new features under Lion do feel like they require a good amount of processing power. Take the new threaded view in Mail for example. My personal machine is a 2011 MacBook Pro with a 2.3GHz Core i7 and an SSD. Once you get over a dozen replies in a thread just loading the thread easily eats up 50% of one of my Core i7 cores.
What about longer threads? Take a look at what happened when I viewed an email thread with 65 replies in my Inbox:

Three cores at 100% just to load the thread. Note that the loading process took a few seconds, dropping down to only 100% CPU utilization before finally completing the load.