Screen Sharing
The Screen Sharing app, now at version 1.3, gains several notable features useful for anyone for anyone who remotely administers Macs. This helps bring it up to speed with the Remote Desktop Connection features that Windows administrators like so much.
The first is the ability to switch between "observe" and "control" modes, depending on whether you want to control the Mac's screen or simply look at what the remote user is doing. This has long been a feature of Apple Remote Desktop, but until the advent of the Mac App Store this was an enterprise-level product priced well out of reach of home users (and at $80, it still probably won't find many fans outside the business crowd).
Second, and this is a feature so simple that I actually had to check my Snow Leopard install to make sure that I hadn't missed it, Screen Sharing is now a full screen-capable app. This is especially useful if you've connected to a Mac with a higher screen resolution than yours - every pixel you can use for the remote connection makes navigating a bit easier.
Lastly and perhaps most interestingly, Screen Sharing in Lion now supports multiple simultaneous users to be logged into a Mac at once. This is unheard of in many client operating systems - similar functionality in Windows is only enabled in the server versions - and could enable OS X thin clients (at least in theory - the cost of Mac client computers and the inflexibility of thin clients would probably make such a solution more trouble than it was worth). It's more likely that you'll use it to log onto a Mac in some other area of the house without interrupting what its current user is doing, which is still plenty useful.
Boot Camp
The Boot Camp Assistant and its partitioning process work essentially the same way they did before, except that now all models download their Windows support software to external storage instead of using the OS install DVD (this was true of Snow Leopard on the 2010 MacBook Airs, though in my experience other models had trouble downloading the support files). The support file download in Lion is about 650MB, and worked fine on a variety of older and newer Macs.
The Boot Camp support software itself, now version 4.0, seems largely to be a driver update, and a pretty minor one at that - support for multitouch in Windows remains as basic as ever. Most notably, support for Windows XP has been completely removed - you may be able to get Vista working due to similar driver models, if you're into it, but otherwise 32-bit or 64-bit Windows 7 is the way to go.
Also, I mentioned these things in the FileVault section but it can't hurt to mention them again: while BootCamp can read standard HFS+ partitions, it can't read FileVault-encrypted partitions, and since FileVault can only protect HFS+ volumes, any data stored on your Windows partition is unencrypted and easily accessible.
Migration assistant
As an advanced user, I generally prefer not to use OS X's built-in Migration Assistant to transfer files and programs from one Mac to another - I usually find that the program is actually too thorough in bringing over weird, old cruft from a longstanding OS install. To its credit, though, it does make it that much easier to get a new computer setup, especially for novice users. In Lion, the OS X version of the Migration Assistant app remains essentially unchanged from prior versions, so I want to focus mostly on the new Windows version of the tool.
Even though the Windows version of the Migration Assistant is new, in operation it is largely identical to the Mac version. You'll first need to install it on the Windows computer from which you'll be migrating - it's a small download from Apple, and takes just a few minutes to setup.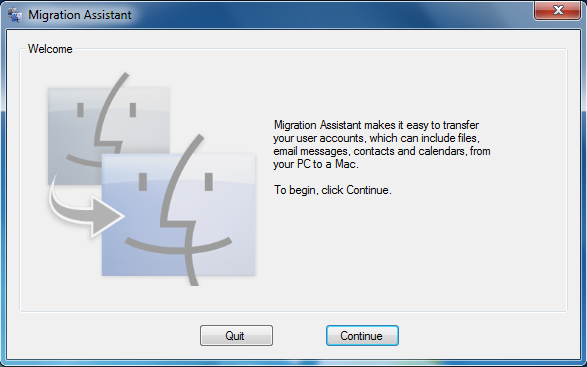 You'll need to make sure that both the Windows computer and your Mac are on the same network, since the Windows version of the Migration Assistant can only transfer files over a network. Once they're both connected, fire up the Migration Assistant on both machines. You'll have to click through a few screens and verify a confirmation number, and then you'll be asked what you want to bring over.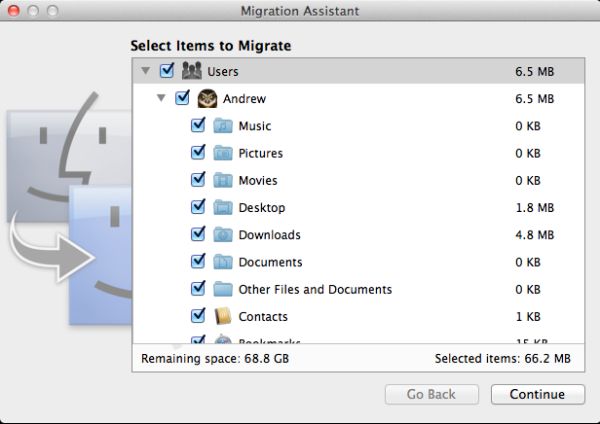 Of course, you won't be able to bring over any applications or system preferences, but because of underlying similarities in how user data is stored between Windows and OS X, it seems to work pretty well - the Migration Assistant will even attempt to find any non-standard files on the C: drive and try to move them over for you.
Once the data copies (which will take some time, depending on the speed of your network), you'll be asked to setup an account name - this will generally match whatever your Windows account name was, though you're free to rename things as you like.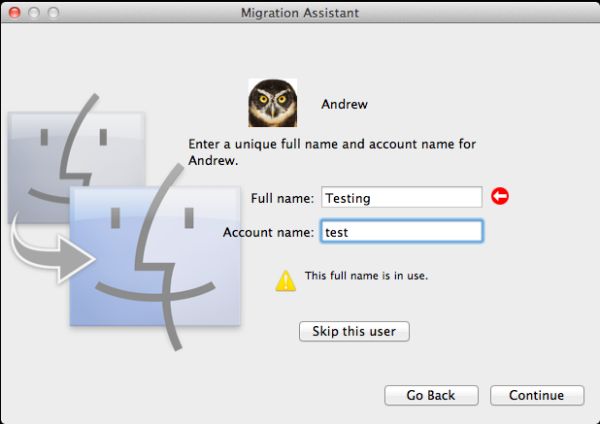 OS X will now create the account, and you'll be prompted to give it a password the next time you login.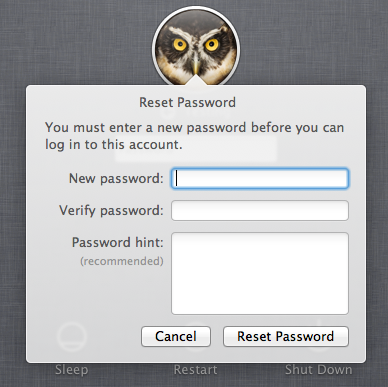 And that's really all there is to it. The bar for Windows-to-Mac switchers has been set that much lower.