How Much?
At first, it's pretty hard to believe that the AMD Athlon brought the issue of power supplies into the public eye when servers running multiple Xeon CPUs didn't seem to have any problems related to power supplies.  In order to put things into perspective we paid a visit to the technical docs over at Intel and AMD in an attempt to figure out exactly how much power these CPUs use. 
Intel's documentation reports exactly how much power the CPU core uses while AMD's documentation reports how much heat is dissipated, which is equal to or a bit less than how much power the CPU uses.  The discrepancy is small enough that it does not make a huge difference in our comparison, but we had to document it.  We took a look at everything from Intel's original 0.35-micron Pentium II up to the current 0.18-micron Coppermine cores and compared them to the Athlon in the chart below.  The results are a more than just interesting.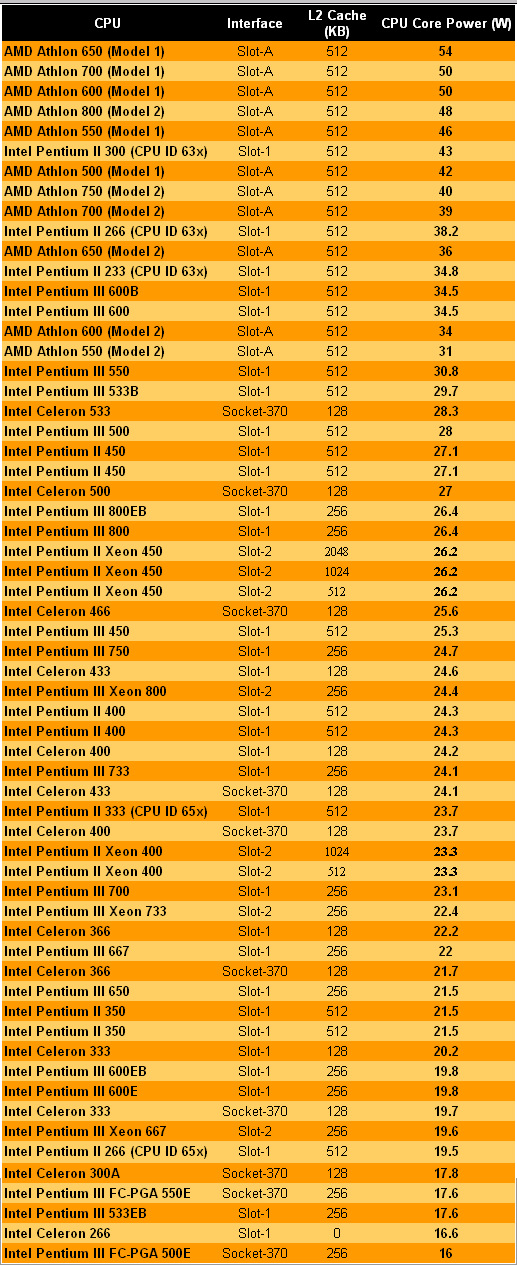 The original Athlon 650 requires the most power, but it looks like AMD is making an active effort to reduce the amount of power used by the Athlon CPUs. Model 2 (0.18-micron the K75 core) of the Athlon does seem to decrease the amount of power used by the Athlon significantly, but it's still at the top of the charts, higher than most of the competitors. Only the old 0.35-micron Pentium II 300 consumes more power than most of the Model 2 Athlons (with the exception of the Athlon 800) at 43W.
It is very odd that the Model 1 Athlon 700 uses less power than the Model 1 Athlon 650, it could simply be a misprint in AMD's technical docs.