3D Blu-ray Playback CPU Load

We saw in one of the previous sections that the 6550D doesn't have the same MVC decode feature of the 6xxx GPUs. We took the 3D Blu-ray version of Alice in Wonderland for a spin and played it on the 6550D as well as the 6570 (not in CrossFire mode). As expected, the 6570 had marginally lesser CPU utilization. The GPU load (not recorded here) was also lesser compared to the 6550D (that is to be expected because of the difference in the DRAM and GPU core clocks). We also recorded the CPU load while playing a 2D Blu-ray (HQV Benchmark) on the 6550D. It gives an indication of the CPU assistance required by the 3D Blu-rays.
Blu-ray Playback CPU Usage
Alice in Wonderland [3D] (6550D)
21%
Alice in Wonderland [3D] (Sapphire 6570)
16%
HQV 2.0 Benchmark Blu-ray [2D] (6550D)
12%
Steady Video

AMD is also advertising 'Steady Video', a feature to make your shaky hand held videos such as those from the PlaySports and the Flips look more stabilized. This requires the CPU and the GPU to work in close conjunction. The good aspect is that 'Steady Video' is available even when playing back videos in MPC-HC. For reasonably steady videos, it works wonders, but fails in places where it really matters (like videos taken while walking, where there is a lot of scene change as well as shakiness). The bad aspects come in when one tries to be aggressive with the steady video algorithms. Sometimes, the image quality suffered, while there were lip sync errors in other cases. Even in videos where it is effective, there are slight periodic jerks.
All in all, our opinion is that this is a good feature for the marketing department to advertise. Note that Cyberlink has been having a True Theater Image Stabiliser for camcorder videos since PowerDVD 10. That feature works across all CPU / GPU combinations.

YouTube and Netflix

The good news is that hardware acceleration is present and works for both YouTube and Netflix, as the screenshots below show.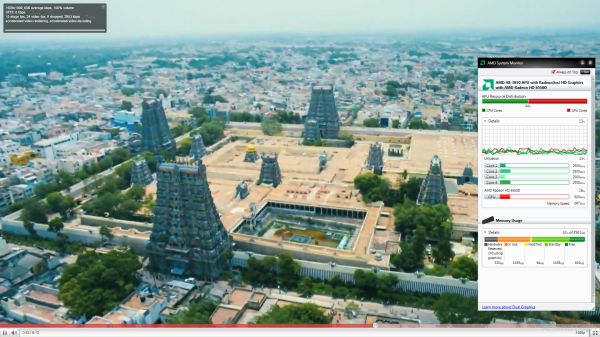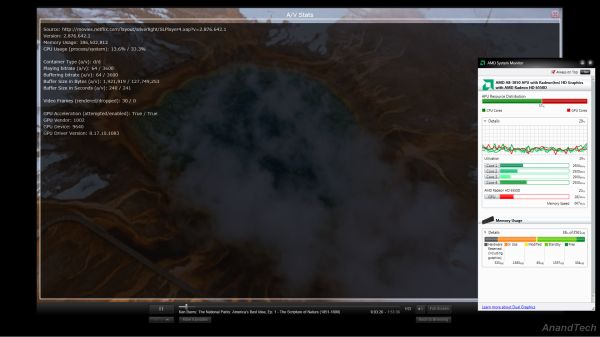 Power Numbers

We put our testbed through some typical activity and recorded the average power consumption numbers. Note that these numbers are relevant only when compared with the idle playback power consumption. Different testbeds may end up with different power consumption numbers.
Llano HTPC Testbed Average Power Consumption (W)
Idle
36.1
1080p MKV from SSD
49.1
2D Physical Blu-ray Playback
57.1
Call of Pripyat Benchmark (Max. settings)
91.8
Prime 95 + Furmark
141.2
Miscellaneous Notes
We are yet to evaluate some important aspects like RGB - YUV colour conversion accuracy and audio channel mapping in 7.1 channel configurations. AMD is looking into the local file playback having high GPU load issue also. By the time we evaluate the next HTPC / HTPC GPU, some Catalyst releases should have passed by. Expect further analysis of the AMD 6550D in those pieces, particularly with respect to the aspects we have missed covering in this review.