Gaming Performance
While the Radeon HD 6970M is essentially a known quantity, up until this point the Clevo P150HM has seemed unusually fast in our synthetic benchmarks. This could be due to any number of factors; the cooling system in the P150HM may be allowing the i7-2720QM to keep higher clocks for longer, or the hybrid graphics solution in the Alienware M17x R3 may be taking a toll on performance.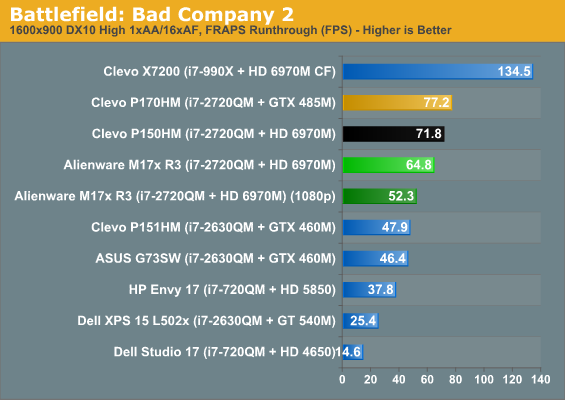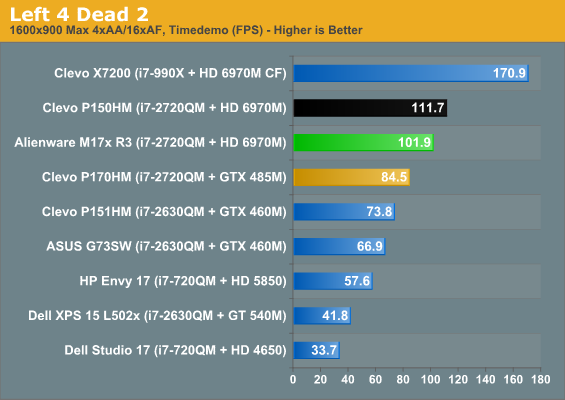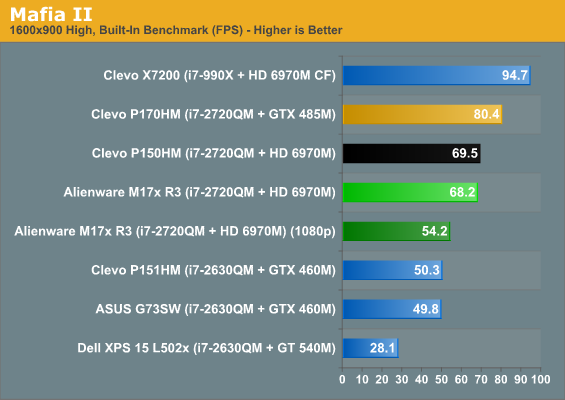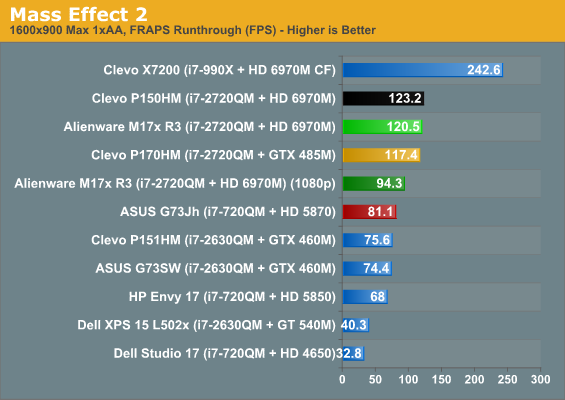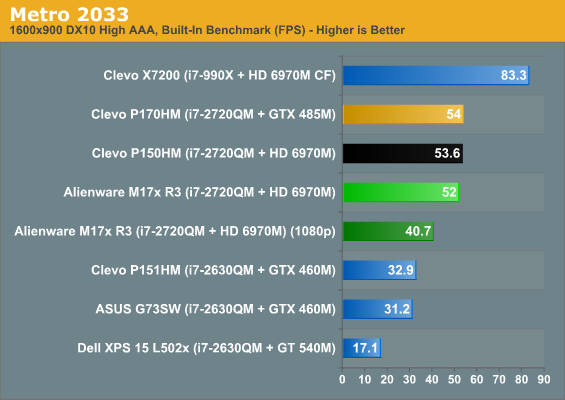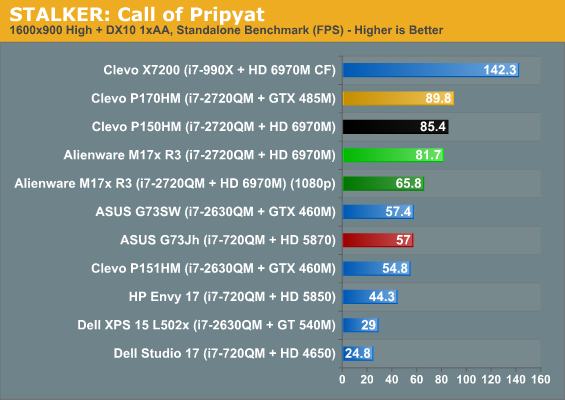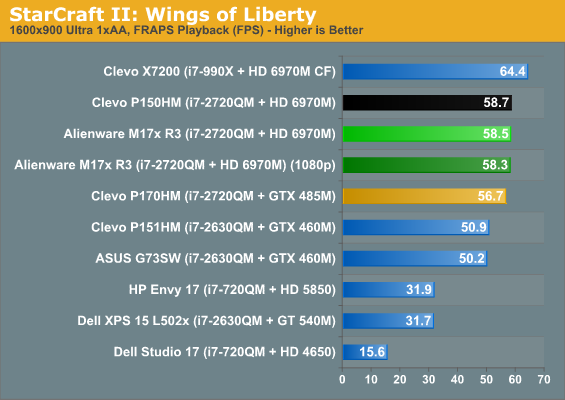 In most cases in our "High" testing suite, the M17x R3 hangs with the Clevo P150HM while trading blows with the GTX 485M in the Clevo P170HM. Individuals interested in what kind of performance to expect from the entry-level Radeon HD 6870M configuration option for the M17x R3 would do well to check out the ASUS G73Jh results, highlighted in red, as the 6870M is basically a rebadged Mobility Radeon HD 5870. The biggest takeaway is that, at least at our "High" preset, every game is playable at 1080p on the M17x R3.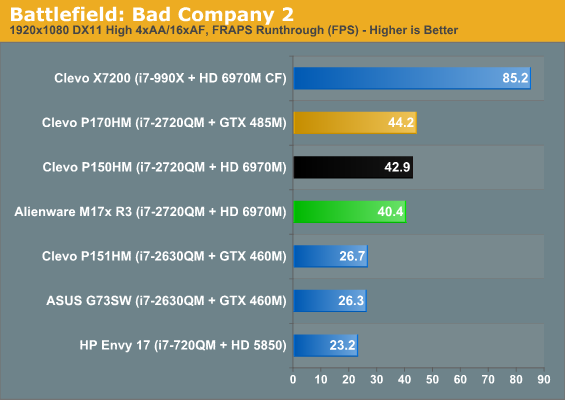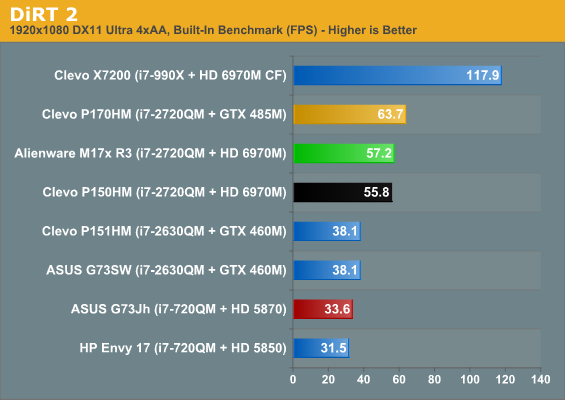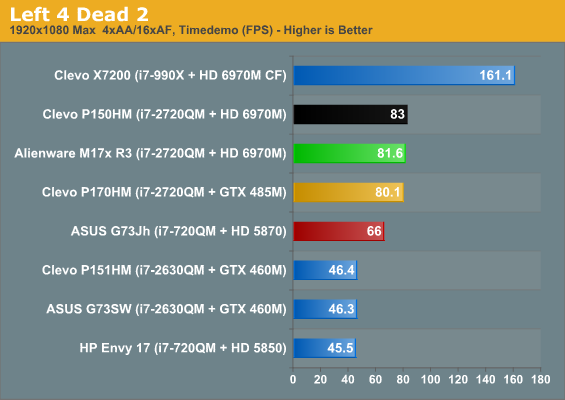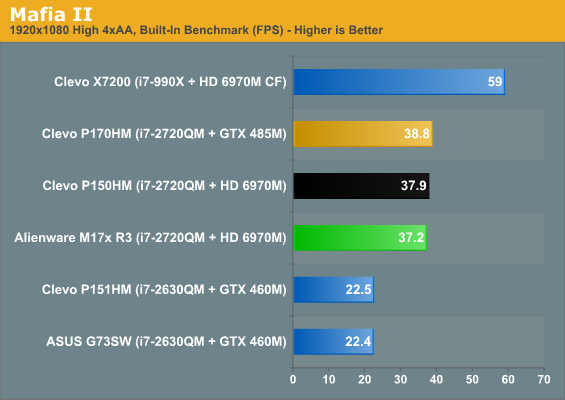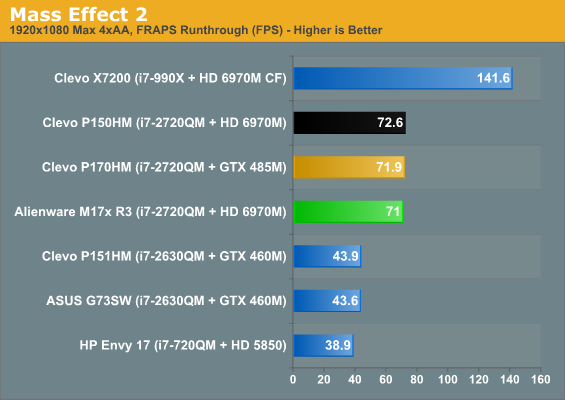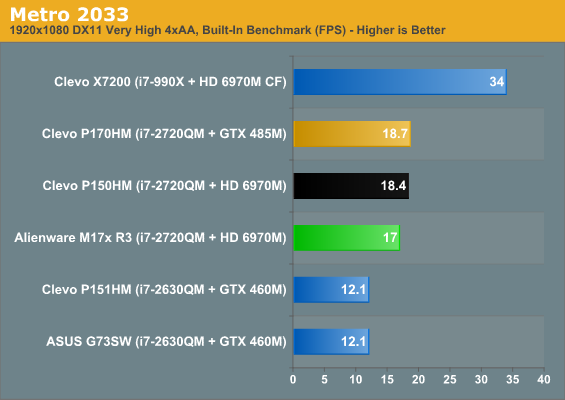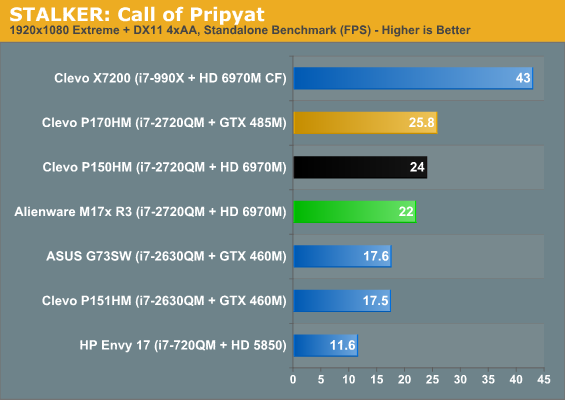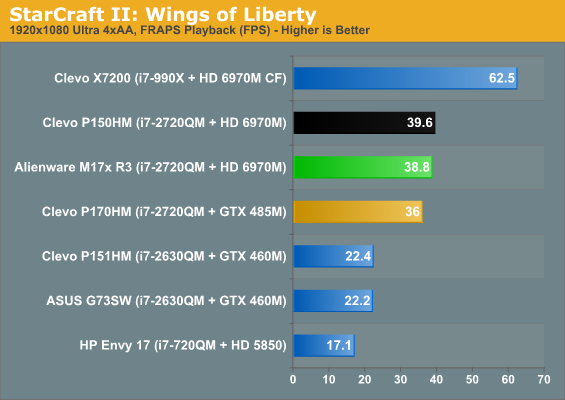 Adding anti-aliasing to the mix and jacking settings up further causes certain games to fall off, but there aren't any single-GPU options that are going to make STALKER or Metro 2033 playable at these settings. The 6970Ms and GTX 485M mostly cluster together. Net result: the M17x R3 competes among the fastest single-GPU gaming notebooks on the market. Not only that, but upgrading it to the 6970M yields a marked improvement over the alternative GTX 460M and HD 6870M.
That said, while the GTX 485M isn't available in the M17x R3 and doesn't make a compelling case on its own for gameplay performance, users who enjoy PhysX or need CUDA support (as in the case of Adobe Premiere Pro CS5) are going to feel a little bit shut out that their best option is the GeForce GTX 460M, which is clearly in a different class from the Radeon HD 6970M. It's oftentimes only a bit over half as fast as the 6970M, and the fact that it costs extra over the HD 6870M makes it a dubious proposition. Bottom line: if you want gaming performance at no expense, go for the HD 6970M. If you're on a budget, the HD 6870M will serve you well. The only reason you should configure the M17x R3 with the GTX 460M is if you explicitly need the features NVIDIA offers.