LTE battery life, like we saw in the Thunderbolt, is not so hot. It's better than the TB, partially because the battery is slightly larger (5.6 Wh versus 5.18 Wh in the TB, so about 8% difference). The rest of the difference can be put down to the other main components at work here - the L2000 modem and the screen. Using the Revolution as an LTE hotspot is again a bit better than the Thunderbolt, suggesting that most of the difference is in the modem.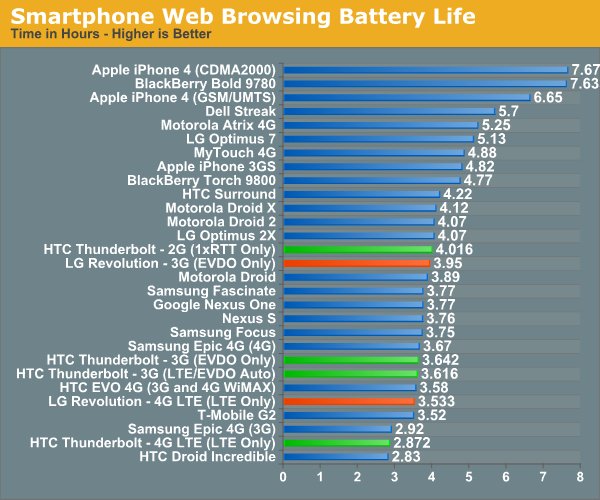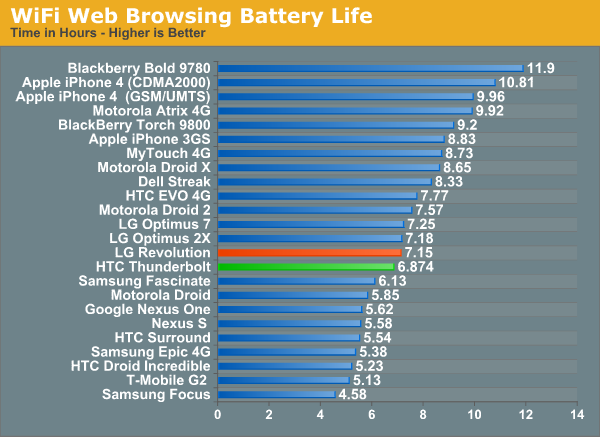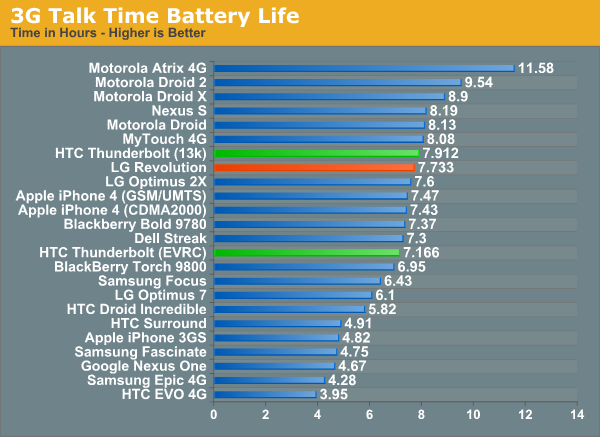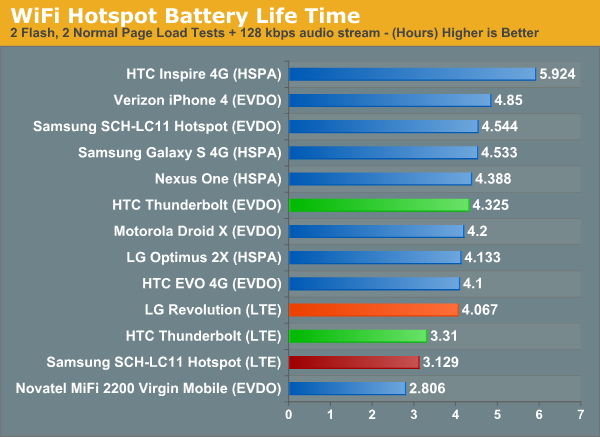 Even though it's better, that's still not saying very much. It's very much in the bottom 10-20% in our benchmarks for battery life under LTE, and while the picture gets better under EVDO, it still doesn't manage to break 4 hours of web browsing life. Battery performance under WiFi is dramatically better, putting it right between the Optimus 2X and the Thunderbolt and in the same range as the rest of the 4.3" smartphone class. Same goes for talk time, since Verizon is still only using CDMA2000 for voice calls.
But let's go back to LTE for a moment. Here's the problem with all of the real 4G devices (LTE and WiMAX only, HSPA+ doesn't count here). You can't really use the 4G part of it for very long if you want your device to live through a day. Where that becomes compounded is that with the Verizon devices, there's no easy way to switch from EVDO to LTE and back. You have to actually sit through and reboot the phone if you want to turn LTE on or off on the LG Revolution. Sprint is much easier, there's actually a software switch to turn WiMAX on or off, similar to GPS or WiFi on most normal Android phones. It's a big problem for Verizon, one that I suspect won't get solved until the LTE modem gets integrated onto the SoC. Qualcomm has one such SoC in the pipeline, the MSM8960, which is built around an entirely new architecture, krait (as opposed to scorpion), and has an LTE modem onboard in addition to all the usual cellular accouterments from 3GPP and 3GPP2. That's one I'm really looking forward to, but until then, I suspect it's going to be tough to get an LTE device through a full day on a single charge without an extended battery.