The best way to describe my reaction to LTE is this. Replace "Sparta" with LTE, and Gerard Butler's face with a Verizon logo, and you have the right idea.
It was madness, really. The Revolution arrived on my doorstep the day after I moved to a new apartment, and before Comcast had a chance to give me service. As a tech writer, the prospect of not having decent internet was terrifying. Boom. 4G wireless hotspot. It was like a godsend. I didn't die from lack of broadband, Comcast came five days later, and I didn't actually notice a speed difference when I switched over. The entire time I had it, I was running speed tests over LTE, and got graphs looking like this for downstream, upstream, and latency.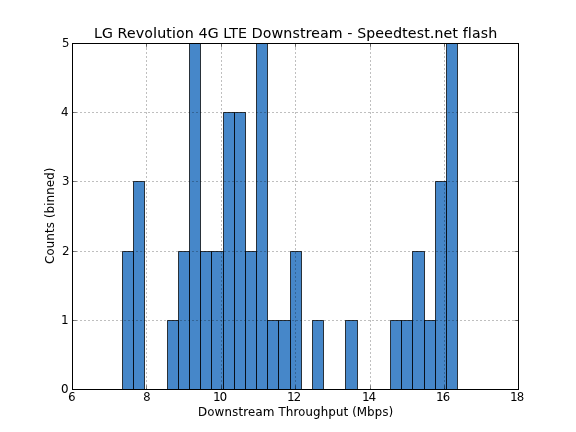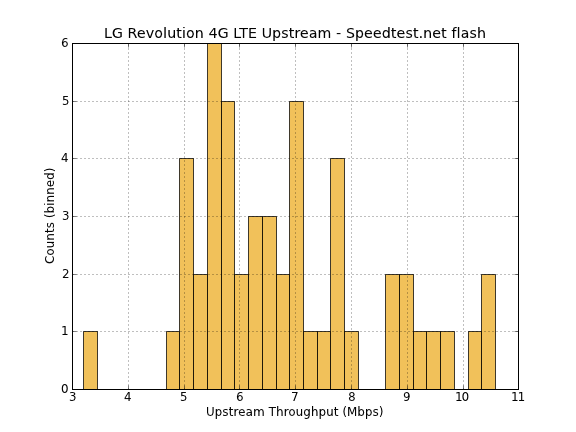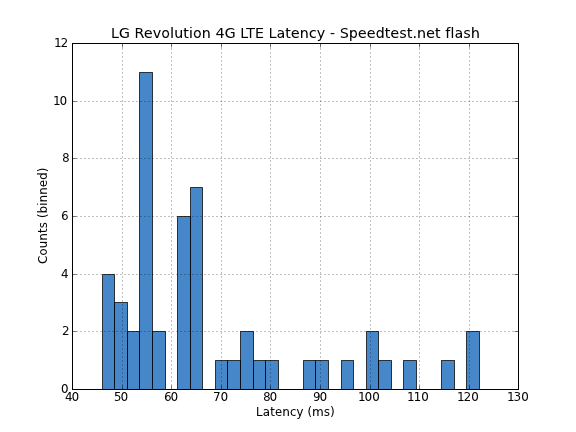 LTE is serious fast. T-Mobile, in Seattle at least, still has the fastest 3G network, but even the fastest HSPA+ networks can't match the outright speed of Verizon's LTE. In Phoenix, Brian saw LTE speeds clustered around 10 Mbps down and 2-3 Mbps up. In Seattle, I basically saw 10-12 down and 6-7 up. The closer I got to downtown, the faster speeds I saw. About a mile west of my house, I saw speeds of just under 17 Mbps down and 11 up. The downstream speed is close to matching my Comcast connection, and I'd kill for even the 6 Mbps upstream I averaged, much less the peak 10+ Mbps.
Right after we made the graphs above, I started seeing 17-18 Mbps downstream and up to 12 Mbps upstream in my apartment (which has notoriously bad signal). Blazing. Not quite "I'm standing next to the tower" level of blazing that I've seen Brian get with his LTE MiFi, but damn good for a real world speed test.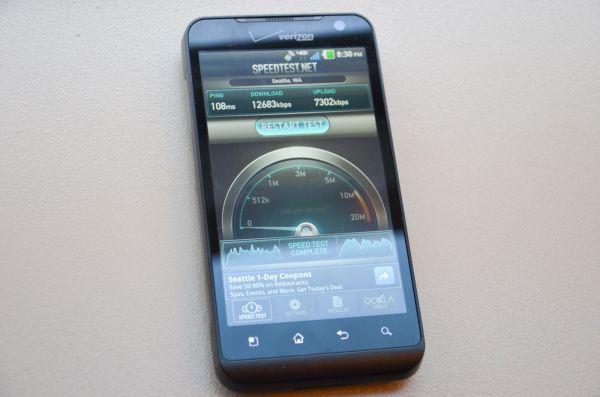 Brian said that his worst case scenario with LTE was at the high end of Verizon's EVDO, but my experience was rather different. My worst case with LTE was on the higher end of all 3G speeds; even T-Mobile's HSPA+ doesn't top 9 Mbps very often, and that's probably the fastest I've seen a 3G network go in practice.
Honestly, day to day, LTE wasn't mindblowing - with single core SoCs, you're mostly limited by how fast the pages can be rendered after maybe 8 or 10 Mbps down. I didn't notice too much of a difference between my standard 802.11n home network, Verizon's LTE, and T-Mobile's HSPA+ in smartphone browsing. Where it really makes a difference is in hotspot mode.
As far as signal strength goes, the antenna diversity means that you see roughly similar signal attenuation numbers to the Thunderbolt. The numbers were slightly worse than the TB, but much better than the rest of the smartphone class.
Signal Attenuation Comparison in dB - Lower is Better
Cupping Tightly
Holding Naturally
Holding in Case
On an Open Palm
LG Revolution - LTE
7.0
4.4
-
5.4
HTC Thunderbolt - LTE
5.3
2.5
-
4.4
HTC Thunderbolt - EVDO
6.5
0.8
-
7.2
Verizon iPhone 4
16.5
15.5
9.0
7.9
LG Optimus 2X
13.7
9.3
-
5.9
Nexus S
13.3
6.1
-
4.3
Droid 2
11.5
5.1
-
4.5
BlackBerry Torch
15.9
7.1
-
3.7
Dell Streak
14.0
8.7
-
4.0
Droid X
15.0
5.1
-
4.5
AT&T iPhone 4
24.6
19.8
7.2
9.2
iPhone 3GS
14.3
1.9
3.2
0.2
HTC Nexus One
17.7
10.7
7.7
6.7

Like I mentioned earlier, I used the Revolution for the better part of a week as my primary source of internet, and it came through with flying colours. It handled streaming HD video, large-scale file downloads, combinations of the two, and anything else I threw at it with ease. I'm not much of an online gamer, so I didn't try Starcraft II or CS:S like Brian did, but as he showed, it's definitely possible. The latency, while not as good as a 802.11 or direct LAN connection, is still well under 100 ms, so it's never an issue. From a speed perspective, LTE is fantastic, the kind of thing that changes how we use mobile broadband. But when you take power consumption into account, some serious concerns emerge.