Test Bed
Results and Numbers
Most of the comparison data, as with many motherboard benchmark results, are usually CPU based—you won't see much in the way of variation for a lot of them. Here's a sneak peak at some of the more worthwhile ones:
Power Usage
The Desktop Llano system we're using, the A8-3850, is a 100W chip. Given that this is near in line with the 95W of the Sandy Bridge i5-2500K I've been using for the Cougar Point reviews, we can have an apples-to-apples comparison on power consumption against a Z68: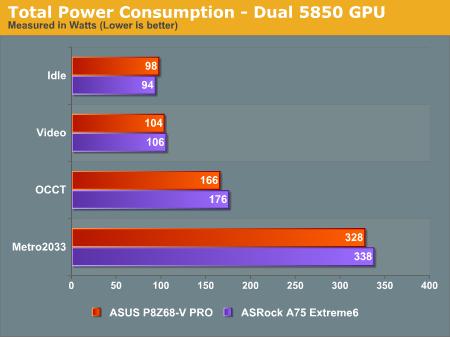 In terms of dual GPU usage, there's not much difference, though a 10W gap at high CPU usage with OCCT and Metro2033 for the A8-3850.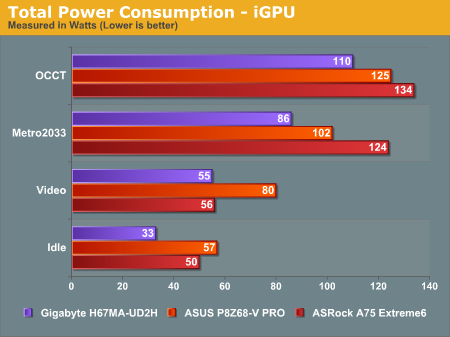 Compared to Z68, at low CPU conditions, the power of the A75 system is reasonable. However at high CPU conditions, or in general compared to the H67, we're using a lot of power here. Of course, Llano's iGPU is a significant step up in performance compared to Sandy Bridge, so we're not necessarily doing the same work here.
CPU Temperatures
Again, we have a prime opportunity for a comparison to Z68: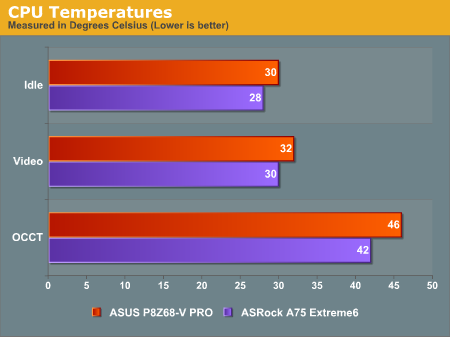 In each situation, using a Corsair H50, the A75 Extreme6 has a couple of degrees on the ASUS Z68.
USB Performance
Using CrystalDiskMark, we probe the sequential speeds of the USB 3.0 ports, then tackle the port with our standard motherboard copy test, consisting of 33 large and ~2100 small files, total size of 1.52 GB.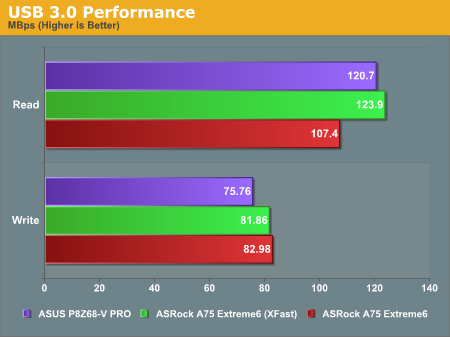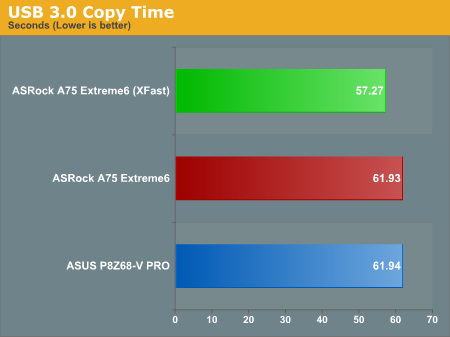 In terms of USB 3.0 copy time, we're not seeing much difference between the controller based Z68 and the native A75. ASRock's XFast is still providing a healthy increase in USB 3.0 speeds as well.
3D Movement Benchmark
In terms of pure CPU throughput, we're dealing with a quad core 2.9 GHz processor in our A8-3850 APU. Against the other processor families I have at my disposal: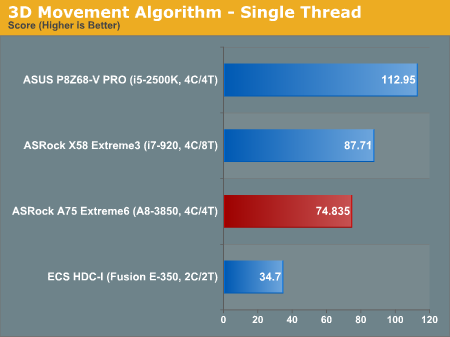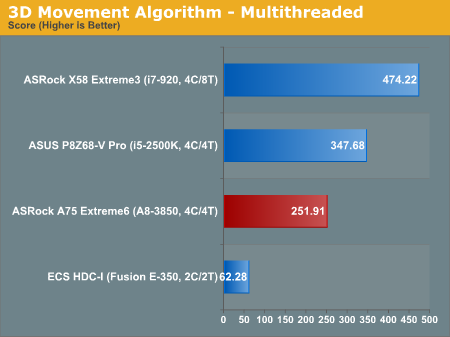 Even though AMD has a 2.9 GHz, 4C/4T CPU, it falls way behind the i5-2500K with the same number of threads. CPU performance is definitely mainstream in this regard.
iGPU
With the A8-3850, we're dealing with a 400 streaming processor model APU, the HD 6550D. Early web leaks led us to believe it's something special compared to Sandy Bridge offerings—I'm inclined to agree.