Introducing the Antec Sonata IV
Reviewing the Antec Sonata IV presented an interesting opportunity for me: while the other cases we've reviewed thus far have been experiences with new hardware, the Sonata IV is the next in a line of cases I'm particularly familiar with. I've built machines in every model from Antec's main Sonata range; my dad's computer is in an old Sonata, my ex-girlfriend's computer is in my old Sonata II, and a close friend's machine is purring along in a Sonata III. As a result, it's a chance to see how Antec's design has evolved over time. But it's more than that: the Sonata line has for a long time been a go-to for quiet computing with reasonable thermals. Has that changed with the Sonata IV?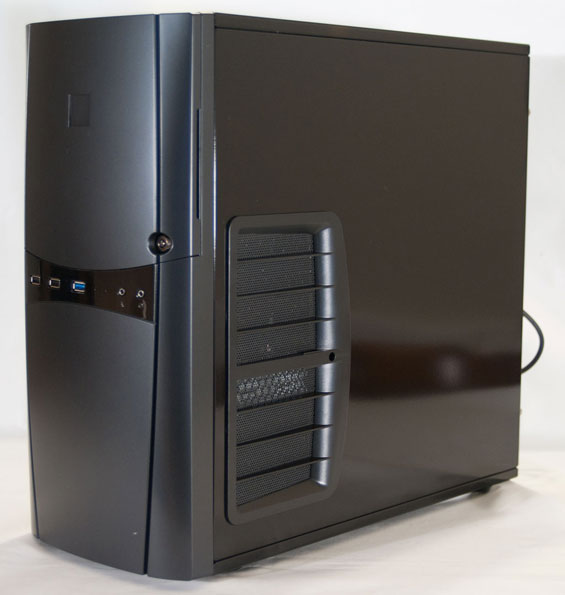 At first glance, the Sonata IV looks an awful lot like the Sonata III but a little bit larger and with the ventilation changed around. For the Sonata IV, Antec seems to have relaxed their less-is-more approach a little bit in a bid to get with the times. While power consumption of mainstream desktop machines hasn't grown tremendously over the past few years, each successive generation of Sonata has seen a more substantial power supply included with it. The Sonata II's was rated at 420 watts and the Sonata III's at 500W - still more than enough for most modern systems. The Sonata IV ratchets things up to a 620W Antec Neo ECO, 80 Plus certified. It's an awful lot of power for what's otherwise a relatively modest enclosure.
Antec Sonata IV Specifications
Motherboard Form Factor
ATX, Micro ATX, Mini ITX
Drive Bays
External
3x 5.25"
Internal
4x 3.5", 1x 2.5"
Cooling
Front
-
Rear
1x 120mm Antec TriCool exhaust fan
Top
-
Side
-
Bottom
-
Expansion Slots
7
Front I/O Port
2x USB 2.0, 1x USB 3.0, mic and headphone jacks
Top I/O Port
-
Power Supply Size
ATX; 620-watt Antec Neo ECO 80 Plus power supply included
Clearance
11" (Expansion Cards), 180mm (CPU HSF), 260mm (PSU)
Weight
21.1 lbs.
Dimensions
18.9" x 8.1" x 17.3"
Price
$160 MSRP; starting at $131 online
What's not immediately obvious here is that Antec has physically expanded the Sonata IV's dimensions a bit from its predecessors as well. The Sonata III was a fine case, but getting a video card like the ATI Radeon HD 5870 in was extremely difficult; the back end of the card butts up squarely against the hard drive trays. The IV is about half an inch longer and taller, though width remains unchanged.
Another thing that has expanded but unfortunately in exactly the wrong way is the price tag: part of the appeal of the earlier models was that they were good cases with good power supplies for a good price. They tended to top out at $120 in retail stores, could be found for about $100 if you knew where to look, and were a great one-stop for a quick and easy build. At an MSRP of $159, though, the Sonata IV stops being an intriguing value proposition and starts to compete against enthusiast enclosures like the Corsair Graphite 600T and even Antec's own P183.
We can currently find the previous generation Sonata III for $114, compared to $131 for the Sonata IV, so mostly you're paying $17 extra to move from a 500W PSU to a 620W 80 Plus PSU. That's a fair proposition, but as noted we used to see the III going for closer to $100 online, so $30 for the PSU upgrade becomes a somewhat questionable value.