Beyond the plethora of Motherboards we would expect from ASRock, also on display were a few HTPC systems from the Core HT, Ion 3D and Vision 3D series. The CoreHT is a HTPC system based on the Sandy Bridge HM65 chipset using the onboard HD graphics to power a standard BluRay Drive, in a 90W power envelope. Wifi and 7.1 channel HD Audio with THX TruStudio Pro come as standard within a 2.5L volume.

In terms of 3D, we were treated to the Ion 3D, based on the Atom D525 CPU and NVIDIA GT21x graphics for under 65 W. The Vision 3D is a beefier model using a HM65 chipset and a mobile i7-2620M CPU combined with GT540M graphics. There's no mention of power draw, but we would expect in the region of 120-150W. The Vision 3D was actively working, and after trying on the glasses at the resolution I didn't see any issues with output.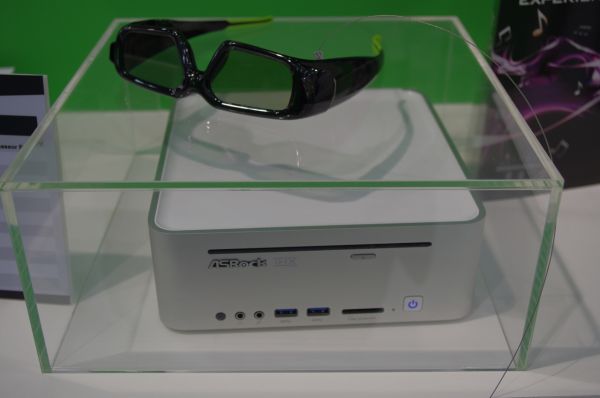 However ASRock's main production is motherboards – the X79 and A75 models were of main interest here. The X79 Extreme4 was something interesting to look at – we see improved ferrite chokes in terms of power delivery, the PCIe lanes requiring an extra 4-pin power connector for multi-GPU or high end GPU solutions, and a variety of six SATA 6Gbps ports (1 of these are eSATA) and 8 SAS ports. This is obviously confusing – what exact market are ASRock aiming with this product?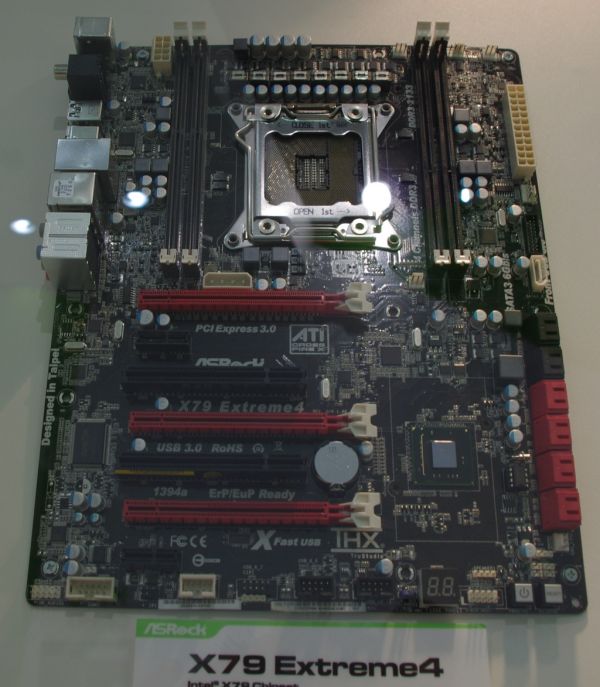 For A75, ASRock's mini-ITX model is of most interest here – due to the large size of the AMD retention bracket, the DIMM slots are now parallel with the PCIe. The SATA ports are angled towards each other, making HDD cable positioning a pain also. It would be interesting to have this board in for review at some point.
The A75M-HVS is the micro-ATX solution, which differs from a lot of micro-ATX I have seen by only have three PCI/PCIe on the board itself, rather than four. Like the mini-ITX model, the SATA ports are angled into each other, which is a feature I don't approve of. There also doesn't seem to be many fan-headers – I can see two around the socket and one on the bottom – personally, I'd prefer a lot more.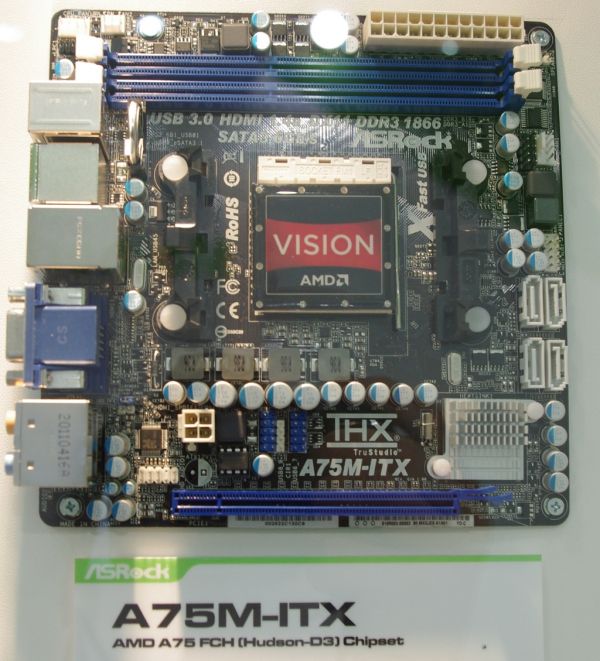 The 990FX Extreme4 also contains some odd design choices. As we have come to expect from the lower-end Extreme series, there are large heatsinks covering the power delivery, but the inclusion of the IDE and Floppy port are more confusing. I understand that there are distinct legacy applications that require these connectors – but not on an enthusiast product (I have similar issues with the new Fatal1ty series). Perhaps make a 970X-Legacy with as many legacy features as possible, but don't try and put them into an enthusiast product. Also a point of contention is on the bottom right – they are what look like SATA or SAS connectors, in a very odd position.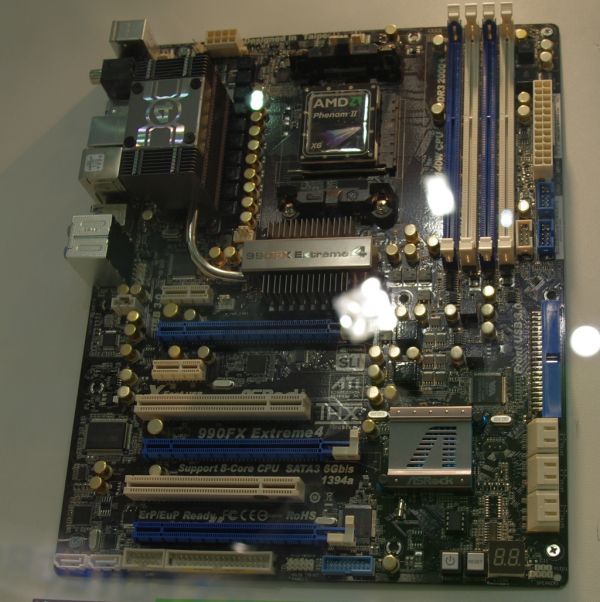 The expansion of Z68 is continued into the Extreme7 – possibly named to push it above the P67 Extreme6. Along with the improved ferrite chokes, we have 10 SATA ports and an NF200 chip to increase the PCIe lanes to the five full length PCIe slots. I was told by the designer that a switch is in place, so that if one GPU is used, the connectors bypass the NF200 chip so we don't see the 2-3% decrease in performance that it brings. Though at some point it would be worth testing the following scenario – no NF200 but two GPUs at 8x/8x, or NF200 present with 16x/16x. In most situations (i.e. those where memory to PCIe exchange is low), I would expect the 8x/8x design to perform better, as it doesn't have that constant 2-3% decrease in performance.