Apollo Pro 133A Motherboards
We are finally seeing motherboards based on the Apollo Pro 133A chipset emerge in the market.  The trend was started by Tyan with their Trinity 400 which was actually used in the first 133MHz FSB Micron PCs that shipped with the Pentium III 733 when the i820 platform was unavailable.
At last year's Comdex we gave a brief preview of what you could expect from motherboards based on the 133A chipset as we moved into the year 2000.  And although we still haven't seen the wall of motherboards that we were shown at Comdex appear in the retail channels, we are quickly getting there.  Manufacturers are realizing that, for most users, the i820 platform isn't a viable solution and that there needs to be an alternative with 133MHz FSB support, making the 133A an ideal candidate.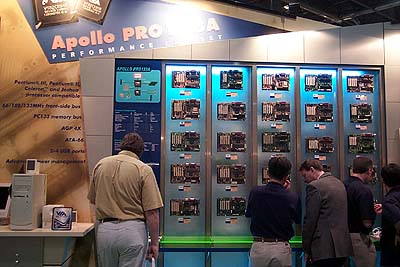 We have been playing around with three specific Apollo Pro 133A based motherboards, the Tyan Trinity 400, AOpen MX64 and the FIC KA11.  While you'll see individual reviews of all three of these boards shortly, if you're looking to make a purchase soon we're going to offer some quick buying tips on these three motherboards.